Petition Urges Big Tech Be Held Accountable for Democracy 'Threat' Following Capitol Riot
A coalition of celebrities and civil rights leaders are backing a petition urging Big Tech to become accountable for the "deluge of extremist rhetoric and hate merchandise" which appear online to prevent further violence like what was seen at the deadly Capitol attack on January 6.
The petition, exclusively seen by Newsweek, is urging Congress and the Joe Biden administration to take action against companies such as Facebook, Twitter, and Amazon.
Celebrities including actors Mark Ruffalo, Rosario Dawson and Alyssa Milano, and talk show host and writer Chelsea Handler, are joining civil rights groups National African American Reparations Commission (NAARC) and American Family Voices in backing the petition which is being delivered to leading Democratic figures such as Senate Majority leader Chuck Schumer and Senator Amy Klobuchar.
Patricia Oliver, whose son Joaquin was killed in the 2018 mass shooting at Marjory Stoneman Douglas High School in Parkland, Florida, is also backing the petition.
The petition urges the government to create and enforce legislation which would protect democracy and hold these companies that neglect their responsibilities to account.
"We've become increasingly concerned over the past decade about the way in which Big Tech aids and abets far right-wing extremists," Ben Jealous, former CEO of the NAACP and now current President of People for the American Way, told Newsweek.
"Facebook does their recruiting for them. Twitter allows them to promote themselves, and Amazon sells their wares, allows white supremacists to sell T-shirts promoting Dylann Roof."
Jealous added how Amazon, who has frequently been found selling neo-Nazi and far-right materials on its website, also sold anti-Semitic clothing worn by Proud Boys members spotted at pro-Donald Trump rallies in December.
Sites such as Facebook and YouTube have been criticized for promoting pro-Trump "stop the steal" rallies ahead of the January 6 insurrection. The campaigners also noted that last year, following months of worldwide protests over the death of George Floyd, Amazon was found selling hats with the slogan "Black Lives Don't Matter."
"We readily accept that television advertising must be regulated, it's time for Big Tech to be regulated," Jealous said. "Facebook, Twitter and Amazon, should not be allowed to enrich themselves at the expense of our democracy, let alone people's lives.
"What happened at the Capitol made it clear for the first time that we're all paying a price and that people can die because of the foolishness and the evil that we allow to go on unobstructed.
"Putting our heads in the sand and pretending like Mark Zuckerberg and Jeff Bezos are actually going to self-regulate their empires, it's just not happening. We need to go ahead and do what citizens do when there's a threat to their democracy, they push their government to actually take action.
"This is no longer just a group of hackers hanging out in the college dorm room. We are way beyond that. The consequences are too grave. And they keep getting worse."
Several years ago, a major conspiracy theory was formed on the internet and spread on social media which falsely claimed that leading Democrat figures, including Hillary Clinton, were connected to a child sex ring linked to the Comet Ping Pong pizzeria in Washington D.C.
In December 2016, a follower of the so-called Pizzagate theory, which has ties to QAnon, opened fire inside the restaurant thinking children were being abused there.
"What happened at the Capitol is exponentially worse than Pizzagate," Jealous said. "We simply don't want to wait for what is exponentially worse than what happened."
In a statement to Newsweek, a Facebook spokesperson said: "Over the past four years, we've created new products, policies, and partnerships to stop the spread of dangerous or divisive content on our platform.
"We've banned QAnon, prevented militia groups from organizing on our apps, and designated more than 250 white supremacist groups as hate organizations. We are also the only platform to work with over 80 fact-checking partners to limit the spread of disinformation.
"This is an evolving challenge which is why we work with outside experts and adjust both our policies and how we enforce them to stay ahead of them."
A Twitter spokesperson said: "We recognize that historically marginalized communities experience disproportionate abuse and harassment, on social media and more broadly, and we welcome the opportunity to continue working and collaborating with advocates and lawmakers in addressing this challenge.
"We've taken a number of steps to protect the conversation on our service from attempts to incite violence, organize attacks, and share deliberately misleading information about the U.S. presidential election outcome, and we'll continue to enforce our rules and improve our approach here.
"We recently updated our Coordinated Harmful Activity Policy, and in line with this work, we've permanently suspended thousands of accounts that were primarily dedicated to sharing QAnon misinformation. These accounts were engaged in sharing harmful QAnon-associated content at scale and were primarily dedicated to the propagation of this conspiracy theory across the service, and their removal had a direct impact on the health of the public conversation."
Amazon has been contacted for comment.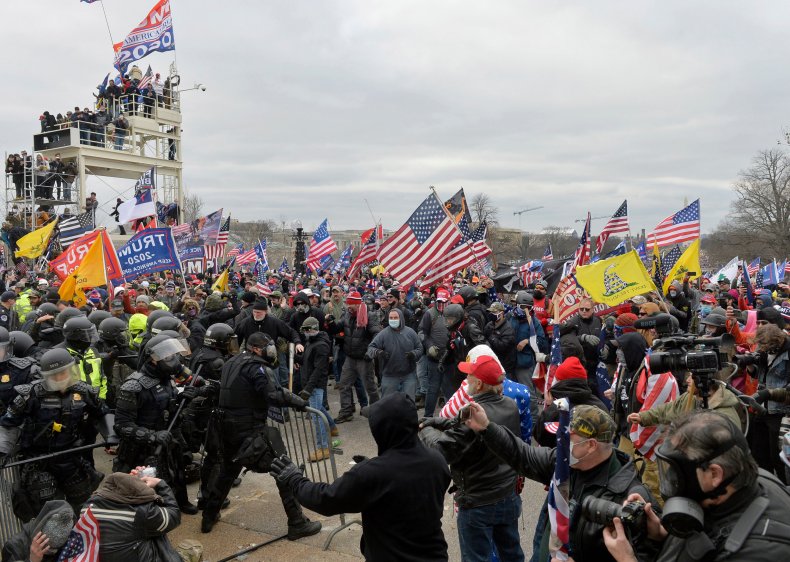 Read petition in full:
Black lives matter more than Facebook's profits. The safety of ethnic, gender, and religious minorities counts more than Google's cash flow. America's democracy is more important than Amazon's bottom line.
As concerned Americans representing big cities and rural towns, we call on Congress and the Biden administration to hold Big Tech accountable—with legislation requiring platforms to adopt and enforce real moderation standards; restrict disinformation and misinformation; reject paid and targeted advertising that spreads extremist rhetoric; and end the marketing of hate merchandise.
This month, white supremacists, empowered and emboldened by lies spread on YouTube, Twitter, and Facebook, and clad in Proud Boys garb sold on Amazon, used these platforms to launch a violent assault on the United States Capitol and our democracy that left five people dead, including a police officer.
We are not surprised by Big Tech's role in this insurrection. This summer, at the height of racial justice demonstrations, Amazon was selling hats with the slogan "Black Lives Don't Matter," and glorifying mass shooters. These companies have become wealthy and powerful by relentlessly pursuing profit at the expense of common-sense standards, humanity, and decency.
Unless regulated by Congress, they will do whatever it takes to drive revenue: spread disinformation, peddle dangerous products, facilitate communications among violent extremists, and hand hate speech a global megaphone.
After the attack on the Capitol, Big Tech once again responded with too little, late. Platforms have proven over and over that they will not address the widespread harm caused by their revenue and growth obsessions. Another tech-driven tragedy is inevitable unless our leaders recognize the damage these companies have done.
We call on Congress and the Biden Administration to create and vigorously enforce meaningful regulation for Big Tech and do everything in their power to protect our nation, our democracy, and our brothers and sisters who have been put further at risk due to the failures of these companies. This is an imperative step that must be taken by our elected leaders in order to begin healing the United States and her people.