Bear Lunges and Bites Woman Walking Her Dogs on Hiking Trail
A woman was attacked by a black bear on Monday while walking her dogs near Smithers, British Columbia, Canada.
According to a British Columbia Conservation Officer Service Facebook post from Wednesday, the woman and her two off-lead dogs were walking along the Tyee Mountain Ski Trails system, around 10 miles from Smithers, when they encountered a bear around 10 a.m.
"As the dogs tried to chase the bear away, it lunged at the woman, biting her on the foot. The woman yelled at the bear and managed to scare it away and was not seriously injured," the Facebook post read.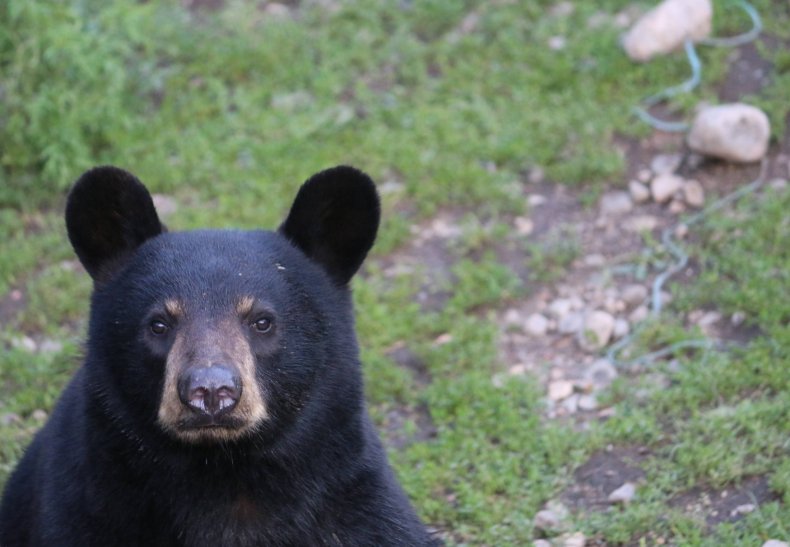 Conservation officers investigated the site of the attack, and came to the conclusion that this was merely a defensive attack, rather than the bear aggressively attempting to kill her or the dogs for food. Therefore, no further action will be taken against the bear, and signs will be put up along the walking paths nearby to warn people about the bears nearby and advise them on what to do if they encounter one.
Some precautions the public are advised to take in the Facebook post include keeping pets on leashes, carrying bear spray and traveling in groups. According to the B.C. Conservation Officer Service website, if you do happen to come across a bear in the wild, you should remain calm and slowly back away while talking to the bear in a quiet, monotone voice.
"Do not scream, turn your back on the bear, kneel down or make direct eye contact. Keep away from the bear. Do not try to get closer to it. If the bear gets too close, use pepper spray (within 7 meters) or something else to threaten or distract it," the advice says.
Once a bear has left the scene, the best thing to do is to watch the bear until it leaves, the website says. After the bear is gone, walkers should make sure there is nothing in the area that will attract any bears back again.
British Columbia is home to both black bears and grizzly bears. Black bears are the most common and the most widely distributed, with a population of around 120,000–160,000. There are roughly 14,000 grizzly bears that live in B.C. as well, a number that is half what it used to be 200 years ago due to hunting.
According to British Columbia magazine, you're extremely unlikely to see a grizzly, and will only see black bears on occasion. Black bears are usually only found in urban areas when they're scavenging in garbage cans, which can be prevented by limiting bear access to food waste, such as by sealing off trash. This will help to prevent the bears from entering human areas, and therefore stop them hurting someone, or being killed.