Canadians Queue For Guns Ahead of Proposed Pistol Ban
Many Canadians scrambled to buy handguns this week after Prime Minister Justin Trudeau proposed new moves to freeze sales, with some stores reporting that long lines of "panic" buying customers had completely cleared out their stock.
Trudeau said he wants to see new pistol ownership outlawed and on May 30 he announced a string of gun control proposals, which included a freeze on the sale of handguns.
About 2,500 stores sell handguns in Canada.
Currently, would-be gun owners are required to have a restricted firearms license to buy a handgun. They also need a special permit to transport them between locations, and the weapons, which must be kept in secure cases, can generally only be used at shooting ranges.
But the new rules—which are widely expected to come into force in the fall—would prohibit the sale, transfer, and importation of handguns.
The proposal came after a string of mass shootings in the U.S., and just days after 19 children and two teachers were killed in a mass shooting at an elementary school in Uvalde, Texas, on May 24.
Although teenage gunman Salvador Ramos used a semi-automatic rifle in that case, almost two-thirds of gun crimes in Canadian cities over the past decade involved handguns, according to government data.
After the government's bid to freeze handgun sales was announced, an unnamed official told Reuters that authorities did not expect a run on handguns in anticipation of the ban because the weapons are so heavily regulated already.
But gun store owner Josko Kovic, who runs DoubleTap Sports in Toronto, told French news agency AFP that the announcement had "created a panic" in Canada. He added: "People are now rushing out to buy handguns. Almost all stores are sold out, including me."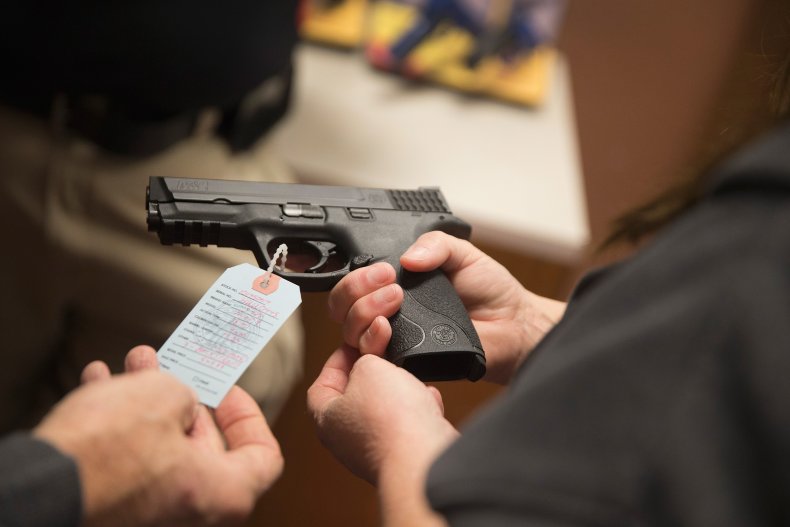 Jen Lavigne, co-owner of That Hunting Store in Richmond, Ontario, outside Ottawa, reported a similar story.
"We sold 100 handguns, or almost our entire stock, in the last three days, since the prime minister announced the freeze," Lavigne said. "
This measure is only going to hurt legal gun owners," she continued. "It's not going to reduce any of the crime because the bad guys don't follow the rules."
One of her customers, who only identified himself as David, claimed the current restrictions are already tough enough, saying: "It's ridiculous. It takes two months just to get a license with all the background checks."
Frustrated customer Aman Sandhu told AFP he had to search several stores before finding the handgun he wanted before the ban comes into force. "I'm concerned that if I don't buy one now, I may never have the choice again," he said.
Darryl Tomlinson, the owner of Canadian Gun Guys in Winnipeg, said he worries for the future of his business, telling AFP: "This handgun measure is going to take away livelihoods and break up communities. It's a Catch-22; we're busy now, but I fear we're going to be put out of business in the fall."
"We need only look south of the border [to the U.S.] to know that if we do not take action firmly and rapidly it gets worse and worse and gets more difficult to counter," Trudeau said, adding "we are capping the number of handguns in this country" because the "level of gun violence in our communities... is unacceptable."
In addition to the freeze on new sales, the planned legislation would also stop anyone who committed domestic violence or stalking offenses from obtaining or keeping a firearms license.
This "red flag" move was welcomed by Tom Stamatakis, president of the Canadian Police Association, while the freeze was welcomed by gun control supporters.
But Rod Giltaca, CEO and executive director of the Canadian Coalition for Firearm Rights, has described the freeze as "absurd."
He told Newsweek he wasn't surprised by the run on guns, saying: "According to the Liberals, this is the last chance to own a gun in our lifetimes. This is an important aspect of Canadian life so many are taking the opportunity before it's gone."
He added: "There will be no consequences to this run as everyone legally able to buy guns are licensed, vetted, and the handguns are registered. Licensed gun owners have never been shown to represent a disproportionate risk to public safety nor represent a significant source of crime guns. The freeze affects only licensed gun owners. The Liberals know this and it's purely a political move."
A spokesperson from the PM's office referred Newsweek to comments previously made by Trudeau during a press conference on June 6 and said they had nothing further to add. When Trudeau was asked by a reporter whether the freeze policy had the "perverse effect" of Canadians rushing to obtain the weapons, he replied: "Preventing people from being able to buy, sell, transfer or import handguns into the country is important now and for years to come."
He added: "I understand that in... between now and the passage of this bill there are people who will choose to buy a handgun, but at the same time we are trying to speed up the passage of this bill. We have put in place regulations so that if the passage of this law takes a long time, the regulations will come into effect before that. And we're going to continue to say that handguns, assault weapons need to be more restricted, and we need to have less of them in our communities to be able to keep people safe."
Canada's proposed changes to its gun laws sparked concern among some American conservatives who feared a "dystopian future" could be in store at home. But the White House clarified that President Joe Biden had no plans to implement a similar ban in the U.S.
Nevertheless, the horror of the recent mass shootings has renewed calls for tougher rules on who can buy and keep guns, with campaigners begging pro-gun politicians to help. A recent event featuring an interview with Florida Governor Ron DeSantis was interrupted by gun control activists asking him to "take action."
Update 6/83/22 3:57 a.m. EDT: This article was updated to include comments by the Canadian Prime Minister.