Boko Haram: Nigerian Militants Launch Biggest Attack in Over a Year on Northern City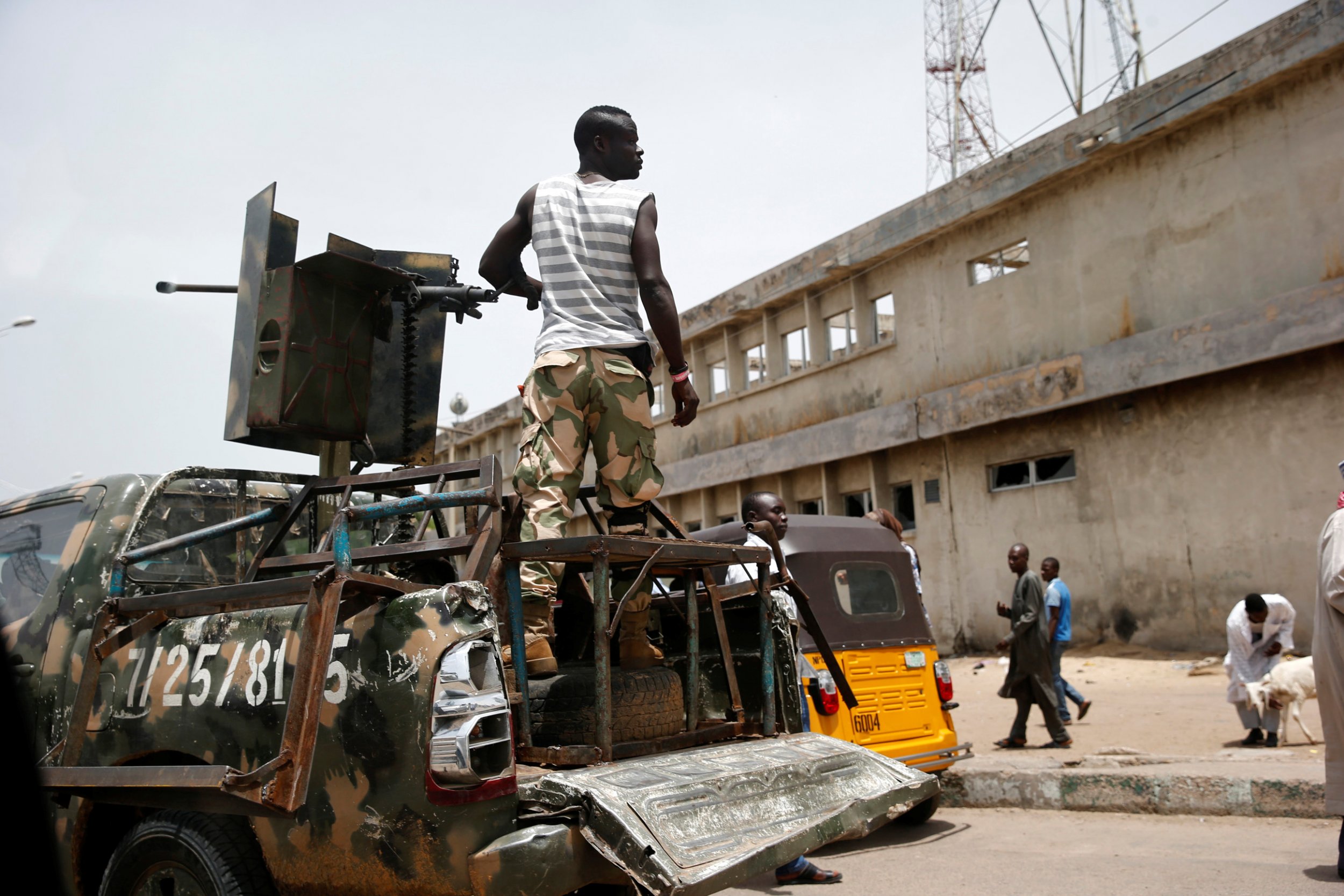 Suspected Boko Haram fighters launched a major attack on Wednesday on Maiduguri, the northeast Nigerian city where their insurgency began eight years ago.
It began with explosions and heavy gunfire on the outskirts of the city, the capital of Borno State, aid workers and witnesses told Reuters, causing thousands of civilians to flee. The raid would constitute Boko Haram's biggest attack on Maiduguri for a year-and-a-half.
Borno State Police Commissioner Damian Chukwu said on Thursday that at least 14 people were killed in the attack, in which the militants used anti-aircraft guns, according to Reuters.
Nigerian and regional military offensives have pushed the Islamists back into the remote Sambisa Forest, and Boko Haram attacks have been largely limited to suicide bombings, often carried out by children abducted by the group.
The Nigerian military said in a short statement reported by Reuters on Thursday that the situation in Maiduguri was "under control" and that it had contained the attack. Fighter jets were deployed to repel the attackers. Newsweek attempted to contact several Nigerian military spokesmen for additional comment but received no reply.
In what appears to have been a separate attack, several suicide bombers detonated their devices in or around mosques in eastern Maiduguri on Wednesday night killing at least 10 people, according to Nigeria's Premium Times.
.
The Presidential Committee on the Northeast Initiative, which coordinates humanitarian response in northeast Nigeria, confirmed on Wednesday evening that there had been at least three suicide attacks but did not give a death toll.
https://twitter.com/NePcni/status/872555431830441986
Boko Haram, which pledged allegiance to the Islamic State militant group (ISIS) in 2015, split into two factions in 2016, one led by notorious Nigerian jihadi Abubakar Shekau and another by Abu Musab al-Barnawi, who was appointed as the group's new leader in August 2016 by ISIS. It is not clear which faction carried out the attacks in Maiduguri.
Nigerian President Muhammadu Buhari has on several occasions claimed that Boko Haram has been largely defeated. But while much of the territory once held by Boko Haram has been retaken, the militants retain the capacity to cause destruction: Attacks by the group have killed at least 191 people in Nigeria since the start of 2017, according to the Council on Foreign Relations.
Buhari is currently in the U.K. on medical leave, and Vice-President Yemi Osinbajo—the acting president in Buhari's absence—is due to visit Maiduguri on Thursday to launch a government program to distribute food to 1.8 million people affected by the insurgency