Nigeria Still Can't Find Boko Haram's Leader, Even After Spending $593 Million on U.S. Jets and a 40-Day Manhunt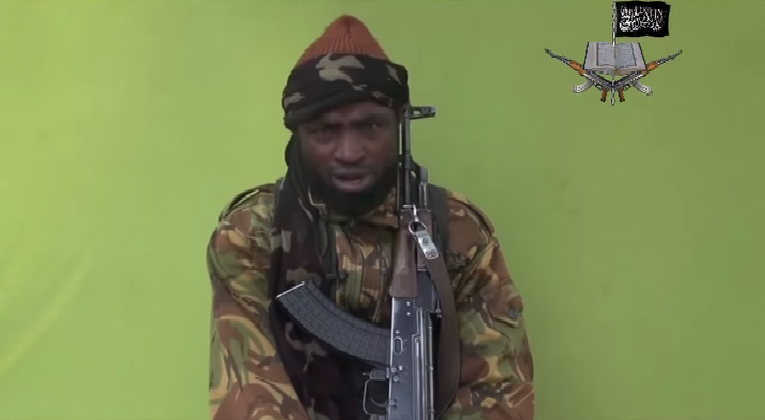 Forty days ago, the head of Nigeria's military issued his soldiers an ultimatum: Bring me Abubakar Shekau, the head of Boko Haram, dead or alive.
A lot has changed over the course of the manhunt. Among other developments, Nigeria's long-absent leader, President Muhammadu Buhari, has finally returned to the country after three months abroad on sick leave. And the Nigerian military has secured the $593 million purchase of 12 U.S. attack helicopters and weapons, ending a yearslong saga.
But one thing that remains the same is the threat posed by Boko Haram, which carries on blowing up Nigerian citizens on a near-daily basis, and the status of Shekau, who continues to direct attacks from the shadows, according to experts.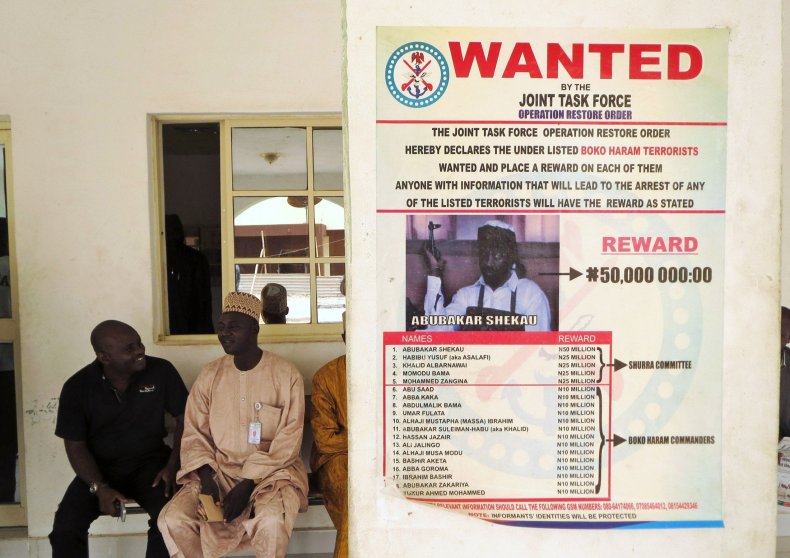 Shekau has led Boko Haram—which means "Western education is forbidden"—in its war on the Nigerian government since the death of the group's founder in 2009. Since he took over, Boko Haram has slaughtered tens of thousands of people, displaced millions and created a humanitarian crisis in northeast Nigeria.
"Shekau (and the Chibok girls) are the internationally recognized symbols of the insurgency. Even with the group divided he is very much the face of Boko Haram," Sola Tayo, an associate fellow at international affairs think tank Chatham House, tells Newsweek by email. Almost 300 girls were kidnapped by Boko Haram from the northeastern town of Chibok in 2014; more than 100 remain in captivity.
"His capture (alive or otherwise) would be hugely significant in judging the efforts of the Nigerian state to defeat Boko Haram," says Tayo.
Related: Al-Shabab has overtaken Boko Haram as the deadliest militant group in Africa
During his time as Boko Haram's leader, Shekau has earned a reputation as one of the world's most fearsome militants. The United States has a $7 million bounty on the Nigerian militant's head. Some of Shekau's tactics, such as the increased use of children as suicide bombers and the targeting of mosques, have even led to other extremist groups distancing themselves from him.
He has also become a bogeyman for the Nigerian military and its allies; there have been at least four claims about Shekau's death, and all were disputed later by the bearded jihadi showing up in a video, wearing his trademark beanie hat and pledging war.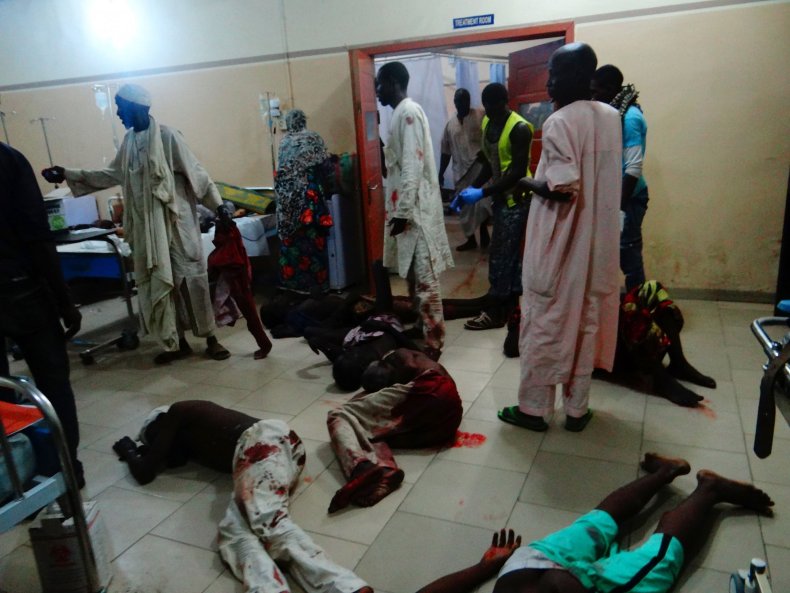 The head of the Nigerian counterinsurgency operation, Major General Ibrahim Attahiru, brushes off the fact that the Nigerian military failed to catch Shekau by its own deadline. "Forty days was a guideline," said Attahiru in a press briefing broadcast on Nigeria's Channels TV Wednesday. "We will renew other 40 days, and we will go after him and get him."
The continued failure to nail the face of the insurgency is symbolic of Nigeria's ongoing struggle against Boko Haram. The militant group is undoubtedly in a much worse position than when President Buhari came to office in 2015: Boko Haram now controls very little territory within Nigeria. The group has also suffered internal ruptures and splintered into several factions, one of which is led by Shekau and another that is headed up by an emir appointed by the Islamic State militant group (ISIS).
But despite claims made by Buhari and others that Boko Haram is finished, the militant factions continue to carry out suicide bombings and attack civilians. More than 600 people have been killed in attacks carried out by Boko Haram factions in 2017 alone, according to the Council on Foreign Relations.
The Nigerian military recently announced a development in its struggle against the insurgents. The country's vice president, Yemi Osinbajo, tweeted his thanks to the U.S. government for its decision to sell 12 Super Tucano A-29 surveillance and attack planes to Nigeria, a decision confirmed by the Pentagon. The deal had been initially reached under former President Barack Obama but had been held up due to human rights concerns surrounding Nigeria's military, which has been accused by Amnesty International of killing civilians suspected of affiliation with Boko Haram.
But while the Nigerian establishment may be celebrating the sale, the aircraft are unlikely to help flush out the remnants of Boko Haram, according to Matthew Page, a former U.S. intelligence official and expert on Nigeria. Super Tucanos are optimized for attacking large concentrations of targets rather than small pockets of insurgents carrying out guerrilla attacks.
"It would have been a great system to have in 2014, when Boko Haram was moving in armed columns of vehicles across open terrain, taking territory and amassing forces that were static," Page tells Newsweek. But now that Boko Haram has reverted to insurgent mode, Page says, "it's unclear how 12 propeller-driven aircraft are going to find a guy in the shadows of an urban neighborhood, preparing a suicide bomber to go and attack a military convoy."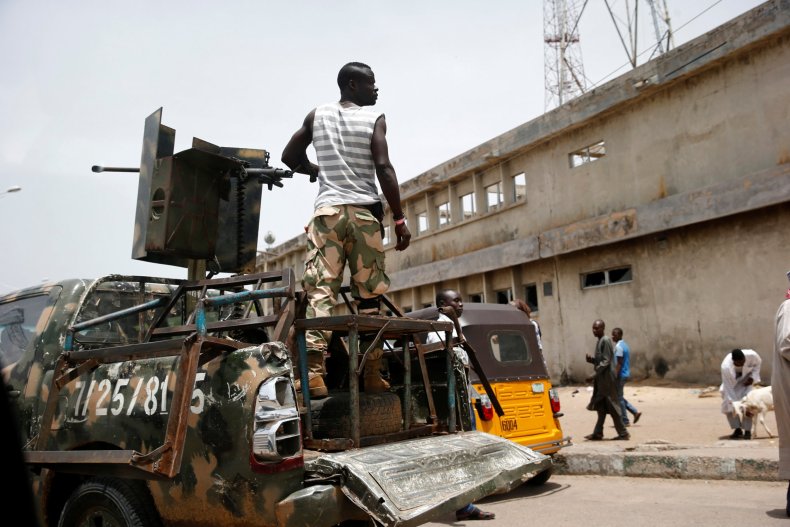 Almost as though he were mocking the Nigerian military, Shekau recently popped up again in an unverified propaganda video, threatening the residents of Maiduguri, the capital of Nigeria's Borno State and the heart of the insurgency. Speaking in Arabic, Shekau denied being injured in Nigerian airstrikes but said that even if he were to be taken out, Boko Haram would continue.
"You can capture me today because I am nothing. But it won't stop the religion of Allah which we are committed to. This gun I am holding is nothing. We rely strongly on the ultimate power of Almighty God," said Shekau, according to Nigerian news site The Cable.
While experts agree that Shekau remains an important figure in the insurgency, both operationally and symbolically, there's no consensus opinion that capturing or killing the militant would significantly damage Boko Haram. Page says that the group has long operated in a decentralized manner, and that the end of Shekau would not necessarily spell the end of Boko Haram.
"If Shekau was captured or killed, that would not be some sort of silver bullet that would put an end to Boko Haram or even degrade its capabilities very much."