Border Crisis Requires More Social Workers Not More 'Badges,' Says Former GOP Texas Mayor
More social workers, not more law enforcement, are what's most needed to alleviate the growing crisis at the U.S.-Mexico border, according to Ruben Villarreal, the former GOP mayor of border town Rio Grande City, Texas.
"You work double time. You bring in waves of social workers because that's what you need. You don't need law enforcement badges. You need a lot of social workers to be out here on the front lines alongside border patrol to be able to process these children, because they're children and they need a lot of care," Villarreal said on the podcast Y'all-itics Monday.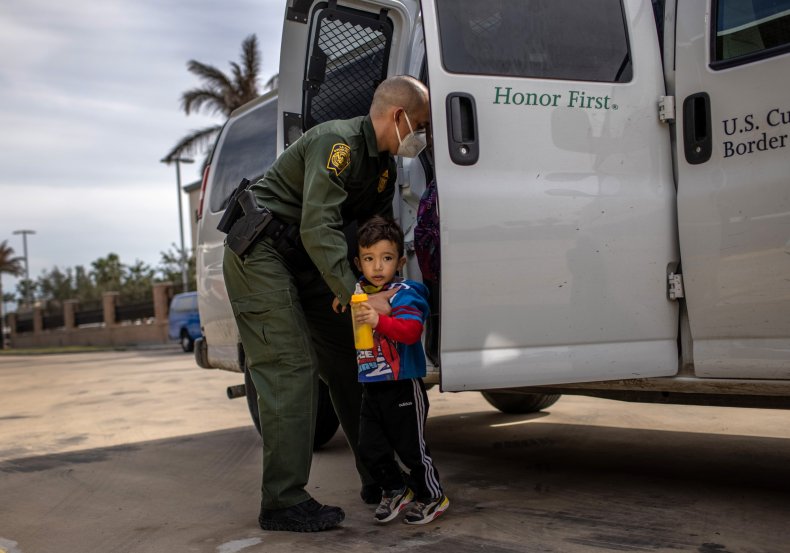 A record number of unaccompanied migrant children have arrived at the country's southern border since the start of President Joe Biden's administration, which has promised a full redress of the country's immigration policies. But the shift in tone has been met with an unprecedented influx of arrivals at the border, stressing resources and exacerbating an already-weak system, Villareal said.
"This is a crisis," Villarreal added. "But it's a crisis that's been around for over 30 years."
The former mayor said this year's surge of arrivals is unlike ones in the past because of the large portion of children crossing the border. In a statement released Tuesday, Homeland Security Secretary Alejandro Mayorkas said that while most single adults and families have been turned away, unaccompanied children have not.
Villarreal said red flags warned of a crisis at the border as early as 2014, ABC 8 reported. If federal authorities had recognized issues with U.S. border policy earlier, they would have directed more social workers to help migrants and developed better systems to support children and mothers. He said that because the infrastructure is missing, the Biden administration will now need to rely on outside experts for proper support.
Villarreal's call for more social workers comes as the Biden administration has been grappling with how to humanely treat the child arrivals. CBS News reported that children are spending an average of 117 hours at U.S. Customs and Border Protection (CBP) stations, sleeping on floors, experiencing hunger and unable to contact family or even shower enough.
And the issue is worsening day by day. By Sunday morning, about 4,200 unaccompanied minors were held in short-term facilities operated by CPB. They have been awaiting transfer to facilities run by the Office of Refugee Resettlement (ORR), where their cases are processed and the children are eventually placed with vetted families.
Mayorkas confirmed the 72-hour legal time limit for children to be held in immigration custody is "not always met," and said that the Department of Health and Human Services (HHS) has "not had the capacity" to process the number of kids that have arrived at the border.
Major decisions are needed to find a solution for the border crisis, Villarreal added, but a key step will be directing more social workers to the border who can asses children's cases and determine the best path for them.
"If somebody is going to give you solutions that work, it's going to be the people that see it on a daily basis and have worked with this before," he said.
The Biden administration has placed additional staff at the border and repealed a Trump policy that allowed information on children's sponsors to be sent to immigration authorities, CBS reported. But now the administration is looking to make new policy under increasing pressure.
Human trafficking has also contributed to the surge of child arrivals, Villarreal said. He added traffickers spread false information that immigration policy has relaxed in the U.S., encouraging migrants to risk the trip to the border. Social workers can screen for trafficking and assure the child is safely transitioned to a vetted home.
"They basically tell the people back there, 'Get in on this,'" Villarreal said. "If you send your child and you send them by herself, he will be taken care of. It's okay if they have family members here that they can find. But what happens when they can't find the family members?"
Newsweek has reached out to CBP and HHS for comment but did not receive replies by publication time.