U.K. Prime Minister Boris Johnson shared remarks about Donald Trump's second impeachment trial on Sunday, after the former president was acquitted during a Senate vote that fell 10 shy of the two-thirds majority necessary to convict him of a single charge brought by the House of Representatives last month.
Trump was impeached by the House for his role in the January 6 Capitol insurrection, which caused the deaths of five people and injured many more.
Johnson publicly condemned Trump's actions surrounding the violent riot when it occurred, but said federal lawmakers' failure to convict him earlier this weekend did not reflect poorly on the U.S. in comments to CBS News host Margaret Brennan on Face the Nation Sunday morning.
"I think the clear message that we get from all of the proceedings in America is that, after all the toings and froings, and all the kerfuffle, American democracy is strong and the American constitution is strong and robust," he said.
The prime minister's comments and tone differed from those of President Joe Biden in his own remarks about the impeachment trial's outcome.
"This sad chapter in our history has reminded us that democracy is fragile. That it must always be defended. That we must be ever vigilant. That violence and extremism has no place in America," said Biden in a statement released on Saturday evening.
One month after the House voted to impeach Trump for "incitement of insurrection," the Senate's 57-43 vote to acquit proved what was a largely expected partisan divide. Still, leading Republicans pointed out that additional steps can be taken to hold Trump accountable for his conduct ahead of, during, and after the Capitol attack. Senate Minority Leader Mitch McConnell, who did not support Trump's conviction during Saturday's vote, nonetheless acknowledged the former president was "practically and morally responsible" for precipitating the violence.
Johnson's Face the Nation interview also touched on his current, and upcoming, relationship with the Biden administration, as well as his experience with COVID-19 in May.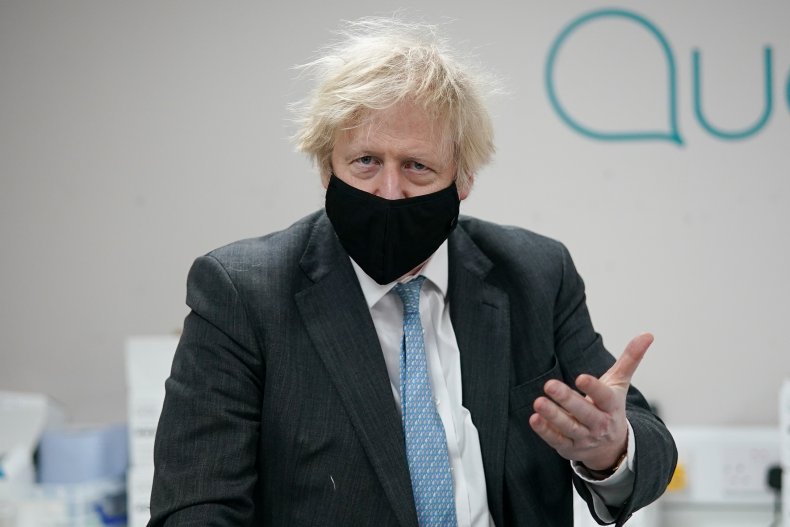 "I'm very delighted to have a good relationship with the White House, which is an important part of any U.K. prime minister's mission. And I've had some good conversations already with president Biden," the prime minister recalled, citing "important developments" as both countries begin to coordinate approaches to climate change and foreign policy. He called the Biden administration's environmental proposals "incredibly encouraging," and added, "we want to work with the president on that."
As the U.K. grapples with a variant COVID-19 strain that scientists suspect could be deadlier than the original, Johnson recalled his serious infection with the virus near the start of the pandemic last spring.
"I think one of the features of this illness is you don't, as you undergo it...it's possible you don't realize quite what a state you're in," he said. "I think that is one of the features of it, because your oxygen levels go down in a way that, perhaps, the patient doesn't necessarily detect themselves."
Newsweek reached out to Downing Street for further comment.