'I Have a Doctor's Note': Boss Firing Sick Worker Over Text Sparks Fury
A worker claims they lost their job of three years for not being able to find someone to cover their shift when they were ill, despite having a doctor's note.
Redditor Spr_t shared a screengrab of messages with their manager, stating they got fired after they weren't able to work, despite not being able to leave their house.
The conversation starts with the recipient, named as Juniour, saying: "You need to find someone to work your shift or you work your shift."
The staff member replied saying: "I have a doctor's note," with a previous message showing a photo of a piece of paper, possibly the note itself.
The boss responds: "And you're not contagious."
The worker doubles down, underlining how ill they are, saying: "I'm vomiting and throwing up and can't get out of the bathroom."
But the manager isn't willing to accept that, replying: "And you texting me, so you can either find someone to work or you work, or you just don't work anymore."
The third option appears to be what transpired, as Spr_t captioned the photo: "I lost my job of 3 years because of this."
Their post, on Reddit's AntiWork thread, racked up more than 57,000 upvotes since being posted on Sunday.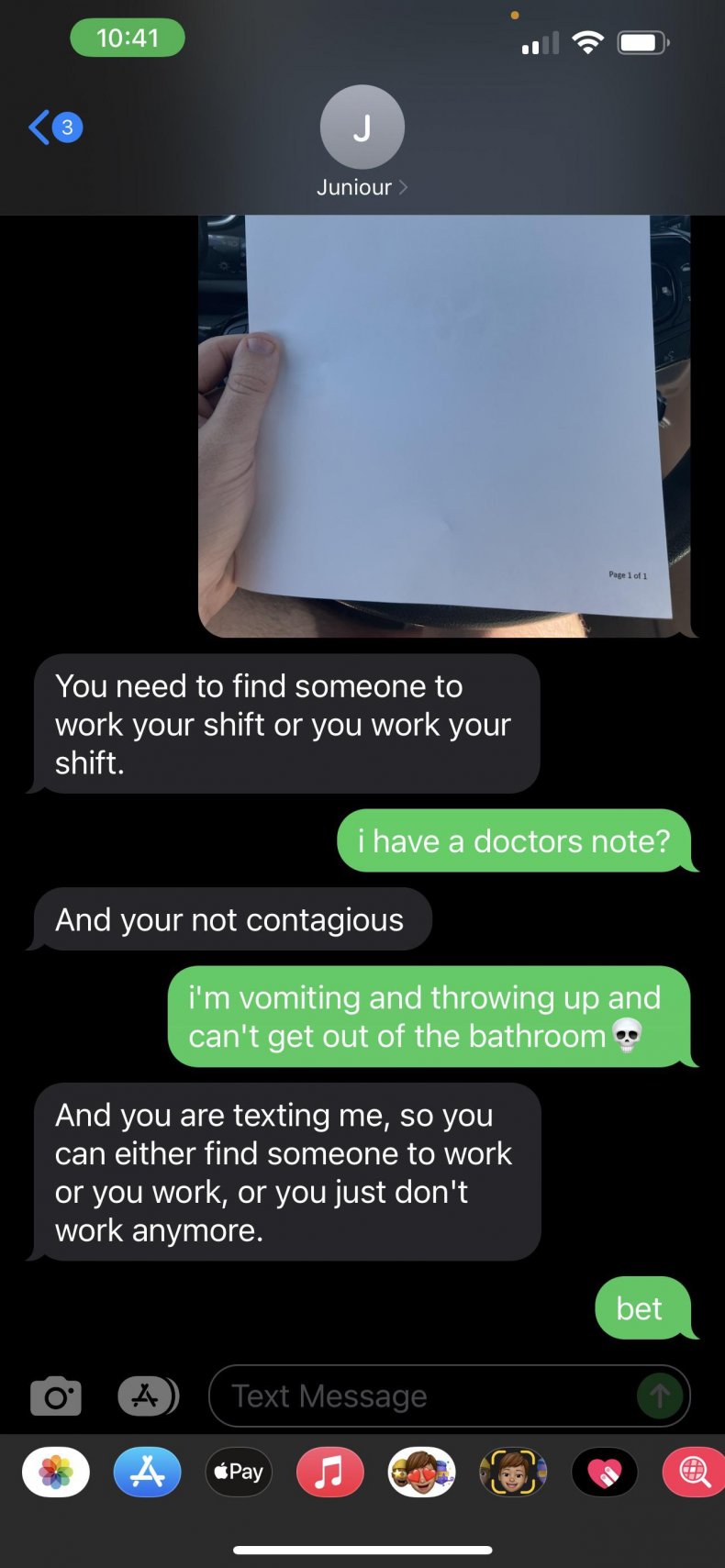 Although Spr_t didn't specify what the job was or where, a previous post in a different forum, of the same conversation, was captioned: "Gotta love silly fast food managers."
The post sparked a debate about sick pay as well as the treatment of staff, with Iphijenneia writing: "I also would rather wait longer for food, than have an employee who's sick breathe their illness all over food."
MizStazya stated: "Mandatory sick pay. So people can actually afford to be out sick."
R3dditor12 pointed out: "Finding employees to cover shifts is a managers job. What a lazy piece of s*** If you have to find someone to cover your shift, then you're doing work for the company and should be getting paid for it. F*** companies that pull this shit."
DJDanielCoolJ advised: "Should've just threw up on the floor."
LastMoPecan joked: "We need to start getting notes from the Doctor's bosses."
Lylire21 thought: "This is about not wanting to pay worker's comp. So wrong."
Gemorris9 added: "What a dumb ass manager. I'm not losing an employee of 3 years cause of a temporary sickness."
Nvralon joked: "You should report him to his superior."
In response to the comments, Spr_t added: "Started this job when I was in high school and made the dumba** decision to sign something from my gm [general manager] turns out because I 'quit' with no notice they lowered my check to minimum wage and my rents due this month."
After the outbreak of COVID-19, numerous workers were laid off and furloughed as the economy grappled with the fall-out of the pandemic. As the country recovered, Americans quit their jobs in droves in what has been termed the Great Resignation.
The U.S. Chamber of Commerce explained in a report entitled Understanding America's Labor Shortage: The Most Impacted Industries, released this year: "In 2021, more than 47 million workers quit their jobs, many of whom were in search of an improved work-life balance and flexibility, increased compensation, and a strong company culture."
But it pointed out that hiring rates had outstripped quit rates since November 2020, suggesting the trend could be better described as "the Great Reshuffle."
Face-to-face industries, such as hospitality, typically had lower wages and struggled to retain staff, the report said.
"For example, the leisure and hospitality and retail industries have had the highest quit rates since November 2020, consistently above 4.5 percent.
"But at the same time, the hiring rate has been even higher. Leisure and hospitality lost 1 million workers in November 2021, but 1.2 million people were hired into the industry that same month.
"In fact, leisure and hospitality has maintained the highest hiring rate of all industries since November 2020, at 8.1 percent. This is compared with the national hiring rate of 4.4 percent," the report said.
The graph below, provided by Statista, shows the number of people quitting their jobs in the U.S.
Update 4/26/22, 6:10 a.m. ET: This article was updated with photos from u/spr_t.