'Say Her Name' Mural Painted On Louisville Street As 'Justice For Breonna Taylor' Petition Amasses 6 Million Signatures
The words "Say Her Name" have been painted on a street in Louisville, Kentucky—as a petition demanding justice for Breonna Taylor collected almost six million signatures.
Taylor, an emergency medical technician, was killed when police serving a no-knock warrant burst into her apartment on the night of March 13 and shot her at least eight times. No officer has been charged in her case.
Her death sparked protests in Louisville, calling for the officers involved to be charged. But worldwide attention has only recently been drawn to her case amid protests triggered by the death of George Floyd, a black man, in Minneapolis police custody on May 25.
Since then, Taylor's name has been chanted at protests with activists urging people to "say her name" to highlight that killings of black women have not received the same attention as those of black men.
Last Friday, on what would have been Taylor's 27th birthday, her mother Tamika Palmer told people at a vigil that her daughter would be protesting if she were alive today.
"It started off lonely, but it's so amazing to see so many people standing up for her, just saying her name," Palmer said, according to The Guardian.
On Monday, WDRB photographer Dalton Rinehart shared an aerial video on Twitter showing the words "Say Her Name" painted in giant, yellow letters on Maple Street in Louisville.
"A Louisville artist has painted the words "Say Her Name" on Maple Street in remembrance of Breonna Taylor," Rinehart wrote alongside the clip, which has since garnered more than 30,000 views.
The mural is similar to the one saying "Black Lives Matter" that was commissioned to be painted on a street leading up to the White House by Muriel Bowser, the mayor of Washington, D.C., last week.
Meanwhile, a change.org petition demanding "Justice for Breonna Taylor" had collected more than 5.9 million signatures as of Tuesday.
The petition was started by Loralei HoJay in the middle of May. It soon collected around 500,000 signatures, she said, but gained significant momentum after Floyd's death triggered worldwide protests against police brutality and systemic racism and drew more attention to Taylor's case.
HoJay, a law student based in New York City, told Newsweek that she was moved to start the petition after reading about Taylor's case.
"I was so appalled at the complete violation of her rights and the unwillingness of our judicial system to take steps to ensure that what happened to her never happens to anyone else, ever again," she said.
"Police cannot break and enter in our homes, start shooting, kill an unarmed and innocent civilian, and chalk it up to a clerical error.
"Breonna Taylor was not only an innocent civilian, but an essential one. She was an American hero, and I won't stop her fight for justice until the people responsible for her death are held accountable."
On the petition page, HoJay adds: "For weeks, the city treated Breonna like she was a criminal, calling her a 'suspect' before finally admitting that she was an innocent, crimeless victim. She had no drugs. She committed no crime. Yet, she is dead, and the perpetrators are facing no charges. Let's get justice for Breonna."
Another petition on NextGen America is urging people to send messages to Louisville Mayor Greg Fischer, calling on him to fire the officers involved as well as demand the Department of Justice launch an investigation into Taylor's death and look into any "pattern or practice of constitutional violations" at the Louisville Metro Police Department.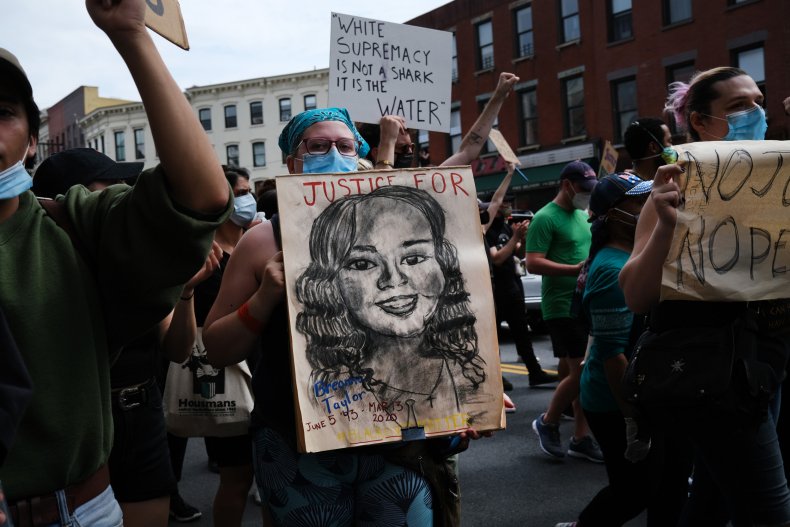 Taylor was killed by LMPD officers who were serving a no-knock warrant as part of a narcotics investigation. Her partner Kenneth Walker fired on the officers, hitting one. Officers returned fire with around 25 rounds, hitting Taylor at least eight times.
Walker has been charged with attempted murder of a police officer, but civil rights attorney Benjamin Crump has said Walker was defending himself and Taylor from what they believed was a break-in, according to an Associated Press report.
Police said a suspect had been using Taylor's address to receive packages they believed could be drugs. No drugs were found in Taylor's apartment.
Late last month, Fischer announced that the police department's use of no-knock warrants—which allow officers to enter a home without announcing their presence—has been suspended indefinitely.
Louisville Metro Police Department and Kentucky Gov. Andy Beshear's office have been contacted for comment.
This article has been updated with comments from Loralei HoJay.