Brett Favre Slammed for National Anthem Comments
NFL legend Brett Favre has been lambasted on social media for suggesting social justice protests were turning people away from sports.
Speaking to The Andrew Klavan Show on The Daily Wire on Sunday, the Pro Football Hall of Fame quarterback said he believed most fans wanted politics and sports to remain separate and that protests would lead to audiences turning off.
"I know when I turn on a game, I want to watch a game. I want to watch players play and teams win, lose, come from behind," Favre said.
"I want to watch all the important parts of the game, not what's going on outside of the game, and I think the general fan feels the same way,
"I can't tell you how many people have said to me, 'I don't watch anymore; it's not about the game anymore.' And I tend to agree."
Social protests have again claimed center stage in American sports following the shooting of Daunte Wright in Brooklyn Center, Minnesota, last week.
Earlier this month, meanwhile, the MLB stripped Atlanta of the All-Star Game following a controversial voting bill that Georgia Governor Brian Kemp signed into law last month.
Favre's stance went down like a lead balloon in some quarters, including among NFL analysts, who suggested the opinion of the three-time MVP wasn't worth considering.
"The most relevant Brett Favre has been in a long time was when he went to watch Tom Brady play while wearing Tom Brady's face on his shirt," tweeted Draft Wire editor Luke Easterling.
NFL Network's Patrick Claybon, meanwhile, indicated Favre's thoughts on social justice protests were both "unwanted and unsolicited". The wording of the tweet appeared to be a thinly-veiled reference to Favre allegedly sending unsolicited voicemails and suggestive text messages to Jenn Sterger in 2008.
At the time, Favre was the New York Jets quarterback and Sterger was the team's sideline reporter. The case emerged two years later when Deadspin reported Favre had allegedly asked Sterger to visit him in his hotel room and that his messages included pictures of himself.
Favre admitted leaving voicemails, but denied sending the photos and was subsequently fined $50,000 for "failure to cooperate" with an NFL investigation on the matter.
Since former San Francisco 49ers quarterback Colin Kaepernick first knelt during the anthem to protest against racial discrimination and police brutality in 2016, social justice protests developed into a polarizing issue during Donald Trump presidency.
Trump repeatedly accused protesters of disrespecting the national anthem and the flag and called for NFL players to fire players who took a knee.
Favre, who publicly supported Trump in the lead-up to the 2020 presidential elections, suggested kneeling during the national anthem had done more damage than good.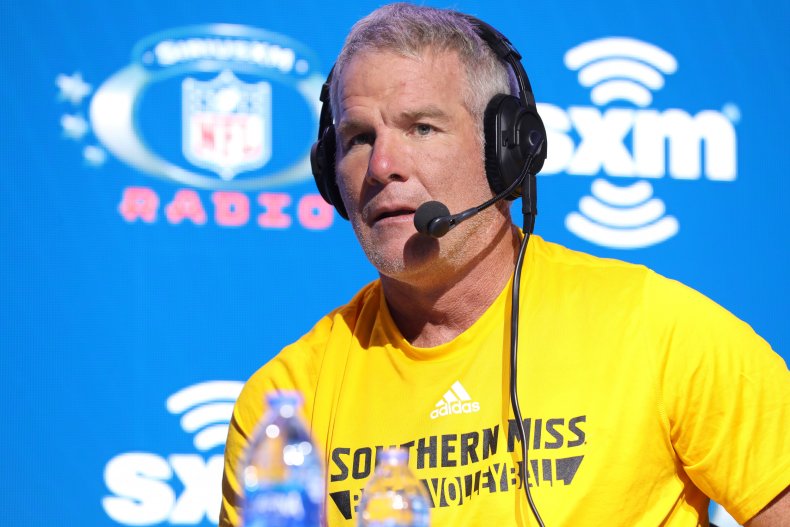 "It's really a shame that we've come to this," he said.
"Something has to unify us, and I felt like the flag, standing patriotically [...] because Blacks and whites and Hispanics have fought for this country and died for this country. It's too bad."
Favre, incidentally, previously championed Kaepernick's cause, suggesting he deserved a second chance in the NFL.
The former 49ers quarterback became persona non grata in the NFL in the wake of his protests and has been out of the league since the end of the 2016 season.
He accused the 32 franchise owners to collude him to keep him out of football, before subsequently settling the lawsuit with the NFL.
Claiming social protests would hurt sports TV rating and audiences was a popular refrain of Trump's four-year term.
In September 2017, he suggested "NFL attendance and ratings were way down" as fans were turned off by protests. In July last year, Trump took aim at the MLB after San Francisco Giants players knelt during the national anthem ahead of their exhibition game against the Oakland Athletics.
"Looking forward to live sports, but any time I witness a player kneeling during the National Anthem, a sign of great disrespect for our Country and our Flag, the game is over for me!," he tweeted.
The MLB, like the NBA and the NFL, publicly backed teams and players who chose to protest in the wake of George Floyd's death shortly after being arrested by the Minneapolis Police Department on May 25, 2020.
In October, it was the NBA's turn to attract Trump's ire, as he poked fun at the plummeting ratings for the NBA Finals and suggested Americans had "zero interest" in watching basketball.
Following Floyd's death, the NBA agreed to allow players to wear social justice messages on their jerseys during the playoffs and displayed the Black Lives Matter logo on the courts.