Bullish China Warns U.S. Unification With Taiwan Unstoppable by 'Any Force'
China's ambition to "unify" with Taiwan cannot be stopped by any force or country, a government spokesperson said in a message to the United States on Monday.
At a regular Foreign Ministry press conference in Beijing, Zhao Lijian cautioned President Joe Biden's administration against further contact with the democratic island, where public opinion of China has slid to an all-time low thanks to hostile rhetoric and bellicose military maneuvers in recent years.
The Chinese leadership and its top diplomats have all but dismissed sentiments on the opposite side of the Taiwan Strait. Beijing is at least outwardly confident about its determination—and capability—to bring the island under its rule, in accordance with its own opaque timetable.
The U.S. is equally opaque about its intention to intervene militarily on Taiwan's behalf, but successive American governments have warned Beijing against the use of force to achieve its goal.
Taiwan, meanwhile, says it has the will to defend itself.
"China's complete unification is an unstoppable historical trend that cannot be changed by any person, any force or any country," said Zhao. "We urge the United States to take seriously China's position and concerns, be cautious with its words and deeds on Taiwan-related issues, stop military contacts with Taiwan, stop developing substantial relations with Taiwan, and stop sending wrong signals to Taiwan independence forces."
Taiwan's President Tsai Ing-wen says the island is already a functionally independent state called the Republic of China. Her country has no need to declare otherwise, Tsai said following her re-election last January.
Zhao's remarks came in the days after the White House's national security adviser, Jake Sullivan, commented briefly on Taiwan during an event hosted by the Council on Foreign Relations (CFR) last Friday.
After CFR President Richard Haass asked whether the U.S. should clarify its intention to defend Taiwan, Sullivan said Washington's position, under the existing "one China" policy framework, was already clear.
"The whole purpose of American policy towards Taiwan and towards cross-strait relations is fundamentally designed to ensure that we never face a circumstance in which we need to directly answer the question that you posed," Sullivan said, in a message that stressed deterrence over intervention.
He said the U.S. would continue to call out China when it undermines stability in the Taiwan Strait.
"Because we believe that there is a formula that works to maintain the status quo, to not have unilateral changes to that status quo. That is what the Biden administration is pursuing. We think that is well understood by our partners and should be well understood in Beijing."
Haass served in the State Department under former President George W. Bush. He is a long-time advocate of so-called "strategic clarity"—a policy change that would make clear the U.S.'s intention to defend Taiwan in the event of a Chinese attack.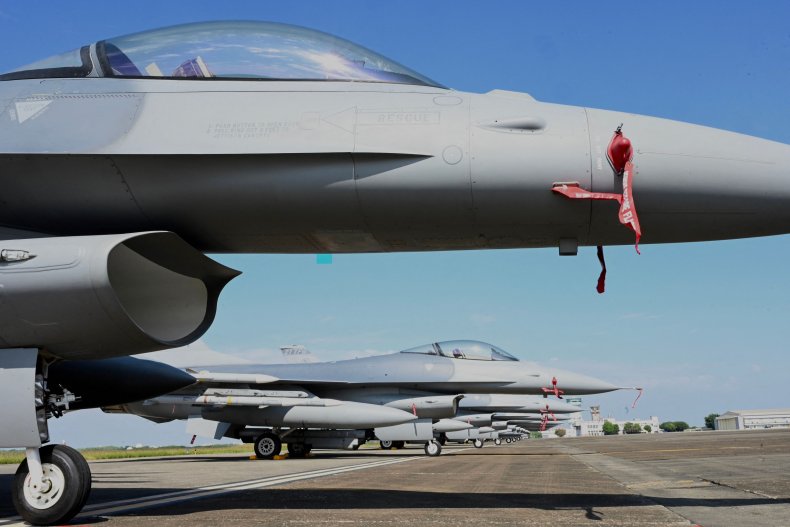 In the absence of an ironclad security commitment to the island, the U.S.-Taiwan defense partnership is built on the Taiwan Relations Act (TRA), a 1979 law, supported by then-Senator Biden, that obligates the sale of defensive weaponry to the island while also maintaining the capacity of American forces in the region.
Sullivan described the TRA as "a unique instrument" not shared with other countries. China has recently railed the TRA, calling the decades-old American legislation "illegal and invalid."
Further alignment between Taipei and Washington since Tsai's first election win in 2016 has come at the expense of both governments' relations with Beijing.
During Monday's Foreign Ministry briefing, Zhao blamed Taiwan's ruling party for refusing to accept Beijing's position that Taiwan is a part of China. The Taiwanese government was provoking confrontation by "soliciting U.S. support," he said.
"Some forces in the U.S. have stubbornly manipulated the Taiwan question to contain China. They have emboldened Taiwan independence forces and increased tensions across the Taiwan Strait," said Zhao.
Faced with increased political, military and economic pressure from China, Taiwan is emphasizing the importance of more trade relations with the U.S. The island is already America's ninth largest trading partner, but the U.S. so far has been reluctant to sign on to a free trade agreement.
On Saturday, the Tsai administration was given a vote of confidence to pursue deeper economic ties with the U.S. after surviving a national referendum that included a crucial question on market access for American pork products containing the leanness-enhancing drug ractopamine—long considered a stumbling block on the path to deeper integration between the two economies.