California Wildfires, Blackout Fears Create Conflict for Electric Car Users
Electric vehicle owners are caught in confusion as conflicting reports of energy conservation requests and wildfire evacuation warnings sweep California.
Newsweek reported last week that much of southern California remains under an excessive heat warning, with the state's grid operator warning high temperatures could lead to blackouts. A prolonged heat wave has temperatures expected to reach as high as 115 degrees Fahrenheit in some parts, according to the National Weather Service (NWS). Concurrently, wildfires threaten various parts of the state. Evacuation warnings are in place for several cities.
Cal Fire Battalion Chief Issac Sanchez urges electric vehicle owners to not risk their lives and prioritize charging their EVs before opting to conserve energy.
"We recommend cars are fully charged and ready to go. If that's your means of evacuation and if you don't do it, you are unable to evacuate, life safety is a priority. At least it is to us," Sanchez told Newsweek. "Our priority is always to err on the side of life safety."
Sanchez said there are wildfire evacuation warnings in many California municipalities threatened by the fires. East of Los Angeles near Hemet, California, the Fairview Fire prompted the evacuation of up 1,500 homes. Despite those efforts, two people have been killed by the fires.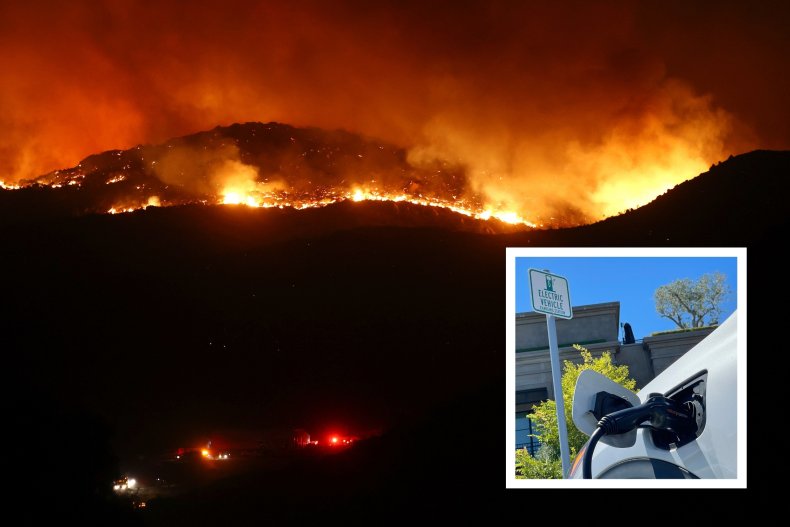 Newsweek reported that Riverside County Fire Department (RCFD) first announced the Fairview Fire at 3:37 p.m. on Monday when it was burning across "20 acres of light to medium vegetation at a rapid rate."
The fire grew quickly, first to 500, then 2,000 acres by the evening, according to emergency responders.
Independent Journal Review reported August 31 that California officials were warning electric vehicles against charging their cars, as it puts a strain on the electric grid. The report showed northern California could see weather at 10 to 12 degrees above average and southern California could see temps exceeding 12 to 18 degrees above normal. Residents are asked to voluntarily conserve energy through Flex alerts, with the biggest need for energy conservation between 4 and 9 p.m. when the system is the most stressed.
However, Sanchez implied residents should ignore those alerts or charge their EV ahead of time if they are in an area near a wildfire, especially if their means of transportation is an electric vehicle.
"If you are unable to evacuate because your vehicle is not charged, that puts life in jeopardy," Sanchez said.
Electric vehicles vary in battery capacity and charging time. Mechanic Base reported a Tesla can take anywhere between minutes and days to charge, depending on the level of voltage. For Level 1, or plugging the car into a normal household outlet with 120 volts, charging can take 20 to 40 hours for a full charge. Level 2, or 240 volts such as what is available at most public charging stations, can take between eight and 12 hours. Level 3, or 480 volts such as the Tesla Supercharger network, can take less than a half hour, with charge time ranging between 15 and 25 minutes.
The Motor Digest reports a Tesla can drive between 270 and 375 miles on a full battery, depending on the model.
In past blackout events, Gildshire Magazines reported that Tesla notified all Tesla owners to charge their car to its full extent prior to a blackout.
Newsweek reached out to Tesla for comment.