Camilla Wears Designer Loved by Diana Ahead of Jubilee Tour
Prince Charles and his wife Camilla, Duchess of Cornwall, paid a visit to Canada House in London on Thursday ahead of the couple's jubilee tour of Canadawith the duchess wearing a statement red dress, in a nod to the Canadian flag, created by one of Princess Diana's favorite designers.
The royals' tour will follow a succession of disastrous royal trips to the Caribbean by Prince William, Kate Middleton and the queen's youngest son, Prince Edward, where republican sentiment is growing. Charles and Camilla are expected to have an easier time in Canada, experts previously told Newsweek, where the queen is highly popular.
Camilla took a leaf out of step-daughter-in-law Kate's book by dressing in the color of her host nation's flag. This was done by Kate on each leg of her Caribbean tour and for her first visit to Canada in 2011, where she wore a red hat with a felt maple leaf sewn into its design.
Camilla's dress was made by Bruce Oldfield, a British designer who has counted Princess Diana among his most famous clients.
The duchess' dress was made of "fine wool-crepe" and featured panel detailing, Oldfield confirmed to Newsweek on Thursday.
The designer has a long association with royal clients dating back to the 1980s, when he first met and started dressing Diana.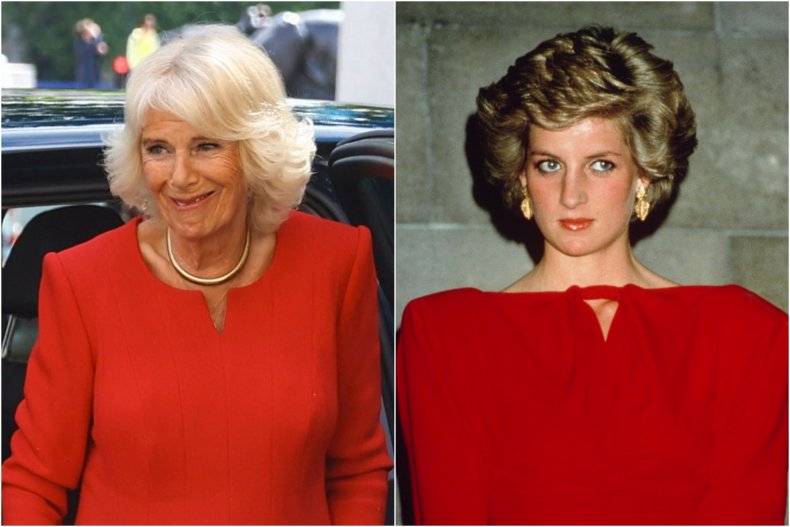 It was through the charity Barnardo's, of which Diana was president, that the princess and designer formed a strong relationship. Diana often sported Bruce Oldfield designs at movie premieres and in official photographs.
One of the most famous of Diana's Oldfield dresses was a silver-pleated lamé evening dress that was cut to reveal a daring open back. The princess wore the dress to the premiere of the 1985 James Bond movie A View To Kill. This would not be the designer's only royal Bond commission.
As Princess Diana's life advanced into the 1990s, which brought with it the breakdown of her marriage and transformation into a new model of modern royalty, she moved away from some of the designers who had helped to establish her image. These included among them the designers of her wedding dress—the Emmanuels, as well as British designer Zandra Rhodes and Bruce Oldfield.
Speaking many years after Diana's death, Oldfield revealed to The Sunday Times that the princess's move away from his house had a dramatic affect on the way people viewed his business. The move by Diana happened at the time she stepped down from her charity work after her divorce from Prince Charles was finalized.
One day after the Decree Nisi was granted officially dissolving her marriage, the princess announced that she would be stepping away from the nearly 100 charities she was involved with, continuing to support only six in an official capacity.
"We were more angry about Barnardo's," Oldfield told The Sunday Times on his feelings after losing Diana as a client, "To lose your president in such a public way. We were pretty upset."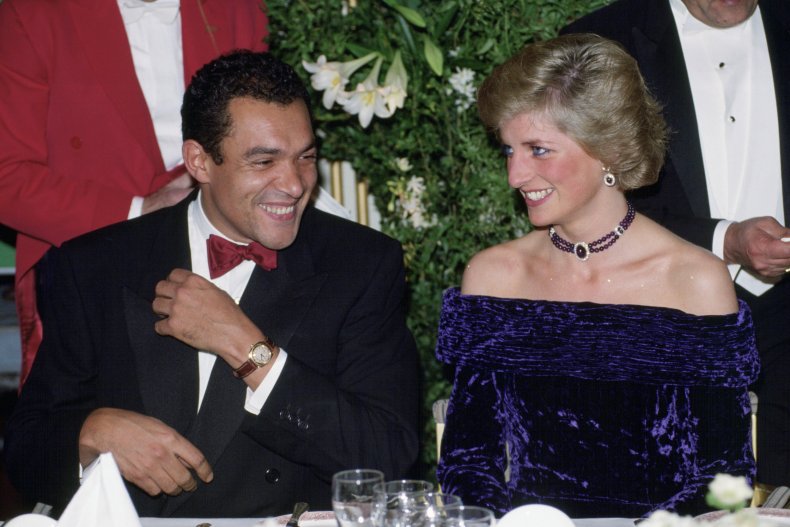 In 1997, just months before she died in a tragic car crash in Paris at the age of 36, Diana included five of her most treasured Oldfield designs in the Christie's auction of her dresses. These included a black velvet evening gown worn to the premiere of Les Miserables in 1985 and a spangled silk chiffon dance dress worn to the premiere of Hot Shots in 1991.
The sale of Diana's dresses raised $3.2 million dollars for charity and many of the lots have made their way into museum collections around the world. A number of Oldfield's designs for the princess were included in the special exhibition staged at Kensington Palace to mark the 20th anniversary of her death.
Since the 1990s Oldfield has built up a strong base of couture clients, including Sophie, Countess of Wessex, the wife of Prince Edward, and Camilla.
The relationship between Camilla and Diana was known to be acrimonious with the princess publicly attributing at least part of the breakdown of her marriage to the then Camilla Parker Bowles.
In her infamous BBC Panorama interview in 1995, Diana was asked by Martin Bashir: "Do you think Mrs. Parker Bowles was a factor in the breakdown of your marriage?"
The princess responded: "Well, there were three of us in this marriage, so it was a bit crowded."
Camilla's public image took a further hit in the 1990s after Diana's death, but the British public has slowly come to regard her more favorably since her marriage to Charles in 2005.
Camilla is now the eighth-most popular royal, according to YouGov, ahead of Prince Harry and Meghan Markle.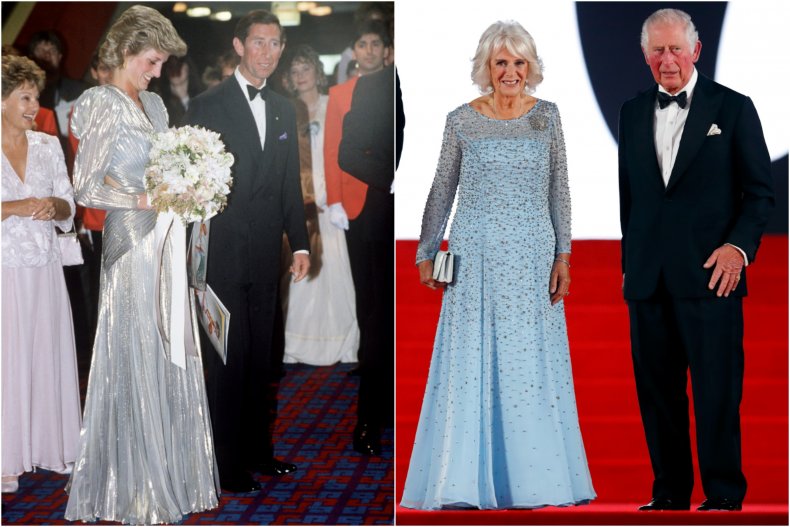 In February 2022, the queen marked this turnaround in public opinion by announcing that it's her expressed wish that Camilla be known as "Queen Consort" when Charles becomes king, and not "Princess Consort," which had previously been agreed.
Camilla is a valued Oldfield client, and as a future queen, she is his most prestigious one. When asked by The Sunday Times if he dresses the duchess, Oldfield responded: "I do, but I'm not allowed to talk about it."
Despite this, he made it known that he is a fan of the royal. "She's fabulous," he continued. "I'm really pleased that people are warming to her."
"In America is was quite difficult, because people are pro... somebody else," he said in a thinly veiled reference to Diana. "But it's 20 years ago, you know. Please!"
Perhaps the most famous Oldfield design that Camilla has worn to date was the elegant ice blue evening gown she chose to wear to the royal premiere of the James Bond movie No Time To Die in 2021. It was 36 years after Diana had dazzled in her silver lamé Oldfield at another Bond premiere.
Charles and Camilla are in Canada from May 17-19 to mark the Platinum Jubilee and they will visit Newfoundland and Labrador, Ottawa and the Northwest Territories.
Update 5/12/22 2:50 PM ET - The headline of this story has been changed