Canadian Royal Tour Won't Be as 'Controversial' as Caribbean Trip—Experts
Prince Charles and Camilla, Duchess of Cornwall's upcoming royal tour of Canada won't be as "controversial" as Prince William and Kate Middleton's visit to the Caribbean, Newsweek has heard.
The announcement of Charles and Camilla's visit comes after a wave of criticism was launched at William and Kate both during and after their visit to the Caribbean nations of Belize, Jamaica and the Bahamas. Critics felt the trip had colonial undertones and said the duke and duchess should've commented more on the royal family's historic links to slavery.
Clarence House announced this week that Charles and Camilla will embark on a three stage tour of Canada, taking in visits to Newfoundland and Labrador, Ottawa and the Northwest Territories. The couple previously visited the country together in 2014 and 2017.
Author of Prince Philip Revealed: A Man of His Century Ingrid Seward told Newsweek that she would be "very surprised if there were any echoes" of the criticisms launched at William and Kate in the wake of their most recent tour. "I know they're both commonwealth countries" she continued, "but it's quite different."
"I don't for one moment think that they won't be hugely welcomed," Seward said. "The Canadians are quite excited."
The royal family has a long established relationship with Canada. Royal commentator Richard Fitzwilliams told Newsweek that the royals are close to the people of Canada.
"Charles and Camilla are deputizing for the queen who has been to Canada over 20 times," he said. "It has been visited more than any other commonwealth country."
The country may also hold sentimental value for the queen.
"Canada has always been very important to the royals because that's where the queen visited when she was still Duchess of Edinburgh and it's always been a main spot to go," Seward said.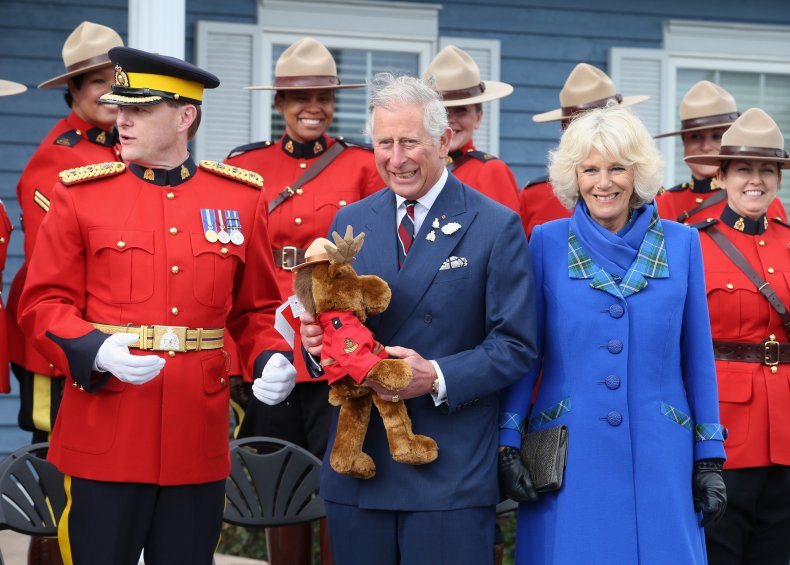 On why Charles and Camilla have been chosen for this tour and not William and Kate, Fitzwilliams told Newsweek:
"It's probably the fact that Camilla, as we know is going to become queen consort, and Canada is one of the most important of the queen's realms and it's been decided that this would be appropriate in the pattern of the Jubilee year.
"Charles and Camilla were in Ireland on an official visit during William and Catherine's trip to the Caribbean but because that trip turned out to be so controversial, the Irish visit wasn't so well publicized.
"This isn't the sort of trip like that of the Caribbean," he added. "It is unlikely to have any sort of problems because Canada is most unlikely to become a republic. Jamaica may well be the next to become a republic and some of the other countries in the Caribbean might as well—but there isn't anything similar in Canada"
This does not mean, however, that there is not a burgeoning republican movement within the country. In a poll undertaken by Canada's Angus Reid Institute in November 2021 found that 52 percent of respondents said they did not think Canada should continue as a constitutional monarchy—this compares to just 38 percent in 2016.
Mario Canseco, president of Canadian public opinion research group, Research Co, posted the result of the latest poll on the monarchy to Twitter last month, writing:
"Fewer than half of Canadians (48% -1 since 2021) believe the country will "definitely" or "probably" be a monarchy two decades from now, while 30% (-1) expect Canada to have an elected head of state by that time."
Despite these numbers the queen remains popular in Canada. Though she no longer travels long distances, she stays in close contact the the country's prime minister and governor general. Prime Minister Justin Trudeau was honored by the queen with her first in person meeting with a world leader since contracting coronavirus earlier this year.
"I have had the particular privilege of having known Her Majesty for about 45 years now," Trudeau said after the meeting, "and I can tell you that in my conversation with her this morning she was as insightful and perspicacious as ever, very interested in what is going on, asked me all sorts of questions about Canada."
Following his royal tour of the Caribbean last month it has been reported that Prince William could reassess the ways in which these visits are run. For Fitzwilliams though they remain a powerful diplomatic tool not to be underestimated.
"Royal tours are absolute gold dust," Fitzwilliams told Newsweek. "They are the most significant projection of soft power that Britain has and this absolutely remains the case despite the problems with the Caribbean tour."
Also, many royal watchers forget that "it's the host country that wants tours, asks for them and organizes them," Seward said. "It's not imposed upon them in a way that appears colonial. It's not imposed at all."
Charles and Camilla's tour of Canada will take place in May of this year but that doesn't rule out the possibility that William and Kate, who have visited the country twice in 2011 and 2016, could be asked to make the westward journey also.
"The fact that Charles and Camilla are going to Canada does not mean that William and Kate might not go again later in the year," Seward said. "This visit is only taking in a few days so that wouldn't rule out a further visit by a member of the royal family."