Camille Vasquez Helps Airline Passenger in Medical Emergency Mid-Flight
Johnny Depp's lawyer Camille Vasquez helped save a male passenger onboard an American Airlines flight earlier this week.
The PR for Vasquez' employers Brown Rudnick LLP confirmed to Newsweek that she became involved in the medical emergency and assisted the man at 40,000 feet.
Vasquez has become an internet sensation over the past few months after representing Depp in his defamation suit against ex-wife Amber Heard. Depp ultimately won his case after a near-two month trial came to an end earlier this month.
On Monday June 20, Vasquez was aboard American Airlines flight from Los Angeles to New York when a man in his 70s fell to the floor while walking past her and her bodyguard in first class.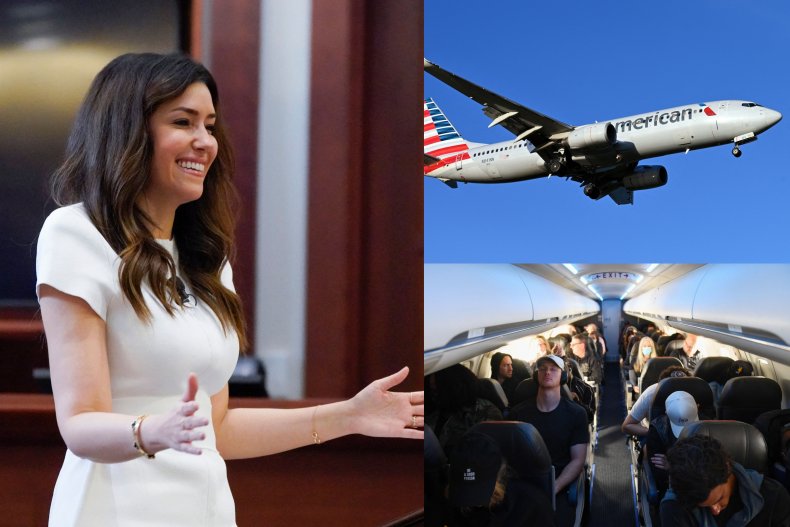 Vasquez and her bodyguard tended to the man after the flight attendant reportedly yelled for help. Vasquez then got in touch with a contact of hers who is a doctor, who started guiding her through the steps to check on the man's condition. After this, a surgeon onboard arrived to take over.
For helping with the emergency, one of the flight attendants called Vasquez "Wonder Woman" and gifted her a bottle of champagne and a bottle of merlot.
When contacted for comment, American Airlines confirmed that on June 20, American Airlines flight 184 with service from LAX to JFK returned to Los Angeles due to the medical needs of a customer.
Once again Vasquez is being praised across social media for her actions on the plane. She already had a sizable number of fans across Twitter, TikTok and Reddit but her popularity has yet again received another boost.
"Cementing her reputation as a badass," wrote @ComedyFan1981. Other comments praising the attorney include "Camille is a superhero," "Real heroes don't wear capes," and "I'm sorry but Camille Vasquez is a superwoman prove me wrong."
"She's an Angel!" @Devill_uh said, "Is there anything she can't do? We love you, Camille!" The praise for Vasquez goes on and on as she once again became a trending topic on Twitter after the story broke.
Throughout the Depp vs. Heard trial, Vasquez had to answer questions relating to rumors that she was dating Depp. After the high-profile trial finished too, Vasquez was made a partner at her law firm Brown Rudnick LLP.
Vasquez has appeared alongside her colleague Ben Chew in a number of post-trial interviews recently, discussing the next stage of the trial which could involve an appeal by Heard's legal team.