Camille Vasquez Fights Tears In Video Recounting Depp's Post-Verdict Smile
Johnny Depp's attorney, Camille Vasquez, became emotional in a taped interview as she recounted seeing her client smile again following the verdict in his defamation trial against ex-wife Amber Heard.
Vasquez was the surprise breakout star during the six-week court battle, which centered upon Depp's $50 million lawsuit against Heard over a 2018 op-ed for The Washington Post, in which she said she was a domestic abuse survivor.
Following a high-profile trial, the jury on June 1 awarded Depp $10 million in compensatory damages and $5 million in punitive damages, after finding Heard's claim to be false and defamatory.
Heard, who had countersued for $100 million, was awarded $2 million after it was found that Depp's former attorney, Adam Waldman, had made defamatory comments about her.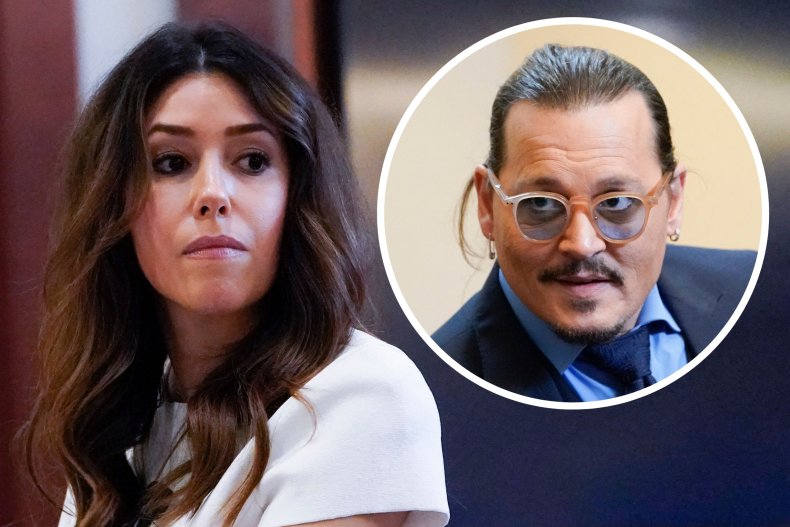 Depp was not present when the verdict was handed down, as he had embarked on a European tour with Jeff Beck days beforehand—but Vasquez has revealed that they still ensured they were in touch with the star on the day.
"The court was very kind to provide us with a breakout room that we used for lunch and meetings," Vasquez told Hola! USA in a new interview. "We FaceTimed him; he was so relieved, so happy, and grateful. It was nice to see him smile.
"A mutual friend of ours and I were speaking, and he said, 'I haven't seen Johnny smile like that in six years.' And it's true.
"There's a piece to him now that he just didn't have before. He was able to tell his story and was infinitely grateful; he was moved. We all were. I still get a bit emotional about it—to give him his life back."
Vasquez worked alongside fellow attorney Ben Chew during the televised trial, during which Depp and Heard leveled allegations of physical violence at one another, accusations they both denied.
After the trial came to an end in late May, Vasquez told Hola! USA that things became decidedly less intense as the legal team awaited the jury's verdict.
"When we got a notification that the verdict would be read, we were in a very intense game of Monopoly," she said. "And despite how intense it was, we quickly went through all our money. And then we had a little dance party to get our wiggles out.
"And then we get the verdict. It's overwhelmingly positive for Johnny [Depp], and we immediately got him on the phone. So we collected ourselves, and Ben and I decided we should go outside."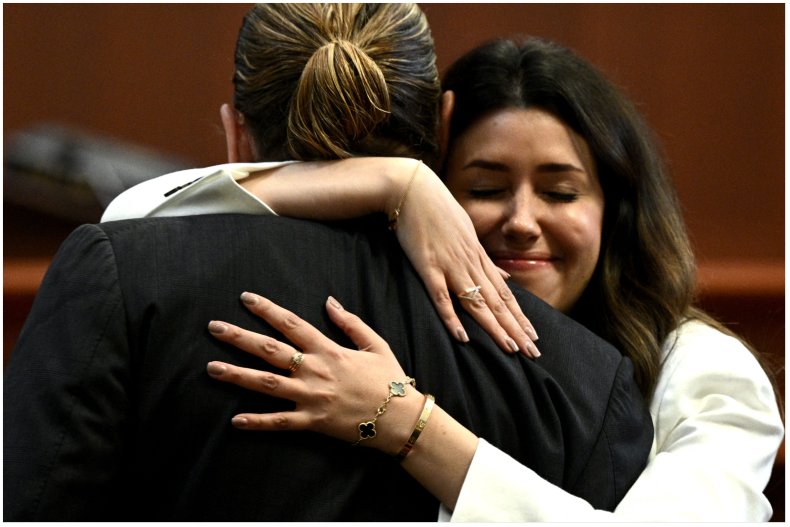 However, the attorneys' plan to share a statement outside Virginia's Fairfax County Circuit Court regarding the verdict was not without its stumbling blocks.
Vasquez recalled how "when we were inside the elevator—it was a very warm day on the court, and we were heading downstairs, it broke! We thought we would be stuck there, and thankfully the boys managed to push the door, and we got off downstairs. So we were able to give the statement; it was a day I'll never forget."
Following the verdict, Vasquez was promoted to partner at her law firm Brown Rudnick.
She also recently addressed some of the public erroneously interpreting her friendly working relationship with Depp as having romantic undertones.
When asked about the rumors by People, Vasquez she called all the speculation "sexist," "unfortunate and disappointing."
"I guess it comes with the territory of being a woman just doing her job," said Vasquez, who told the outlet that she is "very happy" with her boyfriend.
She continued: "It's disappointing that certain outlets kind of ran with it or said that my interactions with Johnny—who is a friend and I've known and represented for four-and-a-half years now—that my interactions in any way were inappropriate or unprofessional. That's disappointing to hear."
"I care very deeply about my clients, and we have obviously become close," she added. "But when I say we, I mean the entire team, and of course that includes Johnny. And, I'm Cuban and Colombian. I'm tactile. What do you want me to say? I hug everyone. And I'm not ashamed about that."