Joe Rogan believes everyone wants to see Johnny Depp date Camille Vasquez, the attorney who helped him to success in his recent defamation trial.
Vasquez was the surprise breakout star of the court case, becoming a trending topic online during it with numerous admirers commenting on her abilities during the court case. As a result of her friendship with Depp during the trial, a number of dating rumors emerged and Vasquez has even been forced to address the topic on a number of occasions.
Comedian and podcaster Rogan once again weighed in on the subject of Depp vs. Amber Heard with his guests Ari Shaffir, Shane Gillis and Mark Normand. Not for the first time, he commented unfavorably on Heard but also discussed his admiration for Vasquez.
Comedian Normand admitted to having a crush on Vasquez and Rogan added, "She's very hot."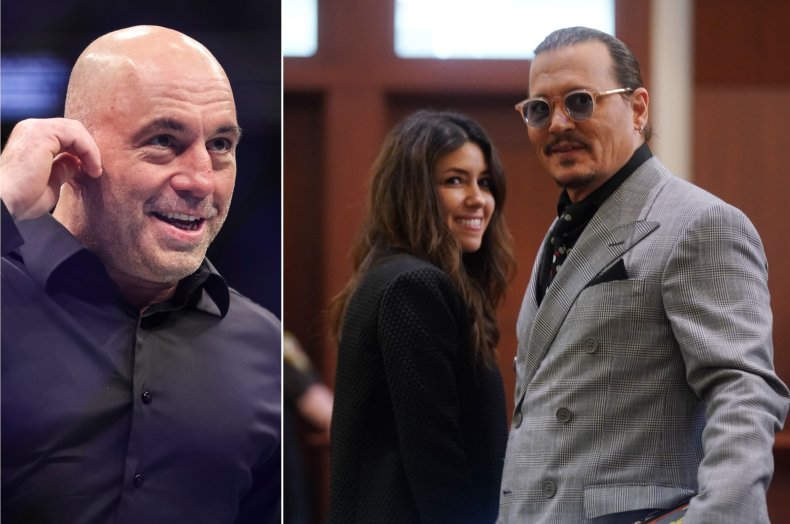 He continued: "Being hot and natural, and really smart. Really smart and not taking any bull s****. And, we all want her to fall in love with Johnny secretly, right?"
"I think they've got a thing," Normand added.
This is a repeat of the many calls heard from Depp's fans during the trial who filled TikTok, Reddit and Twitter with speculation and wishes for the pair to get together, despite Vasquez having a boyfriend. Rumors continued to swirl after the trial ended in May after Vasquez and Depp hugged in the court room. She recently said in an interview that she hugged him because "he needed it."
Vasquez was asked about the rumors by People where she called all the speculation "sexist," "unfortunate and disappointing."
"I guess it comes with the territory of being a woman just doing her job," Vasquez said.
Not only gaining attention online, Vasquez also became the topic of a number of articles across news mediums. Eventually many of these publications printed stories relating to the nature of Vasquez and Depp's relationship too.
"It's disappointing that certain outlets kind of ran with it or said that my interactions with Johnny—who is a friend and I've known and represented for four-and-a-half years now—that my interactions in any way were inappropriate or unprofessional. That's disappointing to hear."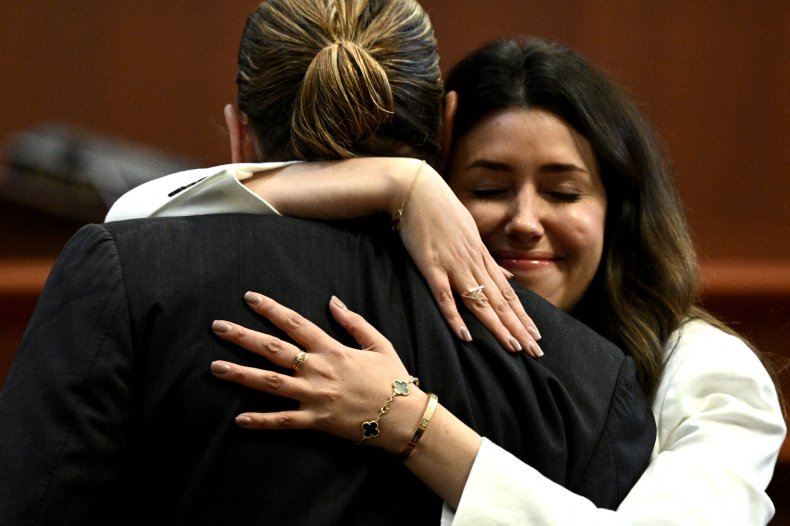 "I care very deeply about my clients, and we have obviously become close," she added. "But when I say we, I mean the entire team, and of course that includes Johnny. And, I'm Cuban and Colombian. I'm tactile. What do you want me to say? I hug everyone. And I'm not ashamed about that."
Since the trial, Vasquez has become a partner for her law firm Brown Rudnick. She and Ben Chew, both of whom represented Depp during the trial and have conducted interviews afterwards, will appear in the upcoming documentary sequel series Johnny vs. Amber.
The Depp vs. Heard trial ran from early April to late May, with Depp winning the case when the jury passed down their verdict on June 1. Depp sued Heard after she wrote a 2018 op-ed stating she was the survivor of domestic abuse. The court found that her statements were defamatory towards Depp, resulting in him now being owed $8.3 million.