Can Russia and Iran Solve Syria? Top Officials Discuss Helsinki as Thousands Freed From Rebel Rule
President Vladimir Putin's top Syria adviser met Wednesday with senior Iranian officials to relay the results of discussions between the Russian leader and President Donald Trump on Syria, where a recent deal has allowed the evacuation of two pro-government villages behind enemy lines.
Russia's special presidential envoy for Syria Alexander Lavrentiev traveled to Tehran to discuss Monday's U.S.-Russia summit in Helsinki with Supreme National Security Council of Iran Deputy Secretary Ameer Saeed Iravani and convey Moscow's ongoing support for the Syrian military in a seven-year civil war being fought between the government, rebels, jihadis and other factions. Russia and Iran have managed to help Syrian President Bashar al-Assad overcome insurgents, while the U.S. has largely abandoned attempts to overthrow the leader and has instead focused on taking out jihadis.
"The decisive position of the Russian president from the United States represents Russia's commitment to international standards and indicates the superiority of the Russian leadership by following the logic of dialogue to resolve political and security challenges," Iravani said, according to Al Manar, a Lebanese outlet tied to the Iran-backed, Lebanese Shiite Muslim Hezbollah movement. "Russia and Iran will continue to support the Syrian Army in the war to eliminate terrorism."
"The Russian government's determination to continue joint cooperation in the war against terrorism will continue until stability and full security are realized in Syria," Lavrentiev said.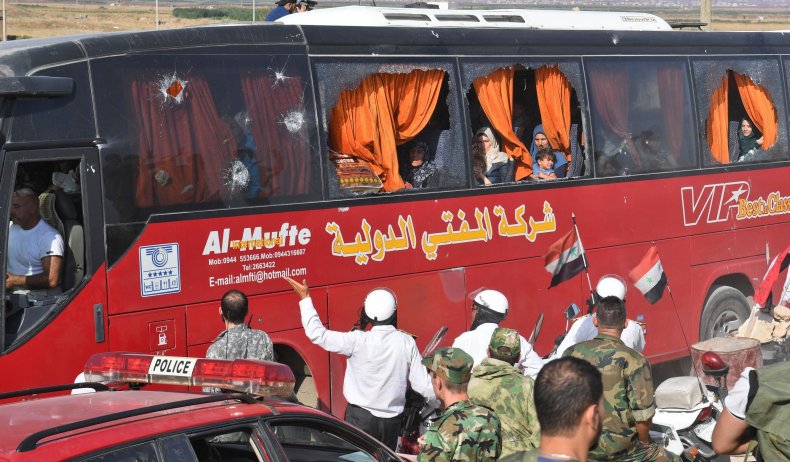 The meeting was the latest high-level talks between Russia and Iran in Syria and the first since Trump and Putin appeared to reach a working consensus on their rival missions. The U.S. entered the Syrian conflict in support of rebels that took arms against the government in the wake of a 2011 uprising, but it has since scaled back its assistance as it began targeting the Islamic State militant group (ISIS) in 2014.
The following year, Russia began supporting Syrian troops and Iran-backed militias to reclaim the country. While Trump has bombed Syrian government sites in response to alleged chemical weapons attacks, the two offensives have remained relatively amicable.
With their mutual enemy ISIS on the brink of total defeat, however, the U.S. and Russian-backed campaigns have diverged on the long-term presence of Iran and its regional allies in Syria. The U.S. and its allies Israel and Saudi Arabia have accused the revolutionary Shiite Muslim power of supporting terrorism and destabilizing the region. Israel has increased its shadow campaign of airstrikes against suspected Iranian and pro-Iran positions in neighboring Syria.
Related: Will war in Syria end? U.S. allies prepare to rebuild ties to Assad after Trump's talk with Putin
The attacks—often left unclaimed by Israeli officials—have ramped up rare tensions between Russia and Iran, thus spurring efforts to reach international agreements to keep the peace. Such deals have reportedly seen Iran-backed fighters pull out of the Syrian campaign to retake the southwest, where neighboring Israel and Jordan have said they would respect the government's return.
Following its latest victories, the Syrian government has regained control of nearly every major population center, leaving about a quarter to a third held by the U.S.-backed Syrian Democratic Forces and smaller portions in the hands of ISIS and rebels, who are now mostly concentrated in the northwestern province of Idlib.
The insurgent bastion of Idlib, mostly run by the jihadi coalition of Hayat Tahrir al-Sham, has received scores of opposition fighters that refused to reconcile with the government after losing battles nationwide. As Russia spoke with Iran on Wednesday, a deal mediated between both countries and pro-opposition Turkey managed to secure the release of up to 7,000 people in Idlib's mostly Shiite Muslim, pro-government towns of Al-Foua and Kefraya, which were seized by rebels in March 2015. In exchange, the Syrian government has agreed to release up to 1,500 imprisoned opposition supporters.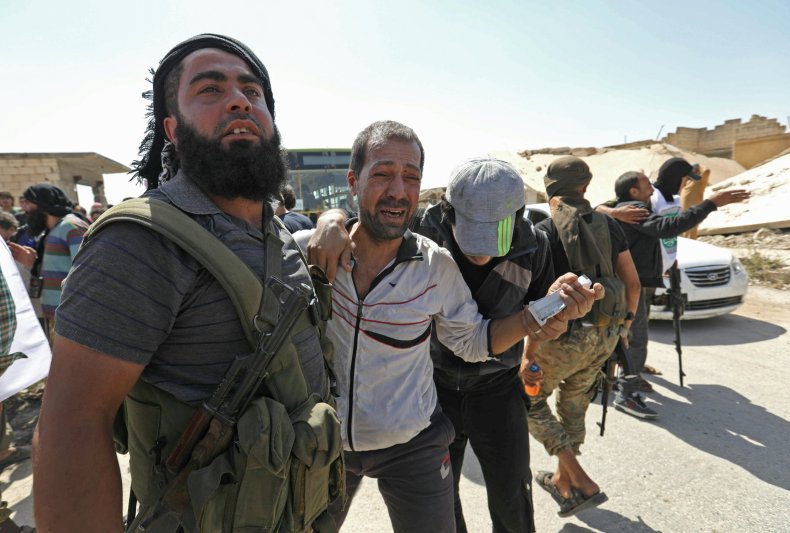 The deal was negotiated by Hayat Tahrir al-Sham and Iran's elite Revolutionary Guards, according to oppositions sources cited by Reuters, and was ultimately backed by Russia and Turkey, according to the U.K.-based Syrian Observatory for Human Rights. The monitor reported complications arising after protesters in Idlib accused Hayat Tahrir al-Sham of mishandling the swap and favoring recent detainees over those jailed for years.
Nevertheless, the official Syrian Arab News Agency and state- run newspaper Watan reported that all villagers had been bussed out to the El-Eis crossing in neighboring Aleppo province, while others in poor condition after three years of rebel siege reportedly left by ambulance. Syrian state television showed crowds arriving at a temporary residency center in the town of Jabrin in southern Aleppo, where they reportedly received food, water, medicine and other provisions.
Such agreements have been common throughout the conflict, especially as the government closes in on the last of the opposition's territory. Many have been overseen by Russia, Iran and Turkey, whose trilateral Astana-based peace process has overshadowed U.S.-backed talks sponsored by the United Nations.
Thousands have left Al-Foua and Kefraya in similar previous swaps, but over a hundred fleeing civilians were killed in a bombing blamed on insurgents during an exchange brokered by Qatar and Iran in April 2017.