Candace Owens Demands Probe Into Larry Elder Vote Rigging: 'The Fix is in'
Candace Owens has demanded an investigation into vote rigging in the California gubernatorial recall election, claiming she received emails from voters alleging they had been prevented from casting a ballot.
"I received about 20 emails last night from people telling me that they went to vote for Larry Elder only to learn that they had already voted," Owens tweeted on Monday alongside a video from a news broadcast which reported the confusion was due to a since-resolved equipment issue.
"This needs to be investigated. It seems like the fix is in," the conservative political commentator added.
Owens shared a 47-second clip taken from a KLTA5 news report over the weekend that interviewed a handful of self-identified Republican California residents who claimed they had issues with their ballots for the September 14 election.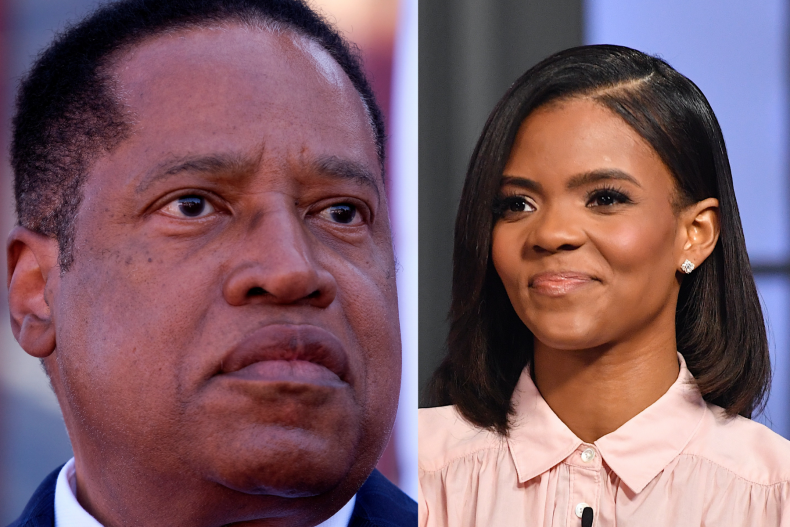 One San Fernando Valley voter told the outlet she "left really angry" after she was told a computer showed she had already voted, even though she had not.
West Hills resident Estelle Bender, 88, filled out a provisional ballot but remained suspicious that Republican voters were being prevented from casting a ballot.
However, the Los Angeles County Registrar-Recorder's office said there were issues with the settings on devices used to check in voters prior to voting and the issue had been resolved.
"After troubleshooting the issue, the equipment at the locations was replaced and voting continued," a spokesman for the office said in a statement provided to KLTA5, adding that the "failsafe option" of provisional ballots were issued to ensure that everyone's votes are counted.
Conservative talk show host Larry Elder, 69, joins a list of candidates running against current Governor Gavin Newsom on September 14 after a campaign seeking to remove him from office successfully collected more than 1.7 million signatures.
Elder became the Republican front-runner of the recall candidate field after launching his gubernatorial campaign in July.
In the days leading up to the election, Elder has speculated and increasingly pushed baseless suggestions that "voter fraud" would impact the result.
During a recent appearance on Fox News, Elder said that "shenanigans" were at play in the election and maintained his campaign was prepared to file lawsuits "in a timely fashion," according to CNN.
Elder's campaign website features a "report election incident" tab that provides forms voters can fill out if they encounter "irregularities, interference, or intimidation while voting." The California Republican Party also has an election integrity hub on its website that offers avenues through which voters can file incident reports and sign up to become "election integrity volunteers."
Democratic Governor Gavin Newsom is defending his seat in the recall election and with polling results published on Friday by The Los Angeles Times and the University of California Berkeley Institute of Government Studies showing 60 percent of voters are likely to favor him, he looks on track to stay in office.
Only twice in U.S. history has a governor been removed from office in a recall election. Newsom only needs 50 percent of the vote to secure his place in office.
Last year, he sent mail-in ballots to all registered voters in California ahead of the 2020 general election due to the coronavirus pandemic and extended that decision to encompass elections held through the end of 2021 by signing an executive order earlier this year.
Former President Donald Trump has also weighed in on vote rigging allegations, speculating about the integrity of California's gubernatorial recall election and comparing it to the election he lost to President Joe Biden.
"Does anybody really believe the California Recall Election isn't rigged?" Trump said in a statement released by Trump's Save America political action committee on September 13. "Millions and millions of Mail-In Ballots will make this just another giant Election Scam, no different, but less blatant, than the 2020 Presidential Election Scam!"
Despite the allegations of widespread voter fraud that Trump made in the wake of the 2020 presidential race, election security officials have said the election was "the most secure in American history." Allegations of voter fraud ahead of Tuesday's gubernatorial recall election in California have also been widely discounted.
Registered Democrats outnumber registered Republicans nearly 2 to 1 in California. About 46.5 percent of the 22 million registered voters in California were Democrats, according to the state's voter registration data last updated at the end of August. Registered Republicans were recorded to be 24 percent of voters. An additional 23.2 percent of voters are registered as having no party preference.
More than 7.2 million of the more than 22 million ballots distributed to California voters for the recall election have already been returned to election officials throughout the state, according to early ballot return data provided by the California secretary of state's office and most recently updated on September 9.
California voters are expected to continue returning their mail-in ballots or vote in person until polls close at 8 p.m. local time on Tuesday.
The September 14 election consists of two parts with voters first being asked whether Governor Gavin Newsom should be recalled from office and who should succeed him if he is recalled.
Forty-six candidates, including 9 Democrats and 24 Republicans, are looking to take Newsom's place as the governmental leader of California.