Former GOP Presidential Candidate Carly Fiorina Says Trump Has Done 'Lasting Damage' to Republican Party, Calls Him an 'Autocrat'
Former Hewlett-Packard CEO Carly Fiorina has accused President Donald Trump of doing "lasting damage" to the Republican Party and slammed his behavior in office, dubbing him an "autocrat."
The 2016 Republican presidential primary candidate said she didn't know "what the Republican Party is anymore" in a wide-ranging interview with the Recode Decode podcast covering Trump and the state of the Republican Party.
"I think he honestly believes his political self-interest is the nation's interests," Fiorina said of Trump. "That is the definition of an autocrat."
Fiorina's comments to host Kara Swisher came about three years after she dropped out of the 2016 Republican primary race and remaining candidate Senator Ted Cruz announced that she would be his running mate if he won the nomination. He lost to Trump.
"I worked hard to ensure that he wouldn't be the Republican Party's nominee because I thought, and still think, that he has done lasting damage to the party," Fiorina told Recode Decode.
Later in the interview, Fiorina argued that public opinion could lead Republicans in Congress to turn on the president. She pointed to recent polling that showed around 45 percent of Americans already backed impeachment.
"If the polls continue to move in favor of, at the very least, an impeachment inquiry, you may see more politicians speak out," she said.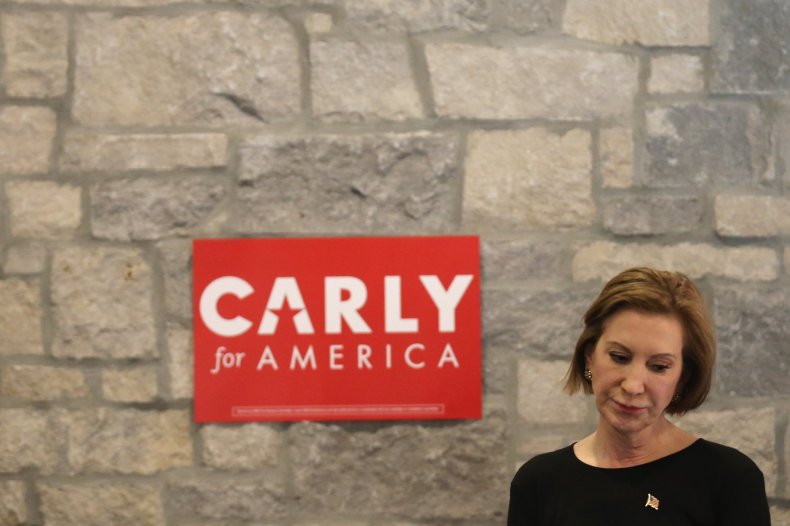 She also called the transcript of Trump's July 25 phone call with Ukrainian President Volodymyr Zelensky "crystal clear" and "pretty black-and-white."
During the call, Trump told Zelensky, "I would like you to do us a favor, though," and later urged the Ukrainian president to investigate former Vice President Joe Biden and Biden's son.
"You have a president asking a foreign government to dig up dirt on his political opponent," Fiorina said of the transcript, which was released to the public on September 25, following a whistleblower complaint regarding the call. "This is, at the very least, conduct unbecoming a president—and, at the very most, it is an absolute equating by the president of the nation's interests with his political self-interest."
Days before the call, Trump moved to withhold hundreds of millions of dollars in military aid to Ukraine.
Fiorina's views on the Mueller report were similar. She said she had read the 448-page document released in April "cover to cover" and called Trump's conduct "unbecoming" of a president.
The document detailing special counsel Robert Mueller's investigation into Russian interference in the 2016 U.S. presidential election found there was insufficient evidence to establish that Trump or his aides conspired with Russia. Although Attorney General William Barr moved to quickly clear Trump of obstruction of justice, the report stated, "If we had confidence after a thorough investigation of the facts that the President clearly did not commit obstruction of justice, we would so state."
"My opinion is, having read that report cover to cover, that, at the very least, President Trump's conduct is unbecoming, and, at the very most, he was clearly engaged in an effort to obstruct," Fiorina told Recode Decode.
Asked about Speaker of the House Nancy Pelosi and her decision to launch an impeachment inquiry against Trump, Fiorina came out in support of the Democratic leader. She said Pelosi had handled the inquiry "extremely well," adding that the speaker had been "sober" and "mindful of public opinion."
Fiorina also told the show that she had "no idea" if she would run for president again. She dropped out of the race in February 2016, shortly after she came in seventh in the New Hampshire primary, with just 4 percent of support.