A creative pair of pet lovers have paid the ultimate tribute to their 4-year-old cat by making her the star of a very special version of James Cameron's Titanic.
Kate Winslet may be riding high after the success of HBO's Mare of Easttown, but she may have just been usurped from the lead role in one of her most famous movies.
Released back in 1997, Titanic swept the board at the Academy Awards, winning 11 Oscars. It eventually became the first film to make a billion dollars at the box office.
A heady combination of epic romance and disaster movie, Titanic had a little bit of something for everyone in its 195-minute run time, including a memorable soundtrack song from Celine Dion.
One thing it was sadly lacking in, however, was cats.
That's now been rectified thanks to the efforts of New York-based filmmaker and SCLU video editor Thibault (Tibo) Charroppin along with writer Olivia Boone.
Charroppin and Boone have been making a name for themselves on YouTube and social media under the name Owl Kitty.
In the past few years they have created a series of videos that have seen their cat Lizzy seamlessly edited into some of the biggest movies ever.
Appearing under the stage name Owl Kitty, previous parodies have seen their cat feature in revamped versions of Jurassic Park, Indiana Jones and Home Alone to name a few.
Eager to pull out all the stops for Valentine's Day, the pair decided to create a clip that saw Owl Kitty replace Winslet as Leonardo DiCaprio's love interest in the film.
The result is a minute-long dive into some of Titanic's most memorable scenes, albeit with a cat placed front and center. The video can be watched here.
It's brimmed full of highlights like the sight of DiCaprio's Jack holding Owl Kitty aloft at the front of the ship as she declares "I'm flying," Jack and the cat enjoying an Irish jig, or our fluffy heroine posing so Jack can paint her like one of his French girls.
Thankfully, however, there's no sign of a paw being slapped against the steamed-up glass inside a stagecoach.
Posted to Twitter alongside the hashtag adoptdontshop, the video has already been watched 2.6 million times, earning over 33,000 retweets and 92,000 likes in the process.
The same footage has been watched a further 850,000 times on YouTube and upvoted 92,000 times on Reddit with fans marveling at the seamless editing.
Charroppin told Newsweek the Owl Kitty phenomenon was born out of him being stuck working from home with too much time on his hands.
"I've always really enjoyed making short silly videos in front of the green screen," he said. "When Lizzy came into our lives, I started filming her all day. My phone was almost entirely filled with photos and videos of her. She was cute and I wanted everyone to know it.
"So I asked myself, 'what's a fun creative way to do that?' I already had a green screen. Lizzy wanted to play all the time. And then, for some reason, Jurassic Park came to mind."
He said his ideas often start with him asking himself "What's a funny thing that all cat owners can relate to?" and then coming up with a movie that fits the answer. "For example, Lizzy hates it when we close the bathroom door. she'll scratch and slide her paw under the door to get in. Much like in The Shining when Jack Nicholson tries to get in."
Charroppin said the idea of doing Titanic for Valentine's Day was a "no brainer."
"Sometimes, all it takes for a video to work is one funny visual. If it works in a still image, it will work in a video. Just the visual of Leo holding Lizzy up at the front of the boat was funny to me."
He describes Lizzy as "very sweet" and "incredibly smart" and while she's not aware of her newfound stardom, Charroppin said she often "acts like a diva. "She always wants attention, and can be a bit needy," he explained.
"Getting any work done from home can be challenging because she's always in our face. And usually, once a day, she'll give us a big cuddle and drool with happiness."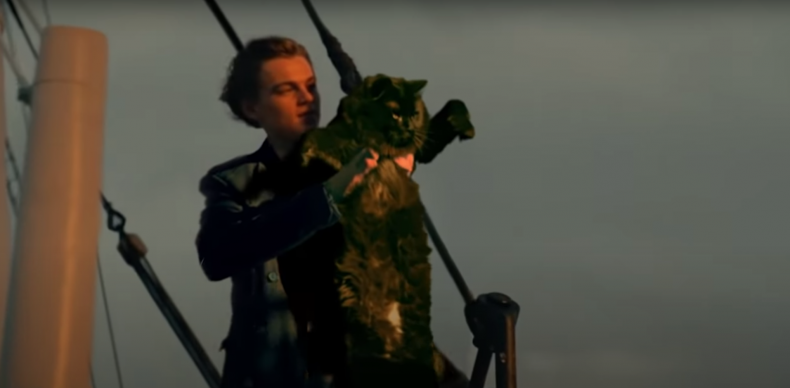 Updated 2/17/2022, 8:58 a.m. ET: This article was updated with video, pictures and comment from Charroppin.