Celebrities and Mourners Attend Vigils for Orlando Victims, Christina Grimmie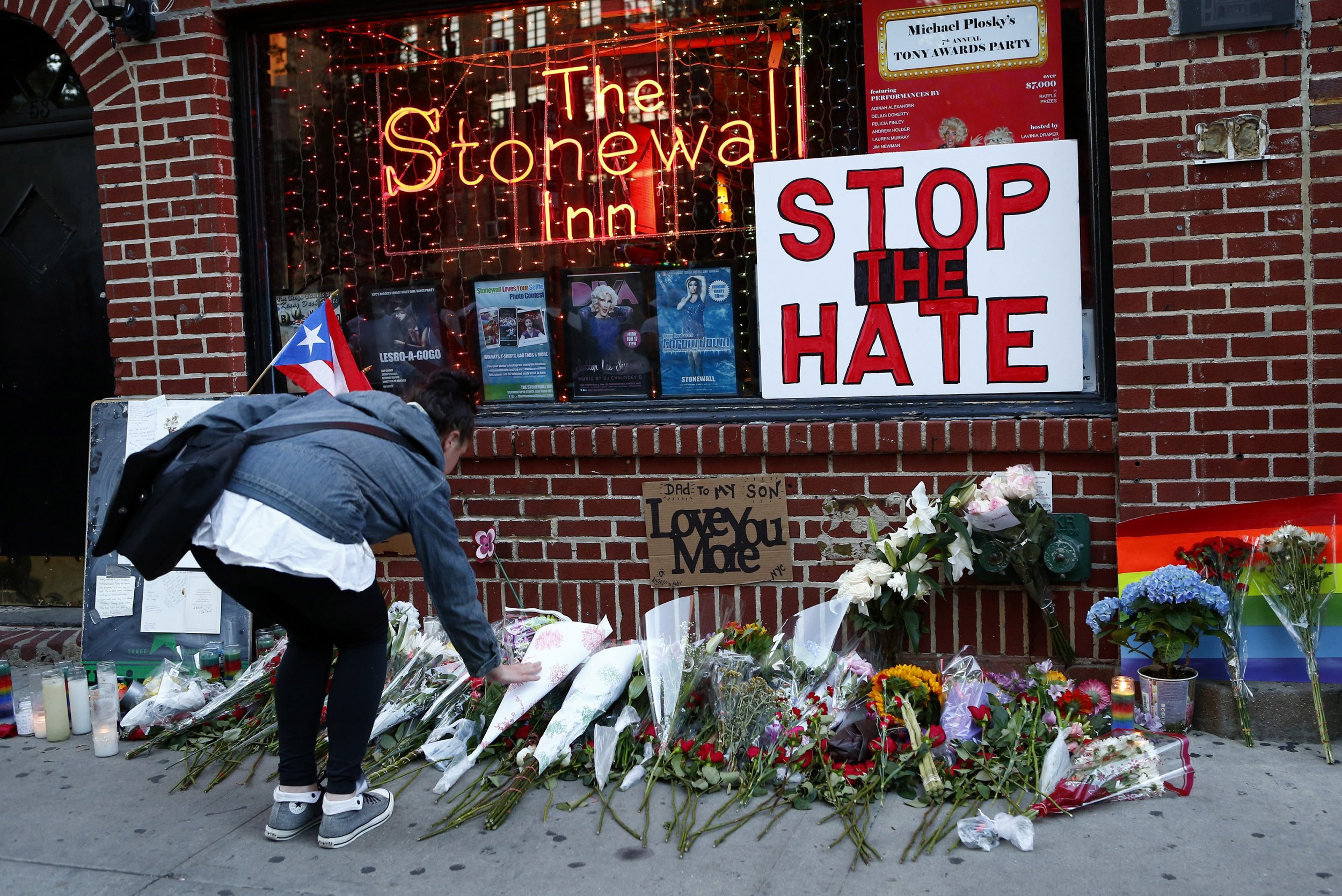 After a weekend of tragedy in Orlando, Monday night saw vigils around the world commemorating both the lives lost in the Pulse nightclub shooting early Sunday morning and former The Voice contestant Christina Grimmie, who was gunned down nearby the night before.
In New York, stars including LGBT-friendly Nick Jonas and Unbreakable Kimmy Schmidt 's Tituss Burgess joined mourners at the Stonewall Inn to show solidarity after 50 lives were lost in the gay club massacre. The historic venue helped birth the modern gay rights movement when, in 1969, patrons rebelled against a police raid.
"I grew up here in New York City and New Jersey, performing on Broadway shows, surrounded by some of my closest friends from the LGBT community," said Jonas (via Entertainment Weekly). "My father, a minister from New Jersey, shaped my view that love is love, that we are all equal. That no matter who you are, or where you're from, or where you're going in life, you have the right to love and be loved. So yesterday, thinking about the families of the victims and the lives lost, I just thought that could be my friend. That could be my people."
Jonas, who has played gay characters on television and posed for gay lifestyle magazines, recently addressed criticism that he "queer-baits" his gay fan base in an interview with Newsweek. The singer called for greater acceptance, saying: "I think it's a beautiful thing when you can embrace everybody. I wish more of my peers in a similar position—as a heterosexual male pop singer—would embrace that and be more willing to be more comfortable and open about it."
New York Governor Andrew Cuomo and Mayor Bill de Blasio also addressed the crowd.
Meanwhile, in Los Angeles, pop star Lady Gaga fought back tears in an address outside L.A. City Hall, according to The Hollywood Reporter.
She said: "Tonight I gather humbly with you, as a human being, in peace and sincerity, in commitment and solidarity, to take a real moment and mourn the tragic loss of these innocent, beautiful people.
"I will not allow my anger and outrage over this attack to overshadow our need to honor those who are grieving truly for their lost ones—lost members of the LGBT community."
The singer later tweeted:
Watch a clip of her tribute below:
In Britain, London's famed gay quarter, Old Compton Street in Soho, saw thousands of people convene to pay their respects. Although there were no public speeches, there was a communal feeling in the air. London Mayor Sadiq Khan and Labour leader Jeremy Corbyn were among those in attendance.
Khan tweeted:
Corbyn posted:
In New Jersey, another vigil took place—this one for singer Christina Grimmie, the reality TV star who found fame on The Voice. She was slain outside an Orlando music venue just over 24 hours prior to the Pulse nightclub massacre.
At a vigil in her hometown of Evesham, Grimmie's brother Marcus offered condolences to the lives lost in Sunday's tragedy.
"About four miles away from where we were staying, there was a huge tragedy to Orlando, to the U.S., to the LGBT community and to the whole world," he said. "I mean, 50 people dead, who knows who is injured. And I come home to this… I have no words. All of those people that died and are suffering. My heart goes out."
Earlier Monday, Grimmie's brother revealed on Facebook that Maroon 5 singer Adam Levine—who mentored Grimmie on The Voice—had personally written to the family and offered to pay his sister's funeral costs.
"I found out this morning that Adam Levine personally called my mother and said he will pay for the funeral and her plane flight, and I was blown away," he wrote.
Fans of the singer have pledged over $140,000 via an online fundraising page to support Grimmie's family.