6 Celebs Who Have Helped Spread the QAnon Conspiracy
The QAnon conspiracy theory has spread rapidly in the past three years, and a handful of celebrities have used their platforms to amplify it.
The conspiracy theory began when an individual known as "Q" (due to their self-proclaimed high Q Score) claiming to be close to President Trump began making inflammatory posts to 4Chan in 2017.
Since Q first emerged, the QAnon conspiracy theory has flourished. Although smaller, more specific branches of the conspiracy make national news from time to time, (There was the Wayfair drama, most recently) the most general sense of the conspiracy is that its followers believe President Donald Trump is battling a group of mega famous Satanic pedophiles.
Who are these supposed celebrity satanist pedophiles, you ask? There are a lot, but some of QAnon's greatest hits include Tom Hanks, former President Bill Clinton, Ellen DeGeneres, Chrissy Teigen, and more. Other aspects of the conspiracy include shady bureaucratic deals forged behind Trump's back for Democrats to remain in control.
While the theory has spread, some social networks have taken steps to try to stop the dangerous theory's spread. On July 21, Twitter announced that it would permanently suspend accounts that spread the theory. On Wednesday, The New York Times reported that Facebook deleted nearly 800 groups to stop its spread.
More recently, QAnon has received some very public supporters. Georgia congressional candidate Marjorie Greene promoted the conspiracy theory prior to her run for the House. She has since tried to distance herself from the theory. The president himself has also responded to the theory. "I don't know much about the movement, other than I understand they like me very much, which I appreciate," Trump told reporters after being asked about the conspiracy theorists on Wednesday. "These are people who don't like seeing what's going on in places like Portland, and places like Chicago, and New York and other cities and states, and I've heard these are people that love our country, and they just don't like seeing it."
Even though celebrities are often a target of QAnon supporters, there have been a handful of celebrities who have shared the conspiracy.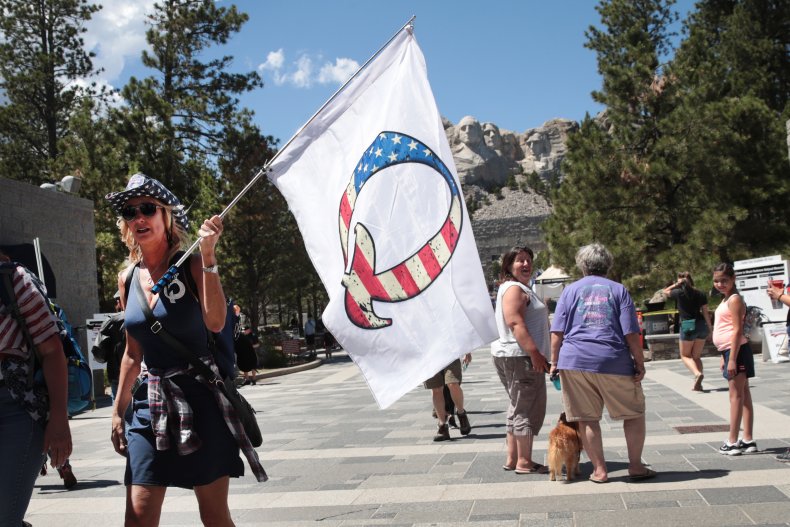 Alex Jones
Some of the people spreading the conspiracy theory are exactly who you'd expect. The Infowars owner and host has spread information about QAnon on numerous occasions. Media Matters shared a number of screenshotted tweets that Jones posted before getting deplatformed. A search for "QAnon" on the Infowars website also returns a number of results.
Curt Schilling
Former Boston Red Sox pitcher Curt Schilling has shared a handful of tweets about QAnon. In June 2018, he tweeted that while he was unaware months prior, he said that it was "Pretty much impossible to stop watching once you start," linking to a since-deleted YouTube video. He's also criticized Media Matters for calling the conspiracy "baseless." Schilling has tweeted about QAnon as recently as July 22, tweeting at a Daily Beast journalist that "Q is pretty much the only reason anyone not related to you knows who you are."
Roseanne Barr
The comedian and Roseanne star wrote a number of since-deleted tweets throwing her support behind QAnon. In 2018, Barr tweeted praise for Trump, writing that he had "broken up pedophile rings in high places everywhere," which is one of the conspiracy's trademarks. According to Buzzfeed, the sitcom star clarified that she was praising Trump for naming April "Child Abuse Prevention Month." Still, screenshots from Barr's Twitter show previous tweets asking "who is Q?" and asking for QAnon to text her.
Pete Evans
Celebrity chef Pete Evans has shared a number of conspiracy theories, most recently focusing on conspiracies related to the coronavirus pandemic. On Wednesday, he shared a post on Facebook telling people to watch the documentary Plandemic, which pushes a COVID-19 conspiracy theory. The coronavirus has also become a popular hit point for QAnon lately, according to the BBC. On Wednesday, he also shared the video from the press conference where Trump spoke about QAnon supporters on his Instagram with popcorn emojis in the caption.
Eddie Bravo
Comedian and martial arts fighter Eddie Bravo spoke about QAnon on The Joe Rogan Experience podcast in January. While he didn't speak about some of the theory's popular talking points, he told listeners to "Follow Q. Q's 100 percent right," he said. "Q's dropping right now. Q is Trump and the people around him. It's an intelligence dissemination program... Q is real, dude." He said that Democrats wanted "a world war," but also said it was complicated.
James Woods
Actor James Woods has also spread some QAnon related theories. In an April 2018 tweet saved by Media Matters, the actor said he was "holding back his thoughts on #Q." On Tuesday, the actor shared a video of former First Lady Michelle Obama praising Harvey Weinstein, which resurfaced following her DNC speech. He used the video to attack Obama, as well as former President Bill Clinton "and other Democrat rapists and child sex traffickers." The video that Woods shared was from 2013, prior to #MeToo Movement and accusations against Weinstein's sexual misconduct were widely known. Identifying prominent Democrats as sex traffickers and rapists is also a common trope of the QAnon theories.