Michelle Obama's Praise of Harvey Weinstein Resurfaced Following DNC Speech
Michelle Obama delivered a speech in support of Democratic presidential nominee Joe Biden last night at the Democratic National Convention—but even as praise for her speech poured in, several Trump supporters resurfaced a 2013 video in which she had good things to say about convicted rapist Harvey Weinstein.
The former first lady spoke out against President Donald Trump in her speech Monday night, deeming him "the wrong president for our country."
"He has had more than enough time to prove that he can do the job, but he is clearly in over his head. He cannot meet this moment. He simply cannot be who we need him to be for us. It is what it is," she said.
Obama urged the nation to get behind Biden because "our lives depend on it."
"If we have any hope of ending this chaos, we have got to vote for Joe Biden like our lives depend on it," she said.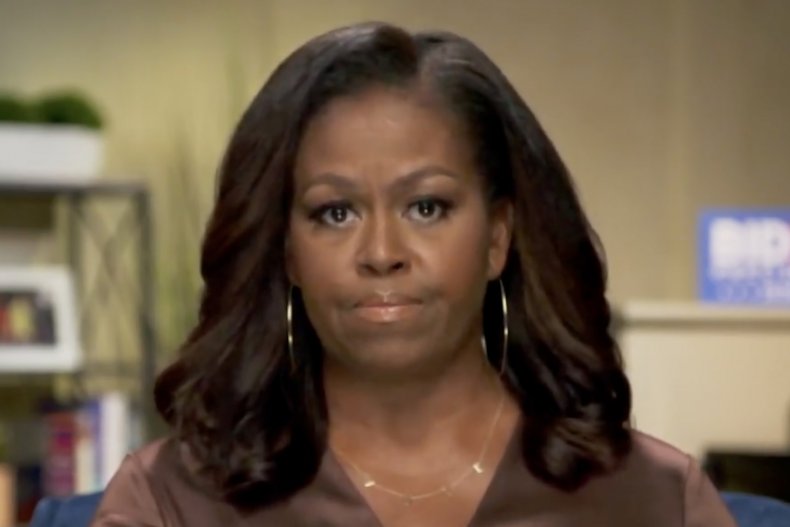 Obama's speech prompted some Twitter users to point out her past praise of Weinstein.
In February of this year, after the former film producer was convicted of rape and sexual abuse, a video resurfaced of Obama praising Weinstein, calling him a "wonderful human being." Obama made the comments at a White House Student Film Symposium event in 2013, before the allegations against Weinstein had come to light.
According to Snopes, following Weinstein's conviction, the video of Obama speaking highly of him was shared by many pro-Trump accounts.
Actor James Woods, a Trump supporter, shared the clip of the 2013 remarks after her speech Monday and mocked Obama for being a "great judge of character."
He tweeted: "Beautiful endorsement tonight. She's a great judge of character, so please be kind. No trolling. Oh, wait..."
Scott Presler, a conservative activist, tweeted: "When I think of Michelle Obama, I'm reminded of how she thanked Harvey Weinstein. #DemConvention."
Trump has hit out at Michelle Obama on Twitter following her comments, criticizing her husband former President Barack Obama.
"Somebody please explain to @MichelleObama that Donald J. Trump would not be here, in the beautiful White House, if it weren't for the job done by your husband, Barack Obama. Biden was merely an afterthought, a good reason for that very late & unenthusiastic endorsement.....," he wrote.
Last night's event was hosted by Eva Longoria, an actress and activist. Tracee Ellis Ross, Kerry Washington, and Julia Louis-Dreyfus will serve as M.C.s during the four nights of the convention.
Following Obama's speech, actor Billy Porter closed the first night of the 2020 DNC with a bizarre rendition of Buffalo Springfield's "For What It's Worth" which many online have compared to the work of comedy duo, Tim & Eric.