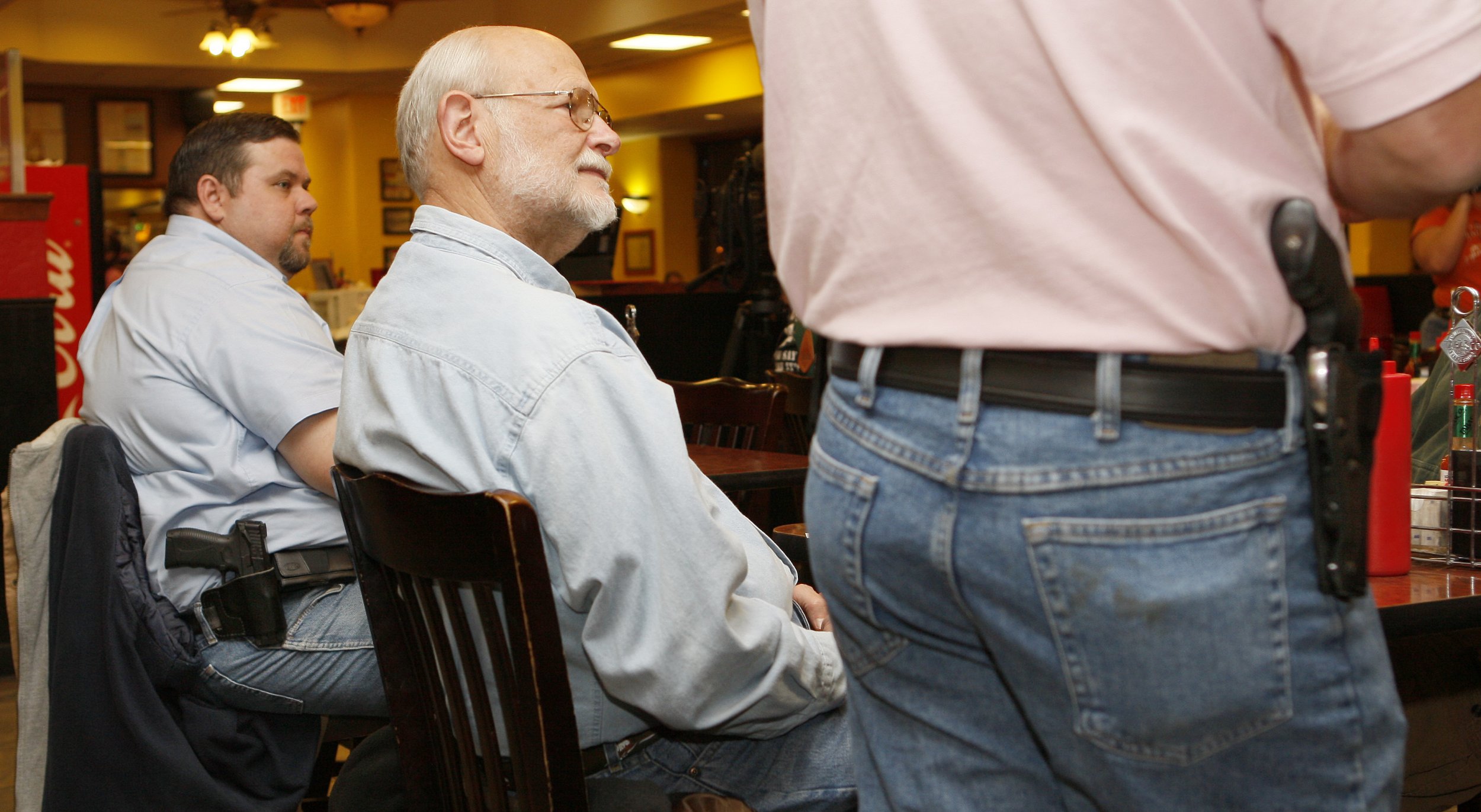 In South Carolina, Charleston police have become the latest law enforcement officials around the country to urge their state lawmakers to oppose efforts to allow residents to carry concealed guns without permits. Similar measures, backed by the National Rifle Association (NRA) and known as permitless carry or constitutional carry, are quickly making their way through a number of statehouses across the country this year.
Related: Guns in America: NRA boosts concealed carry reciprocity push
A version of permitless carry passed in the South Carolina House in April and is now pending in the state Senate. (The GOP controls both legislative chambers.) If it passes, it would allow anyone who can legally purchase a gun to carry it in the Palmetto State, openly or concealed. But it doesn't just apply to South Carolina residents: It would allow anyone from any state to carry a weapon openly or concealed. Republican Governor Henry McMaster has already signaled that he supports permitless carry in his state and is likely to sign the measure if it reaches his desk.
But in a message to the public last week, Charleston Police Chief Greg Mullen urged the South Carolina Senate and his community to oppose the legislation. He said in a statement, "Please understand what this bill creates—the ability for anyone who can legally purchase a firearm, many who have not completed a background check to determine whether or not they are prohibited purchasers due to the location of and manner of the transfer or received any type of training, to walk our streets and neighborhoods with a handgun on their hip, in a bag or under their jacket without any review or training."
In his message, which he shared on Twitter, Mullen added, "We support the ability of citizens to carry firearms under the current state concealed-carry process. By following this protocol, citizens who wish to carry firearms may do so after completing a background check and attending training on how to be a responsible gun owner and concealed carrier."
The New York Times opposed the constitutional carry legislation in a recent editorial, highlighting the mass shooting at a historic church in Charleston in June 2015. "The carnage," the paper wrote on April 11, "was carried out by a racist gunman who was able to buy his weapon because of shoddy enforcement of gun control laws. Yet, rather than focus on tighter gun safety, lawmakers yielded once more to the National Rifle Association's agenda to freely arm the public and enrich the gun industry."
Charleston officials aren't alone. In Alabama, the majority of sheriffs appear to be against a permitless carry bill, which still needs to make it through the state House before it can become law. In Montana, which in 2016 received an "F" grade from the Law Center to Prevent Gun Violence because it has some of the least-restrictive gun laws in the country, nearly two dozen sheriffs stated in an op-ed in November that they oppose "unrestricted concealed carrying of weapons by anyone, anywhere," an idea, they argued, that "does not equate to opposing the Second Amendment." The bill ultimately died in February, when the state's Democratic governor vetoed it.
All states and Washington, D.C., allow concealed carry in some form. In March, North Dakota became the 12th state that doesn't require a state-government permit to carry concealed weapons. But measures allowing permitless carry have been defeated in Georgia, Kentucky, New Mexico and South Dakota, among other states. Law enforcement officials in Indiana, South Dakota, Texas and Wisconsin have said they oppose such legislation because it likely would make communities less safe.
Like the majority of states, South Carolina generally requires a resident to obtain a permit to carry a handgun in public, whether open or concealed. It's a "shall issue" state, meaning the South Carolina Law Enforcement Division must issue a concealed weapons permit to any state resident or qualified nonresident who is at least 21, not prohibited by state law from possessing a gun and has submitted proof of training with a handgun.
At the federal level, the NRA is pushing for national concealed-carry reciprocity, which would require states to recognize one another's gun permits. It has been a longtime priority for the NRA.