Meghan Markle has been depicted as George Floyd on the cover of controversial French satirical magazine Charlie Hebdo, sparking an outcry.
The Duchess of Sussex said a royal family member made comments about how dark her unborn baby's skin would be in her bombshell interview with Oprah Winfrey.
However, Charlie Hebdo's coverage of the claims triggered a backlash after a cartoon on the front cover depicted Queen Elizabeth II with her knee on Meghan's neck.
The magazine is the same one that was targeted by terrorists, Said and Cherif Kouachi, who killed 12 and wounded 11 in the newsroom in January 2015.
The surrounding text, in French, reads: "Why Meghan left Buckingham (sic)."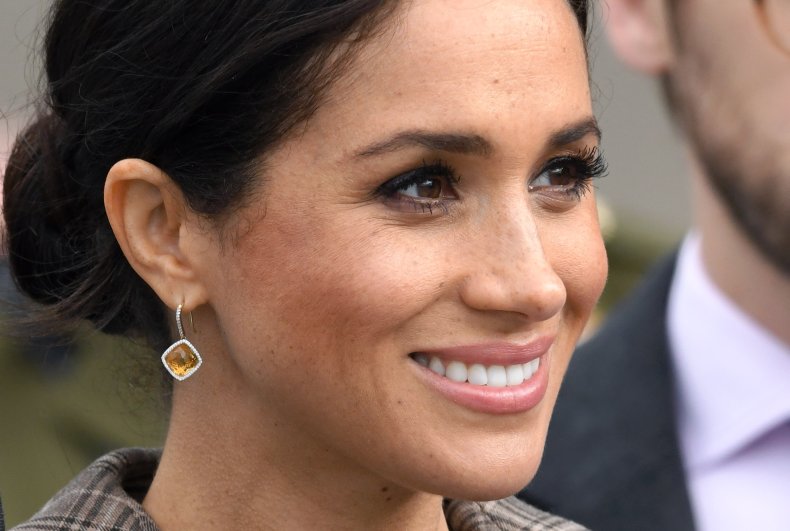 A speech bubble coming from Meghan's mouth reads: "Because I couldn't breathe anymore."
Buckingham is a town a full 65 miles away from Buckingham Palace but the error was a long way from being the most offensive thing about the cover.
Dr Halima Begum, chief executive of Britain's Runnymede Trust, said: "#CharlieHebdo, this is wrong on every level.
"The Queen as #GeorgeFloyd's murderer crushing Meghan's neck? #Meghan saying she's unable to breathe?
"This doesn't push boundaries, make anyone laugh or challenge #racism. It demeans the issues & causes offense, across the board."
A number of people on social media decried the cover as racist. Musician Derrick N Ashong tweeted, "Charlie Hebdo is racist AF and has been for a minute. What do you call the privileged who consistently find it funny to punch down at those who can't hit back?"
Another Twitter user, Adam Walker, stated: "Disgusted by Charlie Hebdo's recent cartoon. They would argue, I suppose, that satire is here a tool for opening up important debate. All that I see is a publication with a history of racist cartoons making light of racism (i.e. George Floyd) in order to further perpetuate racism."
Jury selection is under way in the trial of white police officer Derek Chauvin, charged with second degree murder and manslaughter over the death of George Floyd, on May 25.
Mobile phone footage shot at the scene showed the cop with his knee on Floyd's neck as Floyd can be heard to say: "I can't breathe."
Author Ian Fraser wrote: "This @Charlie_Hebdo_ cover is vile but then the French satirical title invariably seeks to cause offense.
"The text reads 'Why Meghan left Buckingham... Because I could no longer breathe'."
Nadine White, race correspondent for The Independent, wrote on Twitter: "French magazine Charlie Hebdo mocks George Floyd's murder and Meghan's racism concerns."
Victoria Uwonkunda said: "Charlie Hebdo has always been problematic but this cover depicting The Queen kneeling on Meghan's neck while Duchess of Sussex says 'I can't breathe' is vile."
Phil Woodford wrote on Twitter: "The Charlie Hebdo cartoon about Meghan is quite disgraceful. Anyone who defends it as 'satire' nerds to locate a dictionary.
"It is designed to shock, outrage and offend - mocking the death of George Floyd while attacking both Markle and The Queen."
In the CBS interview, Meghan told Oprah: "In those months when I was pregnant, all around this same time, so we have in tandem the conversation of he won't be given security, he's not going to be given a title, and also concerns and conversations about how dark his skin might be when he's born."
Two days after the broadcast, Buckingham Palace said on behalf of the queen: "The whole family is saddened to learn the full extent of how challenging the last few years have been for Harry and Meghan.
"The issues raised, particularly that of race, are concerning. While some recollections may vary, they are taken very seriously and will be addressed by the family privately.
"Harry, Meghan and Archie will always be much loved family members."