China Blames American Politicians for 'Racism and Hatred' That Prompts Anti-Asian Attacks
A spokesperson for China's Foreign Ministry said Thursday that some American politicians are to blame for promoting "racism and hatred" toward Asians amid a surge of anti-Asian violence in the U.S.
Without giving specific names, spokesperson Zhao Lijian told reporters that politicians have "instigated racism and hatred, and condoned discrimination against Chinese students in the United States," according to the Associated Press.
"The United States should take practical measures to resolve issues of racism and racial discrimination at home, and earnestly safeguard and protect the safety and legitimate rights and interests of Chinese citizens in the United States," Zhao said.
Zhao's comments came after eight people were killed at three different massage parlor shootings in Atlanta on Tuesday. Of those eight, six were Asian women.
South Korea's Foreign Ministry has since said that four of the victims who died were women of Korean descent, while two of the other victims appeared to have Chinese names, the AP reported.
The suspect in the shootings has been identified as 21-year-old Robert Aaron Long, a white man from Woodstock, Georgia. So far, police have not been able to determine whether Long's motivation was race-oriented, and have instead suggested that it could have stemmed from a "sexual addiction."
Long has been charged with four counts of murder and one count of aggravated assault, according to police.
Nonetheless, the shootings came at a time when Asian Americans are seeing an exponential rise in violent hate crimes.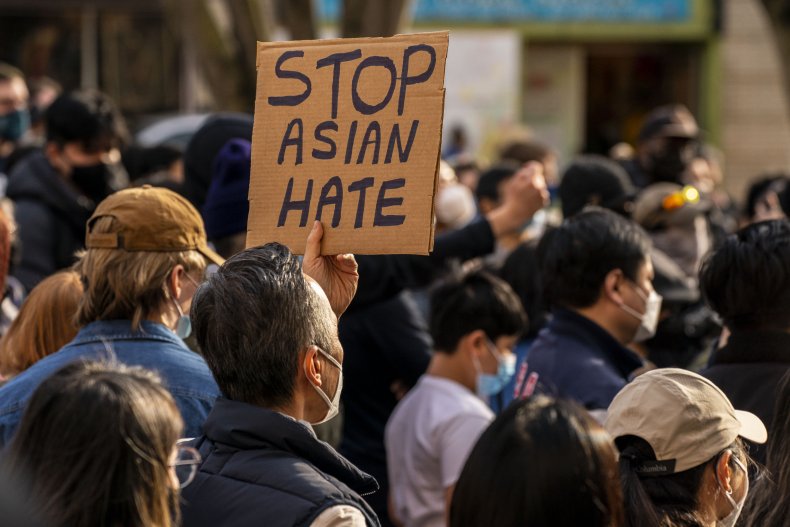 Research released from Stop AAPI (Asian American Pacific Islanders) Hate on Tuesday showed that nearly 3,800 anti-Asian hate incidents were reported over the course of a year since the coronavirus pandemic began.
Many of those crimes have been attributed to anti-Chinese rhetoric and sentiments stemming from the virus' origins in Wuhan. Critics have since blamed former President Donald Trump and other Republican politicians for "stoking the flames of xenophobia" by using derogatory anti-Asian names to reference COVID-19.
"[Trump] used these terms 'China virus,' 'Wuhan virus' and even 'kung flu.' And as a result, the anti-Asian hate crimes and incidents, increased exponentially," Democratic Representative Judy Chu of California said Wednesday. "What we saw yesterday is the result of that," Chu added.
Since leaving office, Trump has continuously referred to COVID-19 as the "China virus." The former president even used the term before news broke of the Atlanta attack during an interview with Fox News on Tuesday.
"We got [the economy] to a level that the world has never seen before. We were the envy of the world and then when we got hit by the—as I call it the China virus, COVID—it obviously went down with every other economy," Trump said that night.
Following Tuesday's attack in Atlanta, President Joe Biden and Vice President Kamala Harris acknowledged the rise in violent crimes against Asian Americans.
"I do want to say to our Asian American community that we stand with you and understand how this has frightened and shocked and outraged all people," Harris said Wednesday.
"Knowing the increasing level of hate crime against our Asian American brothers and sisters, we also want to speak out in solidarity with them and acknowledge that none of us should ever be silent in the face of any form of hate," she added.
On Thursday, a House Judiciary subcommittee held a hearing to focus on the rise of Asian discrimination and violence, featuring testimonies from Democratic Senator Tammy Duckworth of Illinois, Democratic Congresswomen Grace Meng of New York, as well as Chu.
"They were stoked by the words of former President Donald Trump who sought to shift blame and anger away from his own flawed response to the coronavirus," Chu testified on Thursday.
Meng, who reintroduced a bill to address anti-Asian American hate crimes in February, accused some Republican politicians of "putting a bull's eye on the back of Asian Americans."
"Your president and your party and your colleagues can talk about issues with any other country that you want, but you don't have to do it by putting a bull's eyes on the back of Asian Americans across this country, on our grandparents, on our kids," Meng said, in response to earlier comments made by Republican Congressman Chip Roy.
Roy previously expressed concern that Thursday's hearing will "venture into the policing of rhetoric in a free society," CBS reported.
On Thursday, Zhao added that the recent surge of violence against Asian Americans was "outrageous and distressing," and left China feeling "deeply concerned," the AP reported.
Newsweek reached out to China's Ministry of Foreign Affairs and representatives for Trump for additional comment, but did not hear back in time for publication.