China Military Tells Russia They Will 'Jointly Deal With Threats and Challenges' as Tensions With U.S. Rise
China's defense minister has pledged his country's support to the Russian army in the latest in a series of high-level contacts between the top U.S. military rivals.
Chinese State Councilor and Defense Minister General Wei Fenghe met Tuesday with Russian Ground Forces Commander-in-Chief Colonel General Oleg Salyukov in Beijing. The meeting came less than a month after Russian President Vladimir Putin met his Chinese counterpart Xi Jinping in the capital city and Fenghe emphasized that the military leaders "expand and deepen cooperation in all areas, and push for greater development of China-Russia relations on a higher level in the new era," according to a statement by the official China Military Online.
"Gen. Wei noted that under the care and guidance of the heads of state of both countries, the friendly cooperation between Chinese and Russian militaries has maintained a sound momentum of high-level development, and the two armies have yielded great results in such fields as personnel training, joint training and exercises, and military competitions," the statement read.
"He expressed the hope that the two sides would firmly support each other, strengthen all-round cooperation, jointly deal with threats and challenges, and safeguard regional and world peace and stability," it added.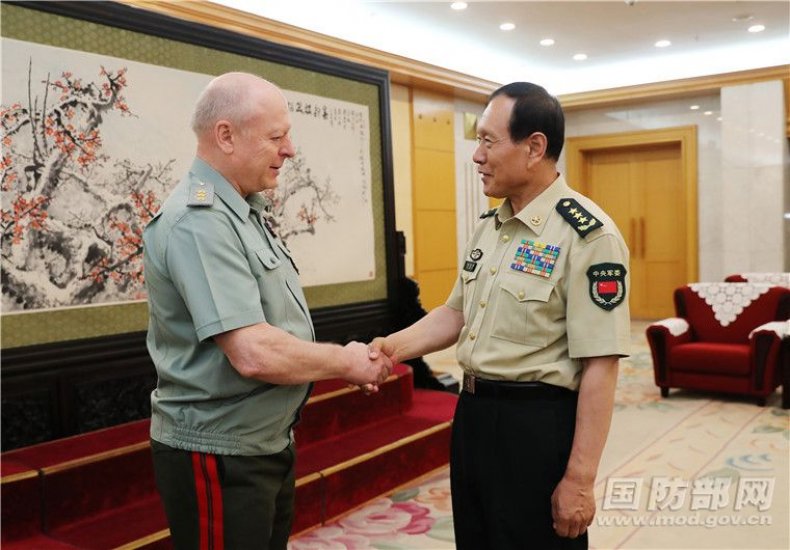 Salyukov reportedly concurred, saying "Russia attaches great importance to developing the Russia-China comprehensive strategic partnership of coordination, and will continue doing so."
"Russia stands ready to work with China to fully implement the important consensus reached by the two heads of state, further deepen pragmatic exchanges and cooperation, and push forward friendly relations between the two militaries," Salyukov said.
China and Russia have grown closer in recent years as they both expand their military power and enhance their political clout abroad. They have pursued a number of joint military exercises, enhanced bilateral economic relations and have vowed to support one another in the face of what they see as U.S. Cold War-era aggression toward their rise. In their June 8 meeting, Xi called Putin his "best, most intimate friend" and awarded him a friendship medal.
Related: Russia will take China's side against U.S. in world trade war
The U.S. has accused both leaders of undermining Western democracies and challenging the Pentagon's own expansive military posture across the globe. Washington has also condemned Moscow for its involvement in conflicts such as Ukraine and Syria and Beijing for its military development in the contested South China Sea.
In the latest international dispute, Russia has joined China and others—including Canada, the European Union, India and Mexico—in introducing retaliatory duties and a World Trade Organization case against the U.S. after Trump declared a 25 percent tariff on steel imports and a 10 percent tariff on aluminum imports.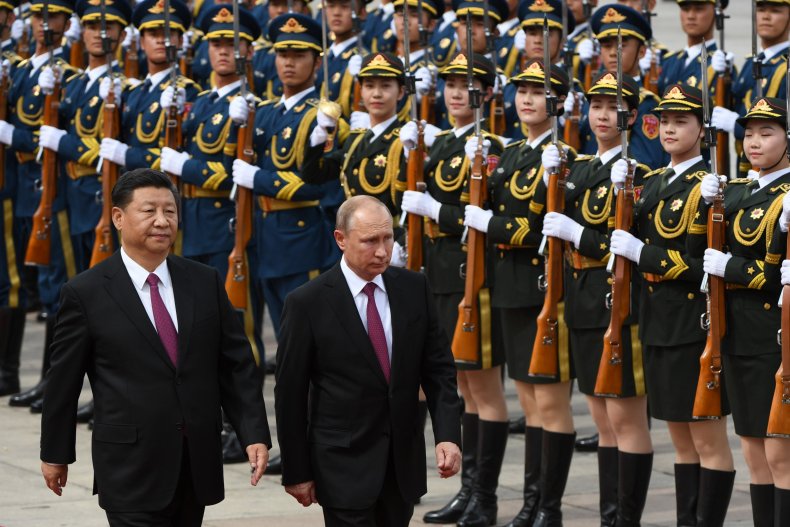 China and Russia also have unique relationships with their mutual neighbor, North Korea. North Korean supreme leader Kim Jong Un made a historic effort to meet President Donald Trump face-to-face last month and has met Xi three times, as well as South Korean President Moon Jae-in twice. While Kim has yet to meet with Putin, Trump was scheduled to sit down with the Russian leader later this month in Helsinki.
Russian newspaper Kommersant reported Monday that China and Russia attempted to persuade the United Nations Security Council last week to introduce measures that would gradually remove tough sanctions against North Korea amid a thawing in its relationship with the U.S., but Washington refused, citing a lack of progress in Pyongyang's denuclearization.