America Is Becoming Too Sensitive, China State Media Says After Washington Fails to Send Warship to PLA Navy Celebrations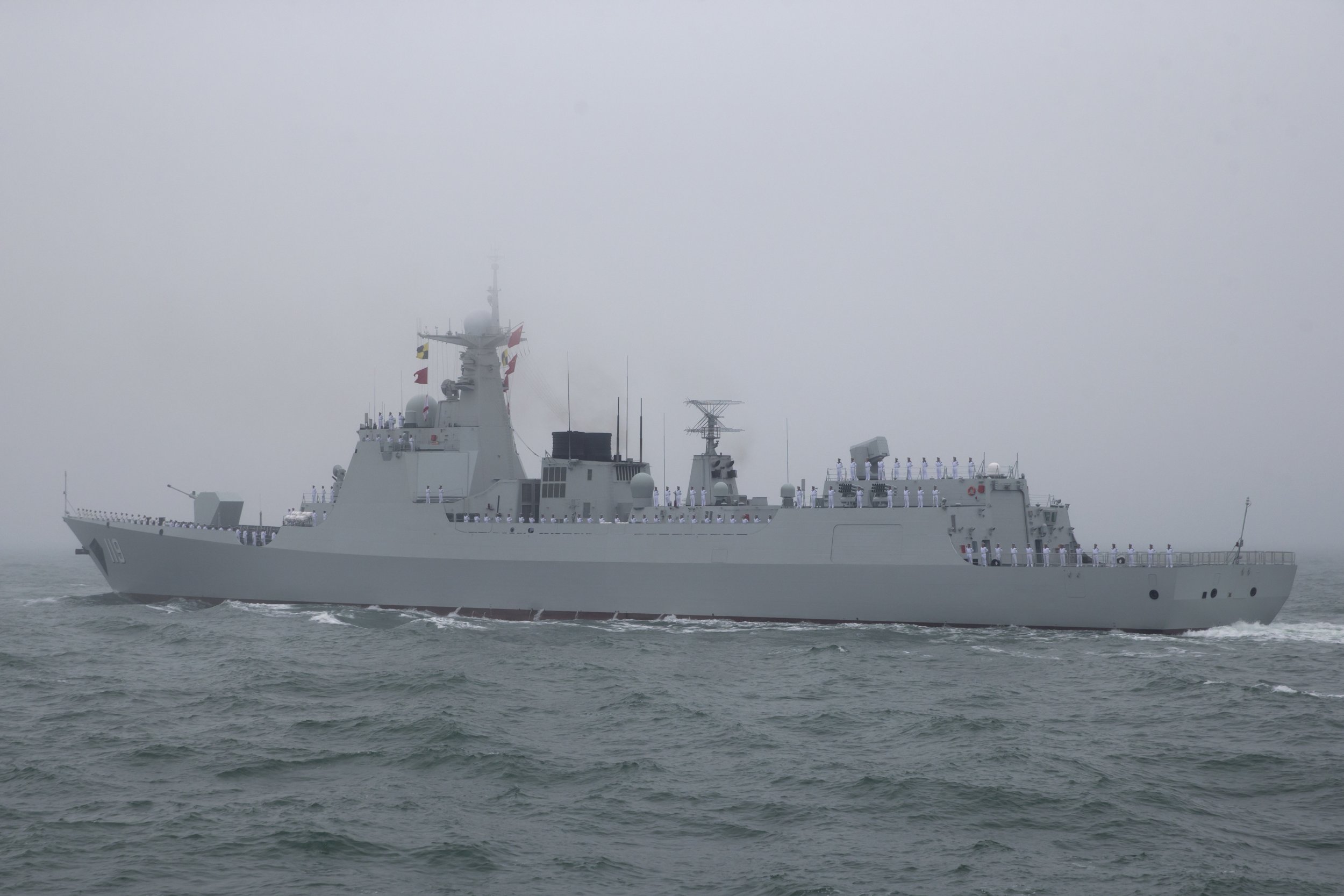 China's People's Liberation Army Navy (PLAN) celebrated its 70th anniversary on Tuesday, with President Xi Jinping overseeing an elaborate naval parade that included Beijing's newest guided missile destroyer.
But as China once again displayed its growing military clout, the U.S. was nowhere to be seen. Though American warships have been sent to attend previous PLAN anniversary celebrations, this year their absence was conspicuous. And for Chinese state media, the slight was evidence that leaders in Washington are becoming a little too sensitive.
According to an op-ed published in the state-backed Global Times newspaper—titled "China's security helps regional stability"—there were 18 foreign warships from 13 countries at the maritime parade held in Qingdao, in the eastern province of Shandong. Participants included major U.S. allies, the article said, demonstrating "friendly regional cooperation" in which "China plays a pivotal role."
"It is a pity that the U.S. did not send its warships to the celebration," the op-ed continued, noting that an American missile destroyer attended PLAN's 60th anniversary celebrations in 2009. "The U.S. is more sensitive compared to 10 years ago, and far more sensitive than its allies in the Asia-Pacific region," the newspaper said.
China has been investing billions in its military expenditure in recent years, hoping to build a force capable of dominating its local sphere of influence and challenging regional U.S. hegemony. China has two particularly pressing strategic concerns—the independent status of Taiwan and the dispute over territorial claims in the South China Sea.
Tuesday's parade featured 39 aircraft and 32 ships, according to Deutsche Welle. Those on show included the Liaoning aircraft carrier—China's first—and the Nanchang, the lead ship of a new generation of Chinese-made guided missile destroyers. The country's first domestically produced aircraft carrier, still known only as the Type 001A, was not on show as it was undergoing sea trials.
China's indigenous production capabilities have advanced in leaps and bounds. Its ability to entirely produce its own aircraft carriers, guided missile destroyers and fifth-generation stealth fighter jets is a potent reminder of the breakneck speed of Beijing's recent military modernization.
For all Beijing's investment, there remains "a wide gap" between the two navies, Global Times acknowledged, with U.S. forces still leading the world in size, force projection capabilities and technological sophistication. "The PLA Navy still needs decades to catch up with the U.S. Navy in terms of technology and stock… It is unimaginable that China and US navies would start a comprehensive competition," the article said.
The U.S. has long been moving to meet the challenge of a rising China. Indeed, President Barack Obama announced the "pivot" toward Asia to the Australian parliament in 2011. "In the Asia Pacific in the 21st century, the United States of America is all in," Obama declared.
Tensions have since grown between China and the U.S., with Beijing constructing man-made island military bases to enforce its maritime claims. Meanwhile, U.S. warships and aircraft conduct "freedom of navigation" operations to maintain pressure on China and assert Washington's belief that the areas constitute international waters.
Nonetheless, the editorial claimed the PLAN is able to "restrict the U.S. Navy's intervention in China's offshore area,"—i.e., the Taiwan Straits and South China Sea. "The U.S. is vigilant against it, but this is only Washington's blind hope. The offshore area is China's core area of national security, and it will be more difficult for the U.S. to suppress China's rise in such an area."
Despite continued saber-rattling from both sides, the Global Times op-ed ended by calling for peace and co-operation. "The mutual trust and cooperation between Chinese and U.S. navies will be a key factor," it said. "China hasn't engaged in war in 30 years and never used force to threaten any country. It's China's firm policy to resolve security disputes through negotiations."