How Does China's Navy Compare to America's?
Updated | Every year on April 23, China's People Liberation Army (PLA) Navy Day commemorates the founding of the service in 1949. This year's celebrations have special significance, as a chance to display the hardware that will define the country's future place among the world's great powers.
China is preparing to launch its first domestically produced aircraft carrier, the steam-powered Type 001A, for sea trials. Naval operations are scheduled from April 20-28 in the Bohai and Yellow seas, and Chinese experts believe the Type 001A could be put to sea during that window.
China has two particularly pressing strategic concerns in East Asia: the continued independence of Taiwan, and the dispute over territorial claims in the South China Sea.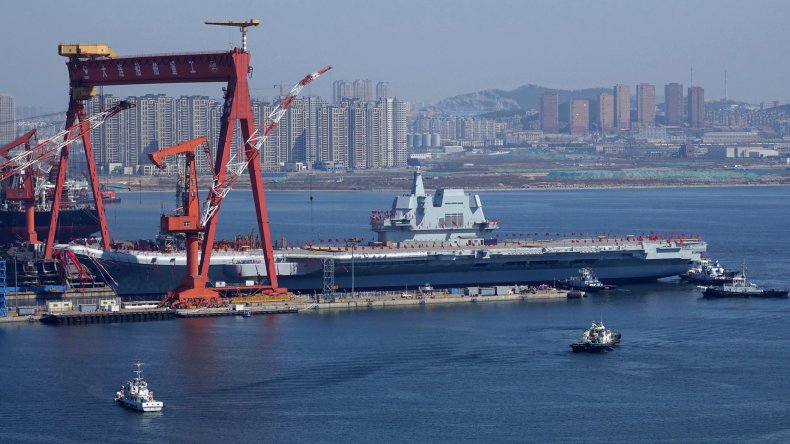 Beijing is looking to ensure its domination of the region and therefore must have a military capable of standing up to U.S. hegemony. In recent weeks the country made a point of executing huge military drills to signify its determination to protect and advance its national interests.
According to the Global Times, The Chinese Ministry of Defense released footage on social media and official websites that detailed China's nuclear submarines and amphibious landing military exercises, among other achievements.
"The Chinese know from history [that] major powers must have a strong navy, and they are moving quickly in that direction," said retired Rear Admiral Terence Edward McKnight, who commanded a multinational anti-piracy task force in the Gulf of Aden.
China now fields one of the world's largest and most technologically advanced navies. Its first aircraft carrier, the Liaoning, was introduced in 2012, having been purchased from Ukraine. Adding more carriers and ensuring the ability to produce them domestically are further signs of China's ambition.
The significance of China's carrier program is practical as well as symbolic, explained Matthew Funaiole, a fellow at the Washington, D.C.-based think tank Center for Strategic and International Studies. China is investing heavily in its navy, "and the Type 001A is a massive push in the right direction," Funaiole said.
"It's one thing to refit an old Soviet carrier, like the Chinese did with the Liaoning. It's something else entirely to build one from the ground up, even with the help of some reverse engineering," Funaiole continued.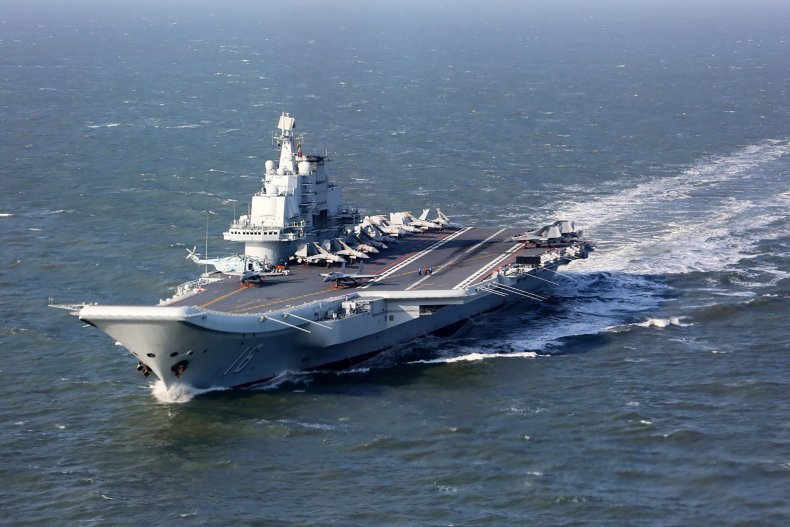 China likely wants to field somewhere between six and 10 carriers, though not all will be top-tier vessels, Funaiole suggested. That would make its navy the second most powerful force in the world by some distance, and belies ambitions beyond the South China Sea and Taiwan. Indeed, Beijing has already established a naval base in Djibouti, Africa, and is working on a network of ports and airfields in the Indian Ocean.
"China has an interest in shoring up its perceived security closer to home," Funaiole explained. "That said, it is actively looking to expand its navy for far-seas operations, and it's well on its way to seeing this goal through to fruition. It will be interesting to watch what types of missions the PLA Navy is tasked with, in the Indian Ocean in particular."
It might be moving in the right direction, but the PLA Navy is still behind America in both technology and operational capability. The U.S. has a long history of carrier production and operations, and fields the most advanced launch systems, power plants and carrier-based aircraft in the world.
"With China's fast-growing overseas national interests, the [Chinese] navy's mission will be more complicated and significant. China now has only one overseas logistics base in Africa, but in the future, the Chinese navy will need more bases around the globe, especially in key regions, to support its overseas mission," Xu Guangyu, a retired major general of the PLA, told Global Times.
One of the main reasons for the purchase of the Liaoning was training: A carrier is nothing without its crew. The U.S. has a major personnel and logistical advantage, and China "will face some hurdles in getting a corps of trained pilots, operators and technicians in place," Funaiole said.
The U.S. Navy has roughly 325,000 service members and approximately 282 deployable battle force vessels, including 11 nuclear-powered aircraft carriers. The U.S. Navy also has 3,700 aircraft, the second largest air fleet in the world—only the U.S. Air Force has more. That count does not include around 200 auxiliary and reserve ships.
The PLA Navy has around 235,000 personnel and over 700 aircraft. Though it has over 700 vessels in total, the number is bloated by a large number of patrol and support ships as well as outdated boats. Only approximately 220 are combat ships. Beijing hopes to increase that number to 351 by 2020 and is fast retiring outdated vessels.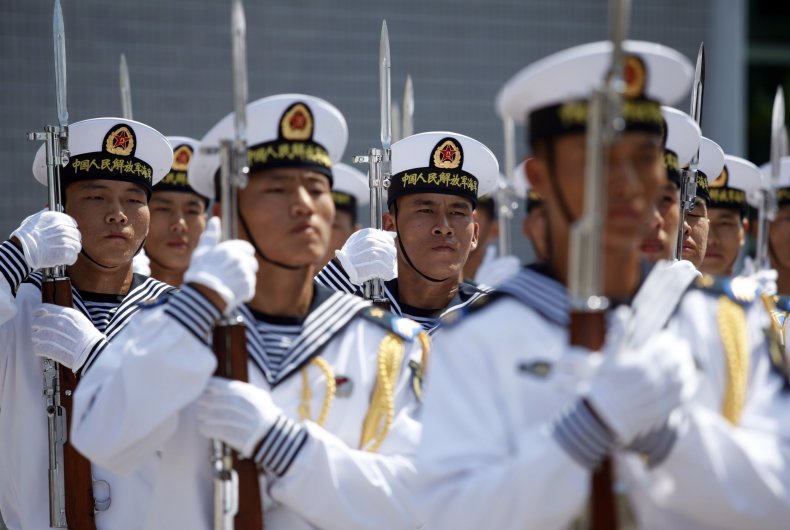 Though the U.S. has the more powerful navy, the gap between the U.S. and China "is getting smaller and smaller each day," McKnight said. American naval leaders are well aware of this and have set an expansion target of 355 combat ships by the end of the 2050s. But according to McKnight, America simply "can't build ships fast enough right now to keep up with the Chinese."
Projecting force is more difficult than fighting close to home. The Chinese "know they would never win fighting us off the coast of California…but in the South China Sea we will have a major problem fighting the number of Chinese forces," McKnight explained.
It may already be too late to challenge China in its home waters. For all its protests, the U.S. has been unable to stop or slow the construction of artificial islands in the sea, which have effectively fortified China's disputed claims. "As our young service members fought hard and died in the Middle East the last decade, China has taken control of the South China Sea without losing one sailor," McKnight said.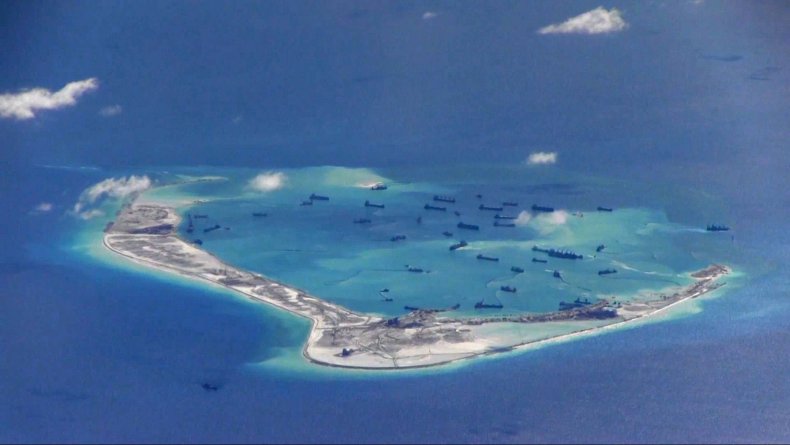 Admiral Phil Davidson, a nominee to lead U.S. Pacific Command and current head of the Navy's Fleet Forces Command on the East Coast, told the Senate Armed Services Committee this week that China "is no longer a rising power but an arrived great power and peer competitor."
The U.S. is moving to meet the Chinese challenge in Asia-Pacific. Warships and planes have been conducting freedom of navigation operations near China's artificial island bases; carriers have been deployed to ports in the region; and new weapons have been made available to Pacific ships. America won't cede influence in East Asia easily.
"They don't want a war with us, but they want to show us they can control their own backyard—the South China Sea—and be recognized as a true maritime power," McKnight said. "You need a powerful navy to command the seas."
This article contains new information from the PLA