China Threat Over Taiwan a 'Dire Challenge' to All, Warns Japan's Shinzo Abe
China's recent warnings appeared to fall on deaf ears this week, as Japan's former Prime Minister Shinzo Abe repeated pro-Taiwan remarks and suggested American and Japanese forces could take action in the event of a Taiwan Strait conflict.
Abe, who resigned in September 2020 for health reasons, sparked a minor diplomatic incident earlier this month when he told a forum that a "Taiwan emergency" would be an emergency for Tokyo and the U.S.-Japan alliance.
The United States has been purposely ambiguous about its intention to defend the democratic island from a Chinese invasion. During a television appearance on Monday, Abe said an attack on any American naval vessel that does intervene "could be a situation posing a threat to Japan's survival, which would allow the exercise of collective self-defense," according to Kyodo News.
The former Japanese leader's choice of words was also significant, as only an existential threat could justify a response by the Japan Self-Defense Forces (JSDF) under a 2014 reinterpretation of the country's postwar constitution. Abe said the action could involve logistical support for the U.S. military—a phrase that covers possibilities ranging from base access to troop transport and resupplies.
On Tuesday, Abe gave a virtual address, in English, at a Taiwan-U.S.-Japan event hosted by the Prospect Foundation think tank in Taipei. Speaking after opening remarks by Taiwan's President Tsai Ing-wen, Abe again called attention to the island's security.
"[W]hen there is a threat over Taiwan, and its democracy, it is a dire challenge to all of us, especially to Japan," he said, linking the potential for cross-strait war to Tokyo's own defense planning and the close relationship between the JSDF and U.S. forces. He also encouraged continued defense improvements in Japan, Taiwan and the U.S.
"Lest we forget, weakness invites provocations. The three of us must stop no effort in building our capabilities in all domains, from the undersea, sea surface, airspace, to the cyber and outer space," Abe said. "To that end, let us consider new ways of sharing our knowledge and technologies even more effectively."
"Here's another point: an adventure in military affairs, if pursued by such a huge economy like China's, could be suicidal to say the least," Abe added, repeating December 1 remarks made in Japanese. "We must urge them not to pursue territorial expansion and restrain from provoking, often bullying, their neighbors, because it should harm their own interests."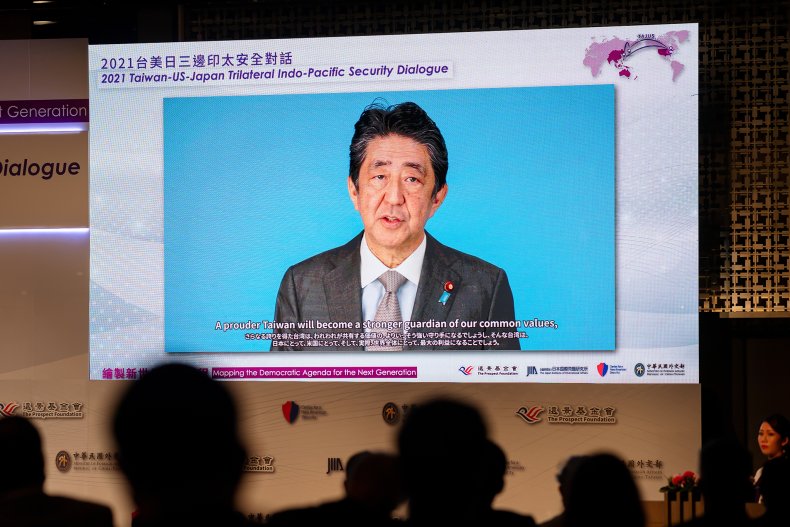 Other participants at Tuesday's event included Scott Busby, acting principal deputy assistant secretary in the Bureau of Democracy, Human Rights and Labor at the State Department; and Congresswoman Elaine Luria (D-VA-2), a 20-year U.S. Navy veteran who argued in a Washington Post op-ed in October that Congress needed to "untie Biden's hands" by granting the president authority to respond to an invasion of Taiwan.
Senator Bill Hagerty (R-TN)—U.S. ambassador to Japan between 2017 and 2019—also took part, as did Robert O'Brien, who served as national security adviser under former President Donald Trump. A number of Japanese parliamentarians were present for the discussions as well.
Like the U.S., Japan has no formal diplomatic relations with Taiwan, but has maintained close cultural and economic ties with Taiwan's government and its private sector over the decades. Also like the U.S., Japan's recent political support for Taiwan has been met with opposition in China, which asserts a historical claim over the island despite having never governed it.
Following Abe's pro-Taiwan remarks two weeks earlier, the Chinese Foreign Ministry summoned Japan's ambassador in Beijing, Hideo Tarumi, to lodge a formal complaint. Reporting on the details of the meeting, Hong Kong's South China Morning Post said last Thursday that China threatened to "reconsider" bilateral relations with Tokyo if the trend continued.
It was a telling sign of Abe's remaining influence in Japanese politics, particularly as head of the largest faction within the country's ruling Liberal Democratic Party. Abe's conservative wing is reportedly pressuring Japan's new prime minister, the moderate Fumio Kishida, to join the U.S.-led diplomatic boycott of Beijing 2022.