China Accuses U.S. of 'Fueling Militarization' in Asia
The U.S.-China relationship remains one categorized by deep mistrust despite Washington's attempts to reassure Beijing about the American military's renewed investment in the Pacific and growing ties with Taiwan.
After a downturn in bilateral relations with China during the presidency of Donald Trump, Joe Biden's administration now finds itself in an intense, full-spectrum rivalry that includes everything from political governance and trade to technological decoupling and military hard power.
Last month, Beijing signaled its willingness to meet what U.S. Secretary of State Antony Blinken termed "competition" between the two countries. But at a 4-and-a-half-hour meeting in Luxembourg on Monday, senior Communist Party official Yang Jiechi told U.S. National Security Adviser Jake Sullivan that China opposed such a definition.
Relations between China and the United States were "at a critical crossroads," said Yang, who heads the office of the CCP's Central Foreign Affairs Commission and is China's top diplomat.
Instead of competing, the countries should work toward realizing Chinese President Xi Jinping's vision of "mutual respect, peaceful coexistence and win-win cooperation," he said.
In the months since Biden and Xi held their first summit last November, Chinese officials have repeatedly said the U.S. hadn't "matched its words with its deeds." The same was said this week after U.S. Defense Secretary Lloyd Austin sought to address China's concerns at the Shangri-La Dialogue in Singapore over the weekend.
"We do not seek confrontation or conflict. And we do not seek a new Cold War, an Asian NATO, or a region split into hostile blocs," Austin told participants of the defense forum, a message he also conveyed to China's defense minister, Gen. Wei Fenghe, during an in-person meeting on the sidelines.
However, Beijing was left unconvinced. Wang Wenbin, a spokesperson for the Chinese Foreign Ministry, said the U.S. was "the biggest factor fueling militarization in the Asia-Pacific." Citing increasingly frequent reconnaissance operations in the South China Sea, Wang accused the U.S. of putting China under military pressure.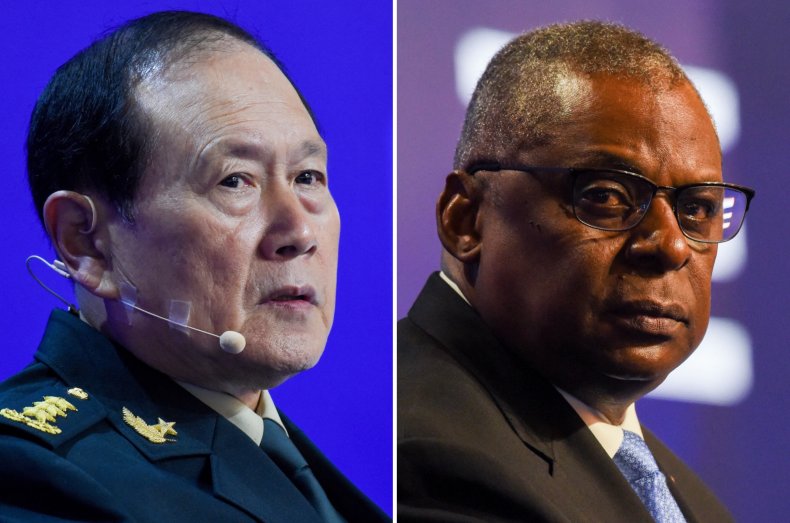 The view from Washington is rather different. U.S. officials see a more assertive China expanding the scope of its military and taking risks that could spark a conflict, especially over Taiwan. The island has been included in the agenda of every high-level U.S.-China dialogue since Biden took office.
After Biden pledged a military response to a hypothetical Chinese invasion of Taiwan last month, Austin used his appearance in Singapore to reiterate American interests in cross-strait peace, and to make clear that it hadn't changed its longstanding position of not supporting Taiwanese statehood.
"So our policy hasn't changed. But unfortunately, that doesn't seem to be true for the PRC," Austin said, referring to the People's Republic of China.
"As my friend Secretary of State Blinken has also noted, we're seeing growing coercion from Beijing. We've witnessed a steady increase in provocative and destabilizing military activity near Taiwan. That includes [People's Liberation Army] aircraft flying near Taiwan in record numbers in recent months—and on a nearly daily basis," the defense chief said.
"We remain focused on maintaining peace, stability and the status quo across the Taiwan Strait. But the PRC's moves threaten to undermine security and stability and prosperity in the Indo-Pacific," said Austin. "Maintaining peace and stability across the Taiwan Strait isn't just a U.S. interest. It's a matter of international concern."
In his own address, China's Wei warned it would be a "historic and strategic mistake" for Washington to see Beijing as an adversary. When it came to Taiwan, however, the official said China "will not hesitate to fight."
"We will fight at all costs and we will fight to the very end. This is the only choice for China," the general said.
Wang, of the Foreign Ministry, said Austin's remarks "spread disinformation and painted an ugly picture of China."
U.S. moves to strengthen economic, diplomatic and military relations with Taiwan were inconsistent with Washington's stated position of not endorsing the island's statehood, Wang said.
Taiwan's Foreign Ministry spokesperson, Joanne Ou, told reporters on Tuesday that Taipei was briefed by Washington before and after the Sullivan-Yang talks. Ou said her office wouldn't comment on reports about an upcoming high-level dialogue between American and Taiwanese officials, known as the Monterey talks, said to take place later this month.