China Urges U.S. To 'Put the Brakes On' To Avoid Conflict
Qin Gang, China's foreign minister, accused the United States of trying to hobble China in his fiery inaugural press conference on Tuesday in which he rejected attempts to put a floor under the rapidly deteriorating relationship between both countries.
American views had "entirely deviated from the rational and sound track," said Qin, who likened the perception of China as the U.S.'s "primary rival" to "the first button in a shirt being put wrong."
Diplomatic relations between Washington and Beijing have yet to recover from their lowest ebb since official ties were established 44 years ago. Meanwhile, the two economies remain deeply intertwined, with each counting the other as its largest trading partner.
The countries remain at odds over a number of issues, from the U.S.'s increasingly forward-leaning support for Taiwan to China's strategic alignment with Russia and its implications for the war in Ukraine.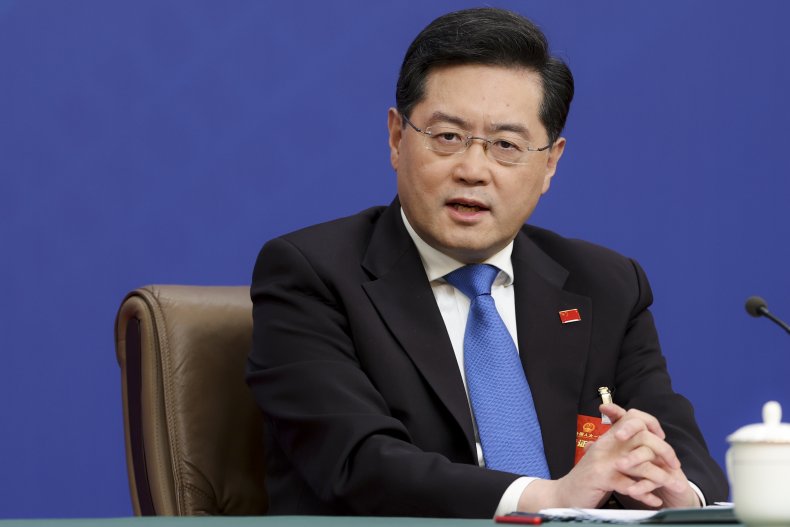 The White House has spent two years trying unsuccessfully to establish "guardrails" in the relationship to avert unintended conflict over any number of potential flashpoints.
Washington's desire for guardrails "simply means that China should not respond in words or action when slandered or attacked. That is just impossible," Qin said, repeating an argument Chinese scholars have made in private.
The U.S. State Department didn't return a request for comment before publication.
"An accident can reveal something fundamental," Qin said of the diplomatic crisis that resulted from the U.S. shoot-down in February of a Chinese spy balloon, which Beijing has said was a civilian airship conducting meteorological research. "In this case, the U.S. perception and view of China are seriously distorted."
"The U.S. talks a lot about following rules. But imagine two athletes competing in an Olympic race. If one athlete, instead of focusing on giving one's best, always tries to trip up the other or even send them to the Paralympics, that is not a fair competition but malicious confrontation, and foul play," he said.
"If the U.S. does not put the brakes on and continues to speed down the wrong path, no amount of guardrails can prevent derailing, and there will surely be conflict and confrontation," Qin said.
Qin, 56, was appointed as foreign minister in December after spending 17 months as Beijing's top envoy to Washington. His first official news conference took place on the margins of China's annual legislative gathering known as the "two sessions."
American attempts to avoid a hot war with the world's second-largest economy run parallel to the Biden administration's policy shift to plug vulnerabilities after decades of alleged industrial espionage by China and American high-tech exports that have inadvertently aided China's military modernization.
Beijing's view of the wide-ranging response, to hear Qin describe it, is that the U.S. aims "contain and suppress China in all respects." "Containment and suppression will not make America great, and it will not stop China's march toward rejuvenation," he said.
Do you have a tip on a world news story that Newsweek should be covering? Do you have a question about China? Let us know via worldnews@newsweek.com.