Rep. Mike Gallagher hopes his congressional committee can find bipartisan consensus on how to compete with the Chinese Communist Party, which he told Newsweek "poses a threat to all Americans."
Democrats are concerned GOP rhetoric on China policy could negatively impact Asian Americans and Pacific Islanders.
Washington's relations with Beijing have faced additional strain after the Chinese spy balloon drifted over sensitive military sites—so, can the U.S. find an edge?
In January, when the House stood up the only congressional committee focused on a single country—China—it gave the panel the unenviable task of de-risking the United States from its foremost geoeconomic rival.
The committee's objectives are centered on closing the urgency gap that exists between policymakers in Washington and the people they serve, while ideally flipping a few skeptics along the way. Over the next 20 months, two dozen lawmakers from the 118th Congress will be responsible for an extensive public awareness campaign that could have a lasting impact on the voting public come 2024.
"In the D.C. bubble, experts tend to assume the average American agrees with their premise. I'm not convinced we've done a good enough job explaining why someone in Wisconsin or Illinois should care about the threat posed by the Chinese Communist Party and how it affects their daily life. Answering the 'why' is a core task for the select committee," said Rep. Mike Gallagher, the Wisconsin Republican leading the new panel.
China's long-ruling party "poses a threat to all Americans, not just Republicans and not just Democrats," Gallagher, 38, told Newsweek. "There is broad consensus in Congress on the need to confront the CCP threat and deter further CCP aggression, though members may disagree on how best to do this."
The China select committee has no lawmaking mandate. Gallagher can point the group's resources, to include public hearings and policy recommendations, toward any topic that might inform debate on Capitol Hill. And so the panel's makeup—legislators experienced in everything from industrial, environmental and agricultural policies to those with expertise in foreign affairs, intelligence and homeland security—is by design.
"Since this is a whole-of-society competition, defending America from CCP aggression transcends every standing committee's jurisdiction," he said. "We will serve as the speaker's incubator and accelerator on CCP-related legislation to ensure that, even in divided government, smart policy does not slip through the inter-committee cracks."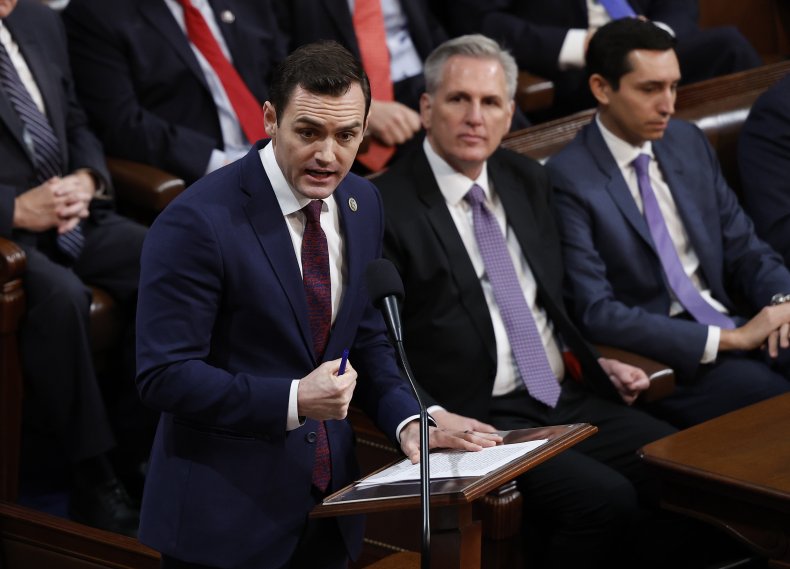 Gallagher is a former U.S. Marine and one of House Speaker Kevin McCarthy's "serious lawmakers." He can work across the aisle, too. In December, he and Rep. Raja Krishnamoorthi, the Illinois Democrat now serving as the committee's ranking member, introduced a bipartisan and bicameral bill seeking a federal ban on TikTok over data privacy concerns linked to its Beijing-based parent company, ByteDance. Bringing more parents and teachers onside is among the remaining hurdles.
"Even members of Congress forget the basics of Schoolhouse Rock!—a bill doesn't become a law just because you tweet about it. You need to do the unglamorous work of getting it through committee, and then on the floor, and then waking the Senate up from its siesta to pass it as well," Gallagher said.
Republicans and Democrats often diverge on China policy. "But the big question of the Chinese Communist Party as a threat to the United States, to the American people and to our friends and allies, and our need to reassess our China policy from the past 40 years—there is absolutely bipartisan agreement on both of those fundamental questions," Michael Sobolik, a fellow in Indo-Pacific studies at the American Foreign Policy Council, told Newsweek.
"An increasing amount of Americans are aware that the clothes they wear, the products they buy, have a connection to some sort of forced labor inside China. But there may not be a full appreciation of the genocide happening there right now," he said. "This committee is going to have the energy to bring this into stark relief for a lot of Americans. They will be the primary audience."
On issues of bipartisan concern, like China's repression of minorities or its designs on Taiwan, the committee can communicate directly to the American people why each matters, according to Gallagher.
"We may call this a 'strategic competition,' but this is not a tennis game. This is not about winning for winning's sake. This is an existential struggle over what life will look like in the 21st century—and the most fundamental human rights and freedoms are at stake," he added. "Put differently, Las Vegas rules don't apply: What happens in Xinjiang and Taiwan will not stay there."
Home Front
Gallagher's panel faces misgivings inside the House chamber. The January 10 vote received broad support from both parties, including unanimous backing by the GOP conference. But 65 Democrats, about a third of the caucus, opposed the resolution during the unwhipped vote. The dissent reflected their profound distrust in Republican leadership as well as unease about the welfare of Asian Americans in the post-pandemic landscape.
"I support any serious effort to address the challenges the United States faces from China, but Republicans have consistently trafficked in extremism and political theater when it comes to addressing China, rather than practical solutions that help Americans," Rep. Gregory Meeks, a New York Democrat and the House Foreign Affairs Committee's ranking member, told Newsweek.
Congressional Democrats have passed major China bills "despite Republican obstruction," said Meeks, who voted no. "I hope the China select committee will be guided by substance and fact, and advance policies that isolate China rather than isolate the United States from our allies and partners."
The office of California Rep. Mark Takano, the ranking member on the House Veterans' Affairs Committee, referred Newsweek to the Democrat's remarks on the floor, where he and others echoed widespread concern about the sharp increase in discrimination experienced by Asian Americans and Pacific Islanders (AAPI).
Takano, who also voted no, agreed "a whole-of-government approach" was needed for competition with China but was "skeptical of the true intentions" of the committee. "I hope my Republican colleagues can approach this topic from a position of strength, not weakness, xenophobia or fear."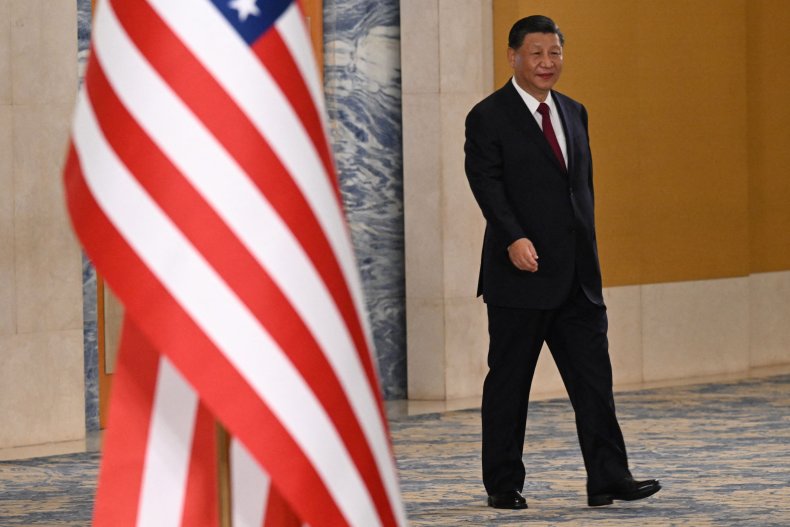 Like their Republican counterparts, Democrats vary when it comes to the right balance on issues that directly or indirectly concern China. Meeks and Takano, for instance, were among five legislators who accompanied Rep. Nancy Pelosi, the California Democrat then serving as speaker of the House, on her high-profile visit to Taiwan last August, a trip quietly frowned upon by the White House for its bold political symbolism.
"Democrats are concerned that some of the issues this committee could tackle might be much more partisan in nature and might drum up anti-Asian American discrimination or rhetoric. But I personally get the sense that Gallagher wants this to be taken as seriously as possible," said Bryce Barros, who recently spent two and a half years as a China analyst with the Alliance for Securing Democracy, a think tank housed at the German Marshall Fund of the United States.
"If you're in the Democratic coalition and you're a centrist, liberal or progressive, there are a multitude of reasons to find China problematic, ranging from issues like women's rights, LGBT rights, monopolies, corruption, revisionism and imperialism," Barros told Newsweek.
"There is no question that we have seen hate crimes targeting Asian Americans on the rise since COVID-19—and this is unacceptable," said California's Republican Rep. Young Kim.
"Asian American issues are American issues, and all Americans deserve to be treated with respect," Kim told Newsweek. "We can treat all Americans with respect and still be wary of threats posed by the Chinese Communist Party, Kim Jong Un and other authoritarian regimes stopping at nothing to destroy our freedoms and way of life."
The panel "will focus on countering the CCP—not targeting the Chinese people, Chinese Americans or our AAPI community," she said. "That is why Congress voted in an overwhelmingly bipartisan manner to create the committee, and under Chairman Gallagher's leadership, the work of this committee will be extensive, thoughtful and productive."
Rep. Andy Kim of New Jersey, one of three Asian American Democrats on the panel, told Newsweek the committee "has the potential to shape a thoughtful and comprehensive strategy" to tackle pressing issues.
"But I'm concerned by early rhetoric saying we are already in a new Cold War. The committee should work with clear-eyed composure to address threats and challenges and refrain from acting as if conflict is inevitable," said Kim, who was also part of Pelosi's congressional delegation that visited Taipei last summer.
By bringing along like-minded Democrats, Gallagher will test the popular theory that China truly is a bipartisan issue on the Hill. He wants to begin by focusing on the victims of Beijing's policies. He also wants the committee to highlight the party's "united front" political campaign of intelligence and influence operations in America.
"In all our efforts, we must draw a distinction between the CCP and the Chinese people. The Chinese people are the primary victims of the CCP," Gallagher said.
"The CCP spends more on internal security than it does on its military. Why? Because the adversary they fear most is not the United States but the Chinese people themselves. The CCP wants to collapse the distinction between the party and the people. Instead, we will expose how the party targets and oppresses the Chinese people at home and abroad," he said.
Sobolik added: "Anyone who believes we need to take on the CCP also understands you don't do that by targeting the people of China, or by extension endangering the safety of Chinese Americans. I think this committee is going to be focused on the substance of U.S.-China competition."
China Consensus
The experiences of the Trump and Biden administrations, which were both dealt an increasingly bullish China under the leadership of President Xi Jinping, have given rise to Washington's harder line on Beijing. "Time is not on our side," Gallagher said. "We must act with a sense of urgency to stand up to the CCP."
"It is critical for the American people to understand how the CCP exploits its links to corporate America, nonprofit organizations and our universities. With this in mind, there are some immediate legislative opportunities to shut down CCP police stations operating on American soil, ensure CCP affiliates are not buying land near sensitive military facilities, and protecting our universities from PLA-affiliated researchers," the lawmaker said, referring to the Chinese People's Liberation Army.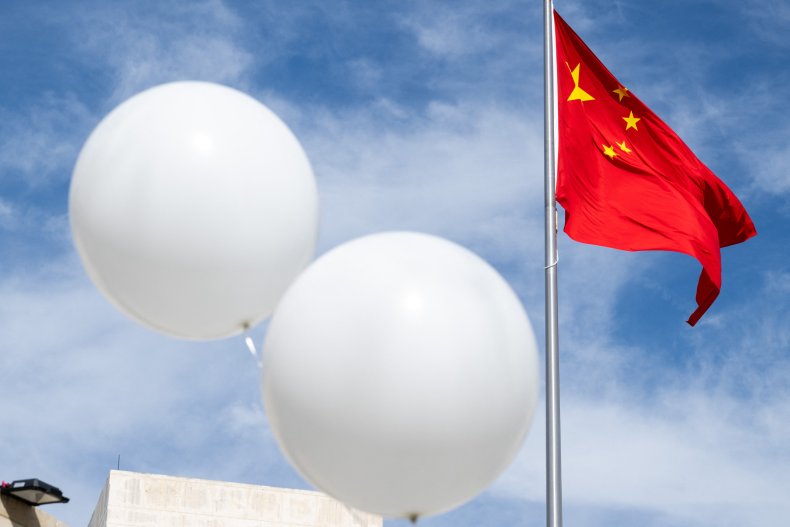 Some thought the committee's wide-ranging agenda could undermine the beginnings of a rare public detente Chinese officials were arranging with receptive American counterparts, who for two years have struggled to convince Beijing to maintain open lines for crisis communications.
It wasn't long until Beijing did that itself by sailing a high-altitude balloon across the Pacific and then—opportunistic or otherwise—attempting to surveil sensitive military sites while it blundered across the continental U.S. in plain view of ordinary Americans. This unwittingly sabotaged Secretary of State Antony Blinken's planned visit to China in the process.
For a week in early February, the public shared in an unusual nationwide furor as they watched an American fighter jet shoot the 200-foot dirigible and its large payload out of the sky off South Carolina. In a joint statement on February 2, two days before the shoot-down, Gallagher and Krishnamoorthi concluded Beijing's "recent diplomatic overtures do not represent a substantive change in policy."
China, which has responded with a mixture of embarrassment and anger in the weeks since, continues to claim the craft was a civilian weather-monitoring airship. Any optimism about a charm offensive exploded with the spy balloon and with events at the weekend's Munich Security Conference, where Wang Yi, China's top diplomat, called the U.S. reaction absurd and bordering on hysteria.
Beijing also is laying the groundwork to discredit any findings Washington chooses to disclose. On Monday, the state-run tabloid Global Times quoted an unnamed PLA source who suggested the U.S. could falsify its analysis "to further smear China." The same day, the Chinese government released a 6,000-word document accusing America of "throwing its weight around," among other misdeeds.
Like its predecessor, the Biden administration "seems divided between realists, who see the CCP for what it is, and wishful thinkers, who seem intent on excusing any CCP conduct in pursuit of illusory 'cooperation' on pet issues," said Gallagher. "We should absolutely maintain communications with Beijing, but those communications must convey that we are clear-eyed as to the threat they pose."
"The Chinese spy balloon spoiled Secretary Blinken's trip and sent a clear message: Don't be fooled by the CCP's new charm offensive. It's a farce designed for Davos. No matter what the CCP says, they plan to make zero substantive changes to their behavior," the congressman said. "I'm glad Secretary Blinken postponed his trip, and I hope the spy balloon saga convinces the administration that the CCP's more diplomatic posture of late is fool's gold."
According to Barros, the House panel now has an opportunity to shed light on "deficiencies within the U.S. executive branch on how to compete with China."
"We really need more people to work on China, in the intelligence community, at the State and Defense departments, and I would argue in places like the departments of Health and Human Services and Education. China policy shapes a lot of these things, and you need people to think about this in a holistic way," he said.
The administration is open-minded. A State Department spokesperson told Newsweek the U.S. is "more prepared than ever before" to outcompete China. "Many of the efforts we have been pursuing are bipartisan, underscoring the alignment at home on this key issue. We look forward to continuing to work with Congress on a range of foreign policy and foreign affairs issues, including China."
The select committee on China will hold its first televised hearing on February 28.
| | |
| --- | --- |
| Republicans on the committee (13) | Democrats on the committee (11) |
| Mike Gallagher (WI), Chair | Raja Krishnamoorthi (IL), Ranking Member |
| Robert Wittman (VA) | Kathy Castor (FL) |
| Blaine Luetkemeyer (MO) | André Carson (IN) |
| Andy Barr (KY) | Seth Moulton (MA) |
| Dan Newhouse (WA) | Ro Khanna (CA) |
| John Moolenaar (MI) | Andy Kim (NJ) |
| Darin LaHood (IL) | Mikie Sherrill (NJ) |
| Neal Dunn (FL) | Haley Stevens (MI) |
| Jim Banks (IN) | Jake Auchincloss (MA) |
| Dusty Johnson (SD) | Ritchie Torres (NY) |
| Michelle Steel (CA) | Shontel Brown (OH) |
| Ashley Hinson (IA) | |
| Carlos Gimenez (FL) | |
Do you have a tip on a world news story that Newsweek should be covering? Do you have a question about U.S.-China relations? Let us know via worldnews@newsweek.com.