China Inflates Balloon Tensions by Doubling Down on U.S. Overflight Claim
China is doubling down on the claim that American balloons have overflown its airspace without permission despite a series of flat-out denials by senior officials in the United States.
Wang Wenbin, a spokesperson for the Chinese foreign ministry, said at a press briefing on Tuesday that high-altitude balloons released from the continental U.S. for "ongoing global circumnavigation" illegally entered China's airspace and also overflew other nations "at least more than 10 times" since May 2022.
A day earlier, Wang said the 10-time figure was applicable from January 2022. He offered no additional details about the alleged operations or the nature of the craft—whether military or civilian—and didn't disclose whether Beijing lodged demarches with Washington in response.
Asked about China's photographic or other evidence, Wang said: "The U.S. needs to fully look into this and give China an explanation."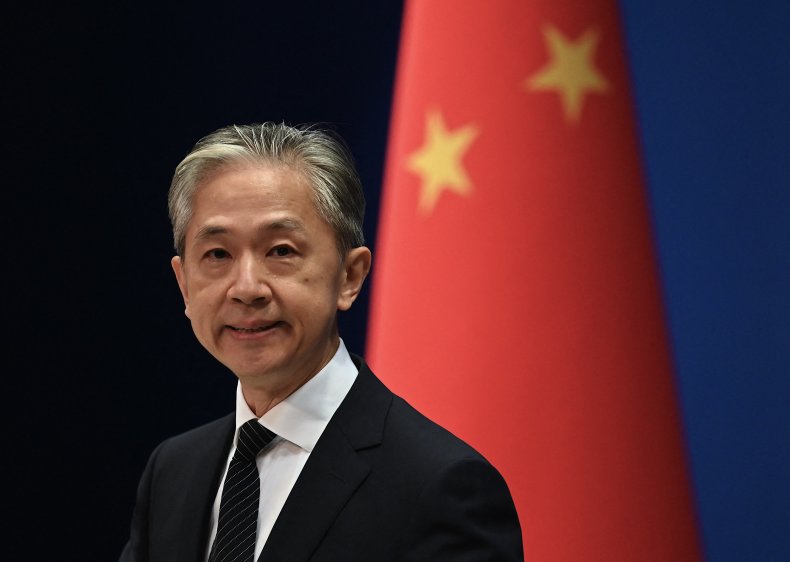 The shocking discovery of the Chinese-claimed craft over North American airspace, which Beijing said was accidentally infringed upon by an errant weather balloon, all but derailed both governments' hopes for consistent high-level dialogue.
China reacted angrily after U.S. Secretary of State Antony Blinken postponed his visit to Beijing, while the White House said the Chinese military "is not interested" in speaking to U.S. Defense Secretary Lloyd Austin, whose department ultimately could be responsible for disclosing the Pentagon's findings to the American public.
Wendy Sherman, the U.S. deputy secretary of state, was unequivocal when asked about the Chinese counterclaim on Monday. The American diplomat said, "there are no U.S. government balloons over the People's Republic of China—none, zero, period."
Washington was "absolutely confident" that the Chinese balloon shot down off the coast of South Carolina earlier this month was "a surveillance apparatus," Sherman said.
Earlier Monday, a State Department spokesperson told Newsweek China was "scrambling to do damage control."
"It has repeatedly and wrongly claimed the surveillance balloon it sent over the United States was a weather balloon and to this day has failed to offer any credible explanations for its intrusion into our airspace and the airspace of others," they said in a statement.
National Security Council spokesperson John Kirby, speaking at the White House on the same day, said the U.S. was "not flying surveillance balloons over China."
"There is no U.S. surveillance aircraft in Chinese airspace," he said.
Operations to salvage the Chinese high-altitude balloon and its payload—the size of three busses—was still ongoing, said Kirby. "There is no question in our minds that that system was designed to surveil, that that was an intelligence asset."
"Now, in light of the Chinese balloon program," Kirby said, closer examination of U.S. and Canadian airspace by NORAD may partly explain the detection of three as yet unidentified flying objects shot down by American fighter aircraft in recent days.
Unlike the spy balloon downed in shallower Atlantic waters on February 4, the three additional UFOs fell in "pretty remote terrain—ice, wilderness, all of that—making it difficult to find them in winter weather," he said. The one shot down over Lake Huron "now lies in what is probably very deep water."
China has repeatedly called the U.S. decision to shoot down its balloon an overreaction. It also has described the additional shoot-downs along the same lines.
"The U.S. needs to be careful not to pull a muscle while flexing so hard," said Wang.
Do you have a tip on a world news story that Newsweek should be covering? Do you have a question about China? Let us know via worldnews@newsweek.com.