China Uses Anal Tests to Detect Omicron as COVID Variant Spreads Before Winter Olympics
Chinese health authorities are ordering the use of controversial but more precise anal swabs to detect COVID for a third year running, as an Omicron cluster in Beijing grew to three people as of Wednesday.
After the city detected its first case of the highly transmissible variant on Saturday, The Beijing News said at least 27 anal tests had been administered in the apartment complex where the infected woman lives. Health workers also conducted extensive environmental swabs to trace the source of the transmission, the newspaper reported.
China has deployed anal swabs in major cities including Beijing and Shanghai since 2020. In the capital, the method was used in combination with antibody tests as well as throat and nasal swabs to screen millions last winter. While the approach isn't considered practical for tracking larger clusters—an established method known as "pooling" is preferred—anal swabs are thought to be more accurate, especially in COVID hotspots.
In a report that aired this time in 2021, infectious disease expert Dr. Li Tongzeng, with Beijing You'an Hospital, told China's state broadcaster CCTV that anal swabs were effective at detecting infections in asymptomatic cases or in individuals with mild symptoms. Both groups tend to recover from the illness more quickly, he said. "It's possible that there will be no trace of the virus in their throat after three to five days," he added.
More accurate test
"What we've found is that in some infected patients, the coronavirus survives for a longer period of time in their digestive tract or excrement than in their respiratory tract," Li said at the time. The method, while uncomfortable, could increase the rate of detectability and lower the chances of a missed diagnosis, he said.
Reached by Newsweek, Dr. Li said: "That anal swab samples were collected from 27 people shows that they weren't routine test. Since anal test results can return positive 14 days or longer into an infection, once a confirmed case is found, anal swabs of close contacts could help trace the source of an infection."
"As the source who had infected the [Beijing] index case likely already recovered, a throat swab would have return negative, but an anal swab might have detected it. The 27 anal tests were probably attempts to trace the origin of the infection," he said. "In the end, they all returned negative. That's why international mail was suspected."
American and Japanese diplomats were subjected to the anal tests in early 2021, resulting in considerable distress and some protest. In China, however, the method may be key to maintaining its zero-tolerance approach to the virus.
In December, a research paper published in the Chinese Journal of Experimental and Clinical Virology by Dr. Cai Kanru et al. backed the practice and recommended it be widely adopted.
Cai and seven other specialists at Shenzhen Third People's Hospital in China's southern Guangdong province compared 46 samples from 31 symptomatic patients. Their study showed nasal swabs produced diminishing effectiveness at detecting the coronavirus throughout the course of an infection.
In nucleic acid tests administered 16 days or more into a COVID infection, those who tested positive after an anal swab also returned positive after a nasal swab less than one-third of the time—28.6 percent of patients.
"When formulating criteria for releasing [patients] from quarantine, besides two negative results from respiratory tract specimens, negative results from anal swab specimens should be added as an important reference," the paper concluded.
Stress Test
Around a quarter of Chinese provinces and municipalities have detected the Omicron variant, while previous Delta outbreaks appear to be winding down. The cluster in Beijing, however, is the real test for China's zero-COVID policy, just two weeks away from the opening of Beijing 2022 and10 days until the Lunar New Year holidays begin in earnest.
The country's new cases fell to their lowest in two weeks on Wednesday as the National Health Commission reported 55 locally transmitted infections throughout January 18. Beijing's municipal health authority found two additional Omicron infections in Haidian district—both close contacts of the January 15 case—and one patient who tested positive for the Delta variant in Chaoyang district.
China also reported 37 asymptomatic cases, which it has classified separately since the start of the pandemic.
Source of Omicron Cluster
While the exact source of Beijing's Omicron cluster remains unclear, health authorities have pointed to international mail from the United States and Canada as one possible cause.
This week, CCTV reports asked citizens to wear masks and gloves when opening mail received from abroad, while also urging residents to reduce purchases from overseas.
The Omicron variant, which has been found in larger numbers in the port city of Tianjin some 80 miles southeast of the capital, is straining China's strict approach to virus control, a policy unlikely to be abandoned until this autumn. The country's borders remain tightly shut despite a full vaccination rate that is approaching 90 percent.
This week, the organizing committee of China's Winter Olympics canceled plans for general ticket sales due to public health concerns. Tickets will now be reserved for select audiences when the spectacle begins on February 4.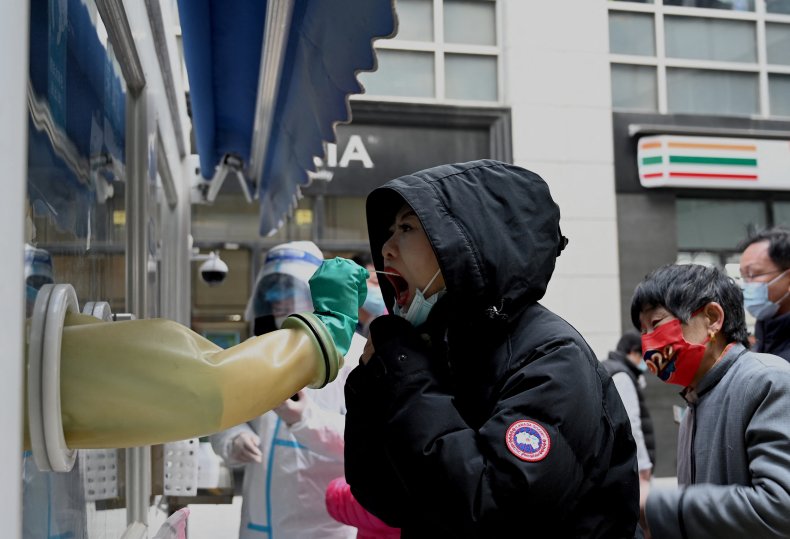 Update 01/24/22 at 3:28 a.m. ET: This article was updated to include comments from Dr. Li Tongzeng.