China's 'Tone-Deaf' Diplomacy Hardens Attitudes in Europe, Brussels Expert Says
China may be losing friends in Europe faster than it can gain them as Beijing and Brussels continue to spar over widespread reports of human rights abuses in Xinjiang.
Their most notable scrap involved tit-for-tat penalties in March when the European Union said it sanctioned four Chinese officials and one entity responsible for the ongoing rights violations against Uyghurs in northwestern China. Beijing responded immediately with dramatic super sanctions of its own.
The episode led to the breakdown of the EU-China Comprehensive Agreement on Investment (CAI), a deal nearly a decade in the making, which was said to be highly coveted by Chinese President Xi Jinping as a geopolitical tool to drive a wedge in Europe's transatlantic partnership with the United States.
On Friday, the Chinese mission in Brussels again accused the European bloc of interfering in its internal affairs. It came a day after the EU's diplomatic arm, the European External Action Service, reiterated its "grave concerns" about the situation in Xinjiang, and renewed its call for the United Nations' top human rights official to be granted access to the region for an independent assessment.
China said it had already invited the UN High Commissioner for Human Rights, Michelle Bachelet, who has said she hopes to secure a visit to Xinjiang this year. The EU was also invited, but a trip has not materialized due to "unacceptable" preconditions set by Brussels, the statement read.
Rights groups and UN experts say at least one million Uyghurs have been interned in mass detention centers in Xinjiang. Reports have also detailed violations including forced labor and forced sterilization. China denies all allegations of wrongdoing and describes reports and witness testimonies as lies and disinformation.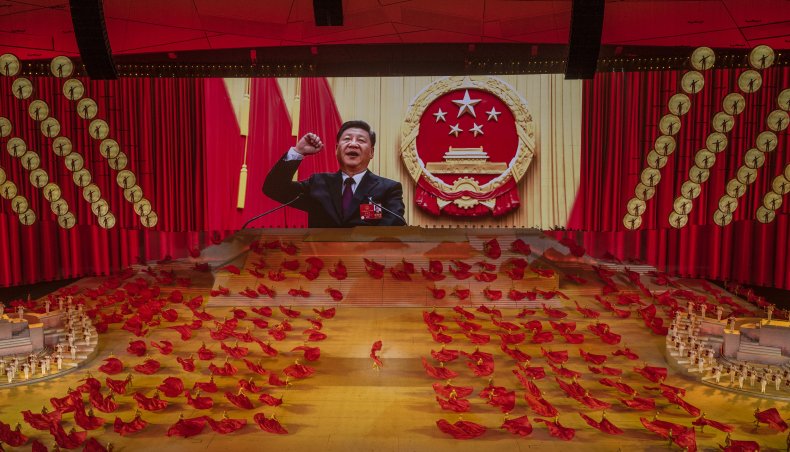 But Beijing's fierce defense of its policies through its "tone-deaf Wolf Warrior diplomacy" has been "counter-productive," leading to a further hardening of positions across Europe, said Theresa Fallon, director of the Centre for Russia Europe Asia Studies (CREAS) in Brussels.
Following the apparent collapse of CAI, which the European Parliament voted to freeze on May 20, China's Xi now has a "European dilemma," Fallon told Newsweek on the eve of the Communist Party's 100-year anniversary.
"They've spent millions—millions—on soft power, and nothing works because they keep undermining their efforts with this Wolf Warrior, belligerent diplomacy. It's just self-defeating," she said.
The sanctions announced by the EU on March 22 were not directed solely at China; they were part of a package targeting rights abuses in North Korea, Russia, and elsewhere. The bloc's Xinjiang measures—coordinated with the U.S., U.K., and Canada—were it's first in the name of human rights in China since the arms embargo of 1989, when the EU responded to Beijing's "brutal repression" of student-led protests in Tiananmen Square.
That the EU was preparing to sanction China was known to the Chinese leadership. "These things are very transparent here in Brussels," Fallon said.
They then "very carefully selected who they were going to punish," she added, responding in a way many viewed as excessive and "almost politically indefensible" for those hoping to sympathize with Beijing.
China's retaliatory sanctions targeted 10 European officials and scholars as well as four entities, among them German Green party MEP Reinhard Bütikofer, who chairs the EU's China delegation; and the Political and Security Committee, the EU's main foreign policy decision-making body comprising ambassadors from every member state.
In an accompanying statement, the Chinese Foreign Ministry said the EU needed to "redress its mistake," and also threatened further action.
Beijing's response was an attack on "the very fabric of democracies," Fallon said. "If they don't think that there's going to be pushback from that, they're deeply mistaken."
Of greater concern, however, is the apparently overlooked advice the Chinese mission in Brussels would have given Beijing regarding a more appropriate response. Fallon believes this may have been ignored by China's senior leadership.
She said: "I've met people from the mission. They're very bright, they're very talented. I just don't think someone's listening to them back in Beijing."
"There's this danger that Xi Jinping is only listening to people who tell him positive things, and they're making disastrous mistakes," she added.
The EU-China investment deal promised to address China's asymmetric market access to Europe. For Xi, however, it was seen as a brilliant geopolitical move, concluded in principle in December despite apparent opposition by incoming Biden officials.
Reports pointed to the Chinese leader's personal intervention to get CAI over the line after Joe Biden won the elections in November.
Fallon said Xi "saw a chance to drive a wedge in the transatlantic relationship before Biden even came into office."
"My impression was that they were just waiting to see who was going to win the office. If it was Trump, they didn't need to do CAI; if it was Biden, they would very rapidly, which is what they did. So there was no movement until the election result," she noted.
Fallon disagrees with analysis that suggests Beijing did not truly care for CAI either way. With the agreement now on ice, and the European Parliament intimating there will be no further progress until the sanctions are lifted, Fallon believes the outcome is nothing short of a "disaster" for China.
Is America Really Back at the Table?
Another sign of shifting political attitudes on China may have been gleaned from President Biden's meetings with key leaders at the G7, NATO, and EU last month.
Fallon, who is the founder of CREAS, noted Beijing's swift responses following the successive summit communiques. The reaction appeared to show China's wariness toward Biden and his seemingly inevitable plan to rally allies and counterbalance Beijing's influence in Europe.
After four years of European mistrust of Trump, Biden and his diplomats are already making up for lost time. Yet it remains unclear whether European leaders will simply let the U.S. retake its seat at the head of the table, Fallon says.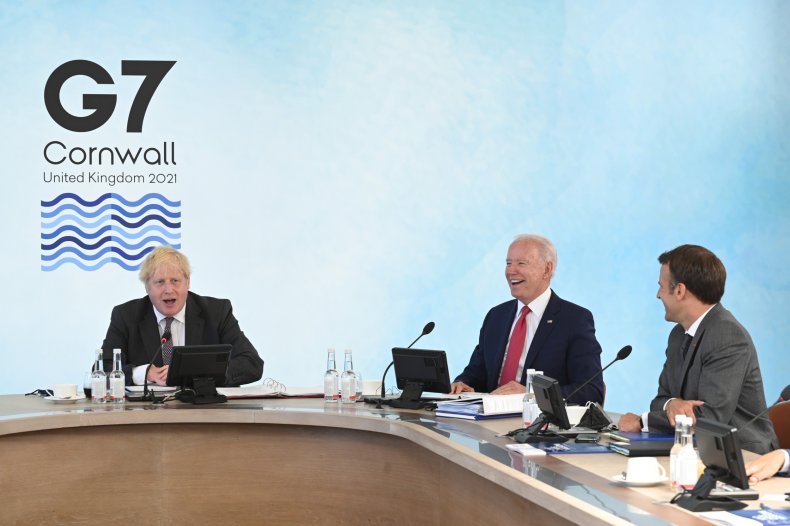 Despite apparent alignment at the G7 and NATO, which some felt did not go far enough to propose solutions to the collective China challenge, other obvious contradictions still remain.
Immediately following the June 14 NATO communique, French President Emmanuel Macron said China "has little to do with the North Atlantic."
Meanwhile, the French Navy continues to contribute to freedom of navigation operations in the South China Sea. French forces joined the Quad in the Bay of Bengal in April and, a month later, held military exercises in Japan as part of the amphibious drills known as Jeanne D'Arc 21.
German Chancellor Angela Merkel, who warned NATO not to "overrate" Beijing's increasing influence, has also sanctioned a German warship's upcoming visit to the contested sea next month.
While China remains one of the EU's largest trading partners by any measure, Fallon says the bloc has taken slow but concerted steps to secure its member states and their critical infrastructure from undue outside influence—by China or anyone else.
This has come in the form of a foreign direct investment screening mechanism, as well as the €750 billion Next Generation EU fund, its largest stimulus package, which promises to help make Europe more resilient in the post-pandemic era.
But, according to Fallon, one of China's biggest hurdles in Europe may be one it rarely contends with at home—the "huge chasm" between elite and public opinion. Levels of distrust are high, she says, especially after COVID-19 and amid ongoing allegations of obfuscation.
On Wednesday, the Pew Research Center released the results of a public opinion survey that found unfavorable views of China remained "near historic highs" in most advanced economies, including in Europe, where a median of 66 percent held negative views on China, versus 28 percent who saw China favorably.
The View From London
In Britain, where the Pew study found 63 percent leaned toward unfavorable views on China, the country is undergoing an Indo-Pacific "tilt" following its withdrawal from the EU. Like its continental neighbors, its China policy has come under scrutiny in the last 18 months.
Shortly after Beijing countered the EU's sanctions, it retaliated against the U.K. by targeting nine individuals and four entities on March 26. Similar to Beijing's European measures, the sanctions affected the listed individuals as well as their immediate family members, who were barred from travel to China, Hong Kong, and Macau, and were prohibited from exchanges with Chinese citizens, institutions, and businesses.
Conservative MPs Tom Tugendhat and Neil O'Brien, who founded the China Research Group think tank last April, were top of Beijing's sanctions list, which also included the CRG.
Tugendhat, who chairs the Foreign Affairs Select Committee in the House of Commons, said he wanted the U.K. and China to have a "balanced and constructive relationship."
"I hope the U.K. and China can find a better way of talking to each other to solve challenges we face from pandemics to climate change," he said in a statement to Newsweek, "but that requires an end to the threatening stance of the [Chinese Communist Party]."
"Wolves belong in the wild, not in embassies," Tugendhat said, while also endorsing Biden's "multinational approach" to alternative infrastructure plans to counter Chinese investments across the world.
Royal Navy flagship HMS Queen Elizabeth is currently on a maiden voyage that will see the aircraft carrier traverse the South China Sea and make a port visit in Japan.
China is expected to monitor the carrier strike group's deployment to Asia, but Tugendhat said there is "no need for any repeat of the aggression" British destroyer HMS Defender faced while operating in international waters in the Black Sea.
"I hope the deployment of the Queen Elizabeth will be seen for what it is—an international effort to defend the UN principles we all signed up to and a way of building goodwill in the region," the Tory MP added.
Britain's Foreign Secretary Dominic Raab has also expressed concerns about Beijing's crackdown on democratic rights in Hong Kong. But elsewhere in Prime Minister Boris Johnson's government, cabinet members remain conscious about trade opportunities offered by the Chinese market.
U.K. finance minister Rishi Sunak argued on Thursday that Britain should continue to forge economic ties with China while criticizing its rights violations in Xinjiang.
Observers have suggested the Conservative government seeks to rekindle some of the "golden era" rhetoric surrounding U.K.-China relations under former Prime Minister David Cameron and Chancellor George Osborne.
Professor Steve Tsang, director of the SOAS China Institute at SOAS University of London, argues the golden era "was never real," describing it as a "rhetorical flourish" to improve ties with China.
When Beijing revealed its determination to ignore the U.K., renege on its treaty obligations under the Sino-British Joint Declaration and "have its way" over Hong Kong and later Xinjiang, the U.K. government realized the "unsustainable nature" of the golden era talk, he said.
Although Beijing has taken an increasingly more strident tone, Tsang says there have been no fundamental changes in Chinese foreign policy toward the U.K.. What's changed, he notes, is Britain's perception and understanding of China's policy.
Tsang concluded: "Xi's foreign policy is not for turning, notwithstanding his recent appeal to make China more lovable to the outside world. That's a call to amend how China does it, not to change China's foreign policy."