What Happened With Chris Pratt? Twitter Poll Launches a Week of Backlash
Chris Pratt is having a truly terrible week. The Jurassic World star has found himself at the center of a social media frenzy as his politics and religion are scrutinized and other controversies from his life and career are forced under the microscope.
So why is everyone hating on Chris? The actor is being mercilessly lambasted mostly because of the rampant speculation that he is a Donald Trump supporter—something he has never confirmed or denied.
His status as the proverbial "worst Chris" was catapulted into pop culture this week as Twitter users lambasted and criticized the 41-year-old Avengers actor in equal measure, with even some of his famous Marvel co-stars compelled to defend him publicly.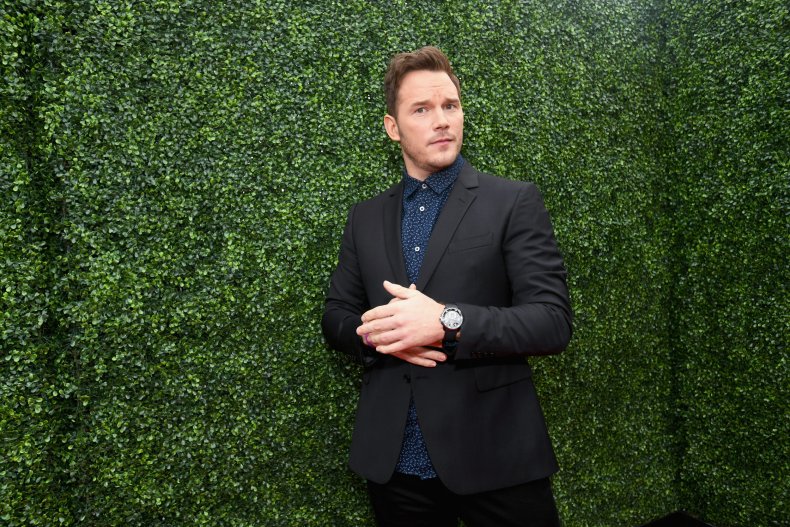 The poll
The drama started when writer Amy Berg challenged her followers to get rid of one of the famous Chrises out of Pratt, Hemsworth, Evans and Pine.
The poll is itself a play on the lighthearted meme that has been circulating, mostly about choosing the least favorite Halloween candy. Berg applied the format to the joke of there being several hunky white actors named Chris all working in Hollywood concurrently. But the reaction took a turn and Berg was forced to respond to the backlash against Pratt.
On Tuesday Berg tweeted: "Okay, I am really not poking fun at memes anymore. We managed to turn a Chris 'snack' joke into attacks and threats by right-wingers."
In a later tweet, she added: "Seriously, enough. This was a play on the 'one has to go' Halloween candy meme going around and the responses turned it into a hate-filled s***fest on both sides."
But why did the poll elicit such a visceral response from Twitter users? Is Pratt really that awful?
Personal opinions aside, anything that Pratt has ever done that could be construed as problematic was dredged up this week.
Politics
Pratt has never openly discussed his political views on social media and CNN reports that he donated money to Barack Obama's campaign back in 2012.
However, some people think it's telling that Pratt did not take part in a Joe Biden fundraising event this week alongside the likes of Don Cheadle, Chris Evans, Scarlett Johansson, Paul Rudd, Mark Ruffalo and Zoe Saldana.
The Hulk star Ruffalo came to Pratt's defense to say he's just not that into politics either way.
"You all, @prattprattpratt is as solid a man there is. I know him personally, and instead of casting aspersions, look at how he lives his life," Ruffalo tweeted. "He is just not overtly political as a rule. This is a distraction. Let's keep our eyes on the prize, friends. We are so close now."
Pratt himself echoed this sentiment in a Men's Fitness magazine interview back in 2017, when he said: "I don't feel represented by either side. I really feel there's common ground out there that's missed because we focus on the things that separate us."
There is another caveat to speculation from the public on Pratt's political leanings—who he follows on social media.
A number of Twitter users have pointed out that Pratt follows right-wing pundit Ben Shapiro and Fox News host Tucker Carlson on Instagram and Twitter. However, he also follows famously left-leaning talk show hosts such as Stephen Colbert and Conan O'Brien.
Pratt also raised a few eyebrows when he was photographed wearing a T-shirt featuring the Gadsden flag, which features an image of a rattlesnake and the words "Don't tread on me."
Originating as a motto of the Revolutionary War, the phrase has had more political connotations when used in recent years. According to Dictionary.com: "In the 2000s, the phrase became associated with a variety of libertarian, conservative, gun-rights, or far-right political groups as a way to express their beliefs."
Religion
Pratt's church has also seen him receive some negative press when actress Ellen Page directly called him out on social media.
The Umbrella Academy actress accused Pratt's Hillsong Church in Los Angeles of being "anti-LGBTQ," which the actor said was "absolutely untrue."
"I go to a church that opens their doors to absolutely everyone," Pratt said at the time.
Though the Hillsong Church website doesn't address the LGBTQ+ community either way, a 2019 report from the Washington Post references a 2017 statement urging the church's Australian members to vote against same-sex marriage.
Hunting and animals
Pratt proudly professing his love for hunting has not helped his reputation, and it is yet another facet of his personality which has been castigated in this week's social media storm.
While promoting his film Jurassic World in 2015, Pratt unabashedly spoke of his love for recreational hunting, telling The Guardian: "The thing inside me that drives me to go out and hunt is very animal. But the remorse, emotion and respect I feel, and the closeness to God that I feel when I'm out there, is my humanity. It's an opportunity for me to explore what parts of me are animal and what parts of me are human."
This week also saw the re-emergence of a story from 2011 about Pratt apparently giving away the elderly cat that he shared with now ex-wife Anna Faris to a stranger on Twitter.
Per a Gawker article, Pratt wrote a blog post and admitted giving up his 15-year-old beloved pet on Twitter because it's old and incontinent.
"Bottom line, and not that this is any of your f****** business weirdos, but my wife and I want to start a family and we ABSOLUTELY CANNOT have an animal that s**** all over the house," he wrote in a blog post. "Sorry. If you are a parent you will understand. And if not, that probably explains why you have such a hard on for cats. Just sayin'."
Marriage
It appears that the break down of Pratt's marriage to Faris was another blow to his reputation in the eyes of some. Their eight-year marriage was marred by tabloid rumors in 2017 that Pratt was romantically involved with Jennifer Lawrence.
During a conversation with Isla Fisher on her podcast, "Anna Faris Is Unqualified," Faris spoke about being affected by the rumors.
"I just remember feeling so hurt in a way that bothered me, because I didn't want to think of myself as somebody who could be bothered by tabloid s***," she said, per Business Insider.
"I take pride in how great my relationship is with Chris, but having said that, of course, in this crazy world where he's off doing movies and I'm in L.A. raising our child, of course, I'm going to feel vulnerable, like any normal human would," she said.
Many have speculated about the fact that the couple's marriage broke down after Pratt's significant weight loss.
Parks and Rec nude controversy
The world first fell in love with Pratt when he played the lovable Andy Dwyer on NBC's Parks and Recreation.
However, one of his pranks did not go down well, leading him to get in hot water with network bosses for exposing himself on set.
During one scene, his character was supposed to open the door naked and shock Leslie Knope (Amy Poehler), however, instead of wearing the nude underwear provided, Pratt was deliberately fully naked.
Explaining the incident during an appearance on The Graham Norton Show, Pratt said: "I was wearing skin-colored underwear and I wasn't getting quite the right reaction I was hoping for. It was late in the day so I decided to improvise and drop my trousers for the take ... [Poehler's] reaction was great!" It was the take they used!"
Filming nudity has strict protocols in film and TV and NBC were not happy with the prank.
He said: "I got a letter from NBC's HR department that said, 'There is protocol about nude scenes. This is not a joke and you are being reprimanded and you can't go around telling people about this like some kind of joke!'"
Unsurprisingly, this incident has been discussed again on Twitter this week in light of the renewed controversies.
Defense
Pratt's excoriation this week has seen a number of his famous Marvel co-stars rush to his defense.
"What a world... The 'sinless' are casting stones at my brother, Chris Pratt... A real Christian who lives by principle, has never demonstrated anything but positivity and gratitude," Pratt's Avengers: Endgame co-star Robert Downey, Jr. wrote on Instagram on Tuesday.
"AND he just married into a family that makes space for civil discourse and (just plain fact) INSISTS on service as the highest value," Downey added.
"You got this," Zoe Saldana tweeted to Pratt. "Your family, friends, colleagues & everyone who's ever crossed paths with you knows your heart and your worth!"
His wife, Katherine Schwarzenegger, also posted: "There's so much going on in the world and people struggling in so many ways. Being mean is so yesterday."
The moral of the Pratt story ultimately seems to be; if you ask Twitter which Chris is the worst, people will tell you and they will tell you why they feel that way.
As the old idiom goes: "Ask a stupid question, you'll get a stupid answer." In this case, a loaded question was asked and a loaded answer was given.
Is Chris Pratt the worst person in the world and deserving of such vitriol? No. Is he the worst Chris? Twitter definitely seems to think so.