Chris Wallace Calls Out Republicans for 'More Visible Outrage' at Cheney Than at Greene
Fox News Sunday anchor Chris Wallace called out Republican lawmakers for showing "more visible outrage" at GOP Representative Liz Cheney of Wyoming for voting to impeach former President Donald Trump than at Georgia's freshman GOP Representative Marjorie Taylor Greene's promotion of bizarre conspiracy theories.
Some pro-Trump Republicans in the House of Representatives have called for Cheney's removal from her No. 3 leadership position as chair of the House Republican Conference following her January 13 impeachment vote. Meanwhile, few GOP lawmakers have expressed public outrage following multiple reports on Greene's past promotion of unfounded conspiracy theories and support for violence against fellow lawmakers on social media.
"You've got a situation right now where there is more visible outrage inside the GOP over Liz Cheney, a member of [Republican] leadership voting to impeach the [former] president over—rather than some of these wild conspiracy theories being espoused by Marjorie Taylor Greene," Wallace pointed out during his show Sunday.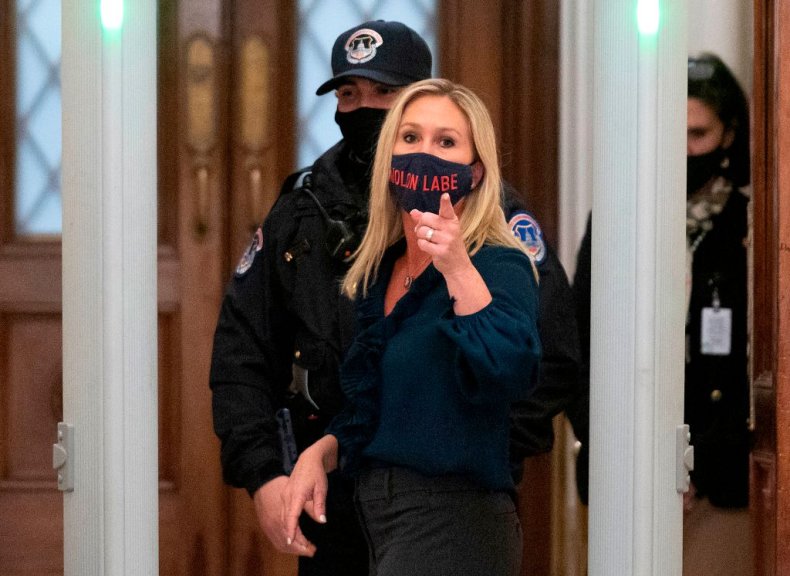 He suggested that Republicans should take action against Greene and asked whether she should potentially be expelled from Congress or removed from committees.
"What are their options here?" Wallace asked panelist Susan Page, the Washington bureau chief for USA Today. "I think it tells you a lot about where the Republican Party is right now," Page responded.
GOP House Minority Leader Kevin McCarthy plans to have a meeting with Greene regarding her incendiary social media posts and bizarre claims. "These comments are deeply disturbing and Leader McCarthy plans to have a conversation with the Congresswoman about them," Mark Bednar, a spokesperson for McCarthy, told Axios last week.
Representative Adam Kinzinger, an Illinois Republican who joined the nine other House Republicans in voting to impeach Trump, said Sunday that he'd support removing Greene from committee assignments, but he pushed back against expelling her from Congress altogether.
"I'd certainly vote her off committee. In terms of eviction, I'm not sure because I'm kind of in the middle. I think a district has every right to put who they want there," Kinzinger told NBC News' Meet the Press. "But we have every right to take a stand and say, 'You don't get a committee.' And we definitely need to do that."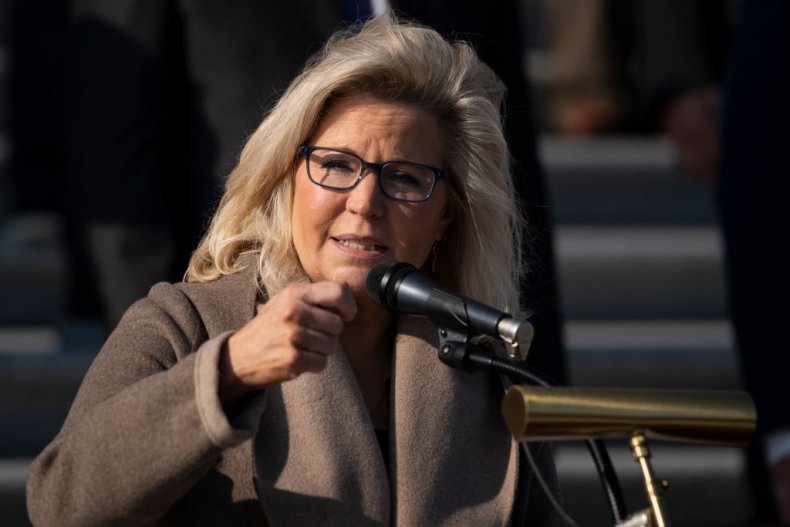 Newsweek reached out to McCarthy's press representatives for further comment but they did not immediately respond. A spokesperson for Greene told Newsweek in an email that she was traveling and would not immediately be able to provide comment.
She did tweet on Sunday, however, writing, "The radical Democrat mob and their spokesmen in the Fake News Media are trying to take me out because I refuse to apologize for our America First values."
CNN first reported last week that Greene had repeatedly indicated she was supportive of executing prominent Democrats, including House Speaker Nancy Pelosi via social media. Media Matters for America additionally reported that Greene suggested in a 2018 Facebook post that a California wildfire had been started by a laser from outer space. The congresswoman also previously espoused baseless conspiracy theories about the terrorist attacks of September 11, 2001, as well as about various mass shootings in the U.S. in recent years.