U.S. lobbying groups from the fossil fuel and automobile industries have been named the most effective in helping to block action to reduce climate change globally, according to a report.
The study from British-based thinktank InfluenceMap said U.S. trade associations "dominate" the list of groups found to be most effective in opposing climate-change policies, with seven of the top 10 lobby groups being based in Washington D.C.
The report names the National Association of Manufacturers (NAM) and U.S. Chamber of Commerce as the two most successful lobby groups in terms of helping to block climate action.
The report states both groups successfully campaigned for the U.S. withdraw from the Paris Agreement in 2016, as well as lobbied Senators to reject the Green New Deal in 2019.
The report also accused the two groups of attempting to install a "deeply pro-fossil legal framework" in the country since 2016—the year of President Donald Trump's election victory.
Elsewhere, the American Petroleum Institute (API), the American Fuels and Petrochemical Manufacturers (FMP) and the Alliance of Automobile Manufacturers (Auto Alliance), were also named in the top ten after lobbying for rollbacks against methane emissions and automotive fuel economy standards between 2018 and 2019.
The National Mining Association (NMA) and the American Legislative Exchange Council (ALEC) are the sixth and seventh U.S. lobbying group to appear in the top 10, which is measured by a methodology of comparing how much they are against the Paris Agreement's policies, influence and power on the economy, and the intensity of their lobbying against climate-related regulatory matters.
The remaining three places in the top ten are all foreign trade associations: The Canadian Association of Petroleum Producers, the Minerals Council of Australia and the Japan Business Federation.
The report says the U.S. lobbying groups have "stoked, harnessed, and guided" Trump and his administration to undermine climate policy progress since 2016.
These include Trump's plans to rollback climate change regulations and replace former president Barack Obama's signature Clean Power Plan with the Affordable Clean Energy rule (ACE).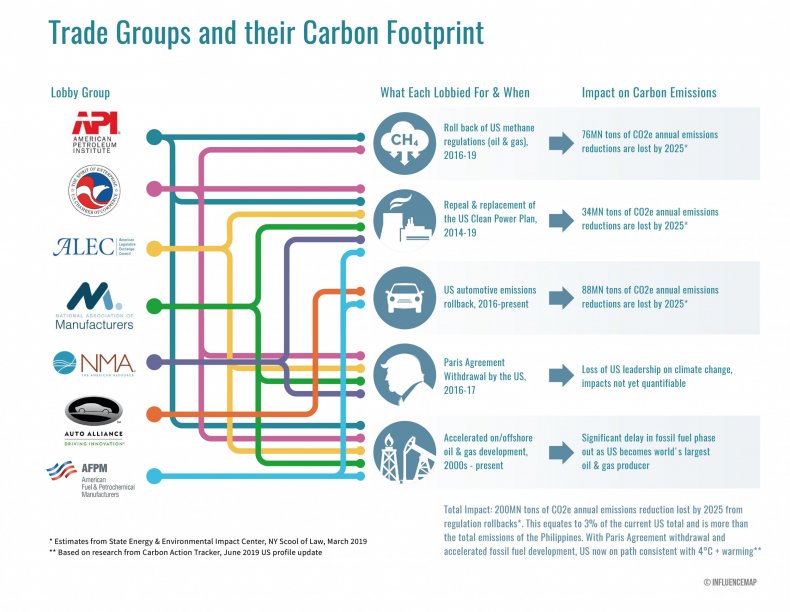 According to a report released earlier this year from the State Energy & Environmental Impact Center, a research group based out of New York University's law school, the Trump administration's ACE plan could see U.S. carbon emissions increase by more than 200 million tonnes a year by 2025.
"The scope of the administration's effort to tear down these vital, core protections that cut across the most significant sources of pollution in our nation is breathtaking," the report states.
"The Trump administration's actions amount to a virtual surrender to climate change."
However, the InfluenceMap reports adds that the U.S. has "historically struggled to implement meaningful and lasting climate policy" even before Trump was elected into office.
The reports describes how Obama's Clean Power Plan "was faltering under corporate-led lawsuits" in comparison the "shale revolution" surrounding fracking which "vastly accelerated" U.S. domestic oil and gas production.
"We are at a crucial time for climate action. But against a backdrop of huge public concern around climate change and increasingly dire warnings from scientists, these trade groups continue to frustrate progress on climate policy, especially in the U.S., which should be leading the world in terms of climate ambition," said Ed Collins, the report's lead author.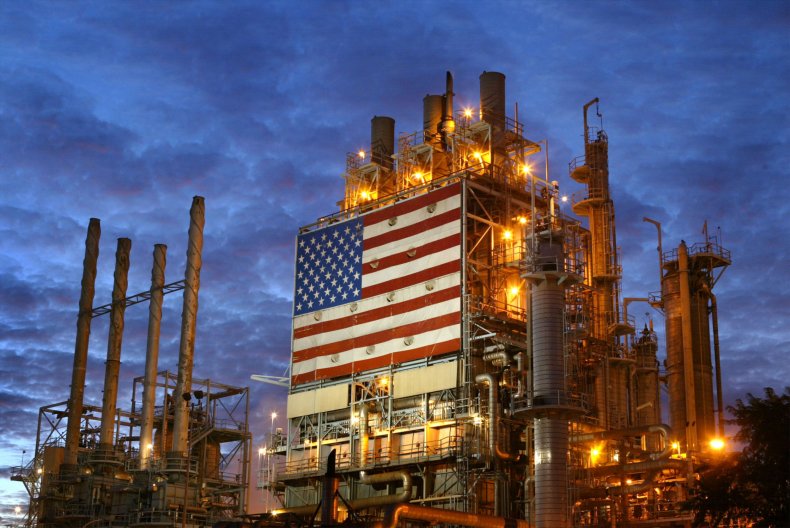 The release of the report, entitled Trade Associations and their Carbon Footprints, was released to coincide with the U.N. Climate Action Summit in which teenage activist Greta Thunberg has taken center stage.
During her speech, Thunberg decried world leaders for failing to sufficiently address the dangers of climate change.
"I shouldn't be up here. I should be back at school on the other side of the ocean," Thunberg said. "Yet you all come to us young people for hope. How dare you! You have stolen my dreams and my childhood with your empty words."
During a previous talk in Washington D.C. to Congress, the Swedish teenager also hit out against rep. Garret Graves from Louisiana after he asked her why the U.S. should be criticized for not reducing emissions when major emerging economies such as China are vastly increasing theirs.
"I am from Sweden, it's a small country and there it is the same argument: 'why should we do anything, just look at the U.S?'
"So, just so you know that is being used against you as well," she added.
Table of results
The Carbon Policy Footprint Scores are scored from -100 (highly and negatively influencing climate policy) to +100 (highly and positively influencing climate policy)
-90 National Association of Manufacturers (NAM) U.S.
-89 US Chamber of Commerce U.S.
-78 National Mining Association (NMA) U.S.
-78 American Fuel & Petrochemical Manufacturers (AFPM) U.S.
-76 American Petroleum Institute (API) U.S.
-75 American Legislative Exchange Council (ALEC) U.S.
-70 Japan Business Federation (Keidanren) Japan
-59 Minerals Council of Australia (MCA) Australia
-54 Alliance of Automobile Manufacturers (Auto Alliance) U.S.
-53 Canadian Association of Petroleum Producers (CAPP) Canada