Democratic Primary Voters Show Willingness to Shift Support to Another Candidate Over Climate Change
A majority of Democratic primary voters are willing to shift their support to another 2020 presidential candidate — should a candidate release a more ambitious climate change plan than their current top choice, according to a poll conducted by Morning Consult and published Wednesday by the environmental group Sierra Club.
Former Vice President Joe Biden came out on top in the survey with 30 percent support among so-called "climate voters" who believe climate change plans are "very important." He was followed by Massachusetts Senator Elizabeth Warren at 21 percent, Vermont Senator Bernie Sanders at 20 percent, California Senator Kamala Harris at 7 percent, Indiana Mayor Pete Buttigieg at 6 percent and former Texas Representative Beto O'Rourke, New Jersey Senator Cory Booker and entrepreneur Andrew Yang at 4 percent or less.
The poll showed that among those climate voters, a plurality of the respondents support climate change plans offered by Democratic candidates other than Biden that are, for the most part, more expensive, progressive and broad initiatives that more closely resemble the Green New Deal to combat a warming planet caused by humans.
And Democratic primary voters as a whole expressed support for the Democratic National Committee to host a primary debate focused on climate change (a move that the party has chosen not to allow). The survey was conducted among 1,500 Democratic primary voters, 915 of whom were classified as climate voters.
Still, Biden continues to lead the pack of 2020 hopefuls in this and other polls, despite advocating for more of a "middle ground" approach on climate change and other issues.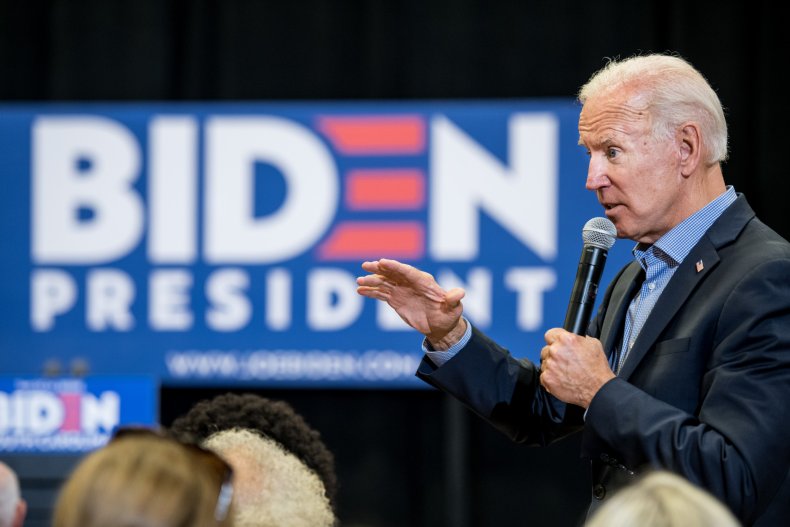 The poll comes the same day as 10 of the 2020 hopefuls will partake in a CNN climate town hall where they will appear on stage one at a time during separate time slots so as to not violate DNC rules. Ahead of the forum, Buttigieg, Harris, Warren and former HUD Secretary Julián Castro announced new climate change proposals, meaning those newly-released plans were not considered by poll respondents because the survey took place from August 26-29. At the time, Buttigieg, Booker and Harris lacked specific plans while Warren had a multi-pronged approach.
With their combined scores among climate voters, Yang, O'Rourke, Sanders and Warren represented 47 percent of respondents' top choices, as compared to Biden's 30 percent. They all call for an overhaul of America's energy consumption habits and to eventually achieve net-zero fossil-fuel emissions and 100 percent renewable energy. But the timelines, how those goals are achieved and how much the proposals will cost varies.
Biden's plan, which has received some pushback from Democrats and environmentalists, has a 2050 deadline to achieve the net-zero emissions and a federal investment of $1.7 trillion in the first 10 years. Like Buttigieg's new plan, which has also been dubbed as more modest in comparison to other candidates' proposals because of a smaller price tag, Biden emphasizes investing in carbon capture.
Sanders' version of the Green New Deal would cost $16 trillion to eliminate carbon pollution by 2030 from the electricity and transportation sector and by 2050 for the rest of the economy.
Warren had a five-pronged strategy that would have been considered by poll respondents, focusing on public lands, the military, trade, climate risk disclosure and manufacturing. Net-zero carbon emissions would hope to be achieved by 2030 for the Pentagon. Her new plan, revealed Tuesday, called for spending $3 trillion to achieve 100 percent zero-carbon pollution from new commercial and residential buildings by 2028, for all new cars, buses and light- and medium-duty trucks by 2030 and for electricity by 2035.
O'Rourke has a 2050 date for net-zero carbon emissions and a plan that would cost $5 trillion over the next decade.
Yang's $5 trillion plan focuses on nuclear energy to accomplish milestones throughout the next few decades, ranging from net-zero standards for new buildings by 2025 to an entire net-zero economy by 2049.
The climate poll conducted by Morning Consult was conducted from August 26-29 among 1,500 Democratic primary voters, 915 of whom were the "climate voters" in the survey. There is a margin of error of plus or minus 3 percent.