Former Democratic presidential candidate Hillary Clinton continued to troll President Donald Trump, her 2016 political rival, on Twitter Thursday as the impeachment inquiry against him moves forward.
"Someone should inform the president that impeachable offenses committed on national television still count," wrote Clinton, who served as secretary of state under former President Barack Obama. She also shared a video of Trump calling for China to investigate his current political rival, Democratic presidential candidate Joe Biden.
On Thursday morning, Trump reiterated to reporters outside the White House that he believes Ukraine should open an investigation into debunked claims that Biden acted corruptly to benefit his son Hunter Biden's business interests in the Eastern European country. He then added: "China likewise should start an investigation."
Trump's complaint about China centers around an unsubstantiated allegation that Biden abused his office to promote his son's business interests in the East Asia. According to fact-checking by The Washington Post, Biden did not act corruptly to benefit his son in China. However, it does appear that Hunter Biden has been able to advance his business interests due to his relationship to the former vice president.
But, as Trump critics would note, the president's own family's business interests in China appear to have blossomed over the past couple years. The president's daughter and senior adviser Ivanka Trump has secured several Chinese trademarks as trade negotiations have continued between her father's administration and Beijing.
The president's remarks about Biden and China led to further criticism as he faces a mounting impeachment inquiry. Democrats launched the official process after a government whistleblower revealed that Trump had repeatedly pressured Ukraine's president to investigate similarly unsubstantiated allegations against his political rival.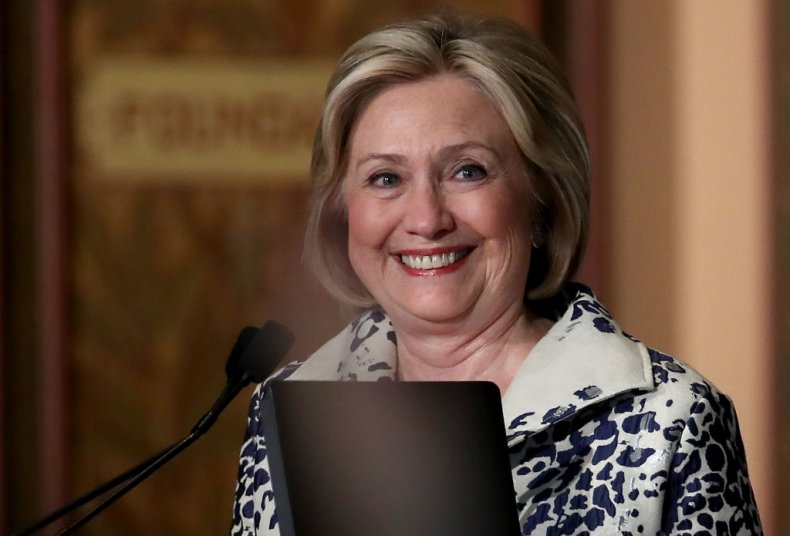 Clinton trolled Trump on Twitter earlier this week as well. "The president is a corrupt human tornado," Clinton tweeted on Monday morning.
In a Monday evening appearance on The Late Show With Stephen Colbert, Clinton again took aim at her former political rival. As the host brought up Trump's Ukraine scandal, the audience began chanting: "Lock him up! Lock him up!" During the 2016 presidential campaign, Trump's supporters would chant: "Lock her up!" in reference to Clinton.
"We've known for a long time that he was a corrupt businessman who cheated people, and we've known that he and his campaign asked for aid from Russia," Clinton pointed out. "We've known that. But to see him in the office of the president putting his own personal and political interests ahead of the national security of our country, just pierced through whatever confusion or denial people had."
A CBS News/YouGov poll released over the weekend showed that a majority of Americans now support the Democrat-led impeachment inquiry against Trump. Although the president and his supporters have attempted to dismiss the investigation as "partisan," several prominent Republicans have voiced serious concerns about Trump's conduct.