Exclusive: EgyptAir Co-Pilot on His Ordeal Alone With Hijacker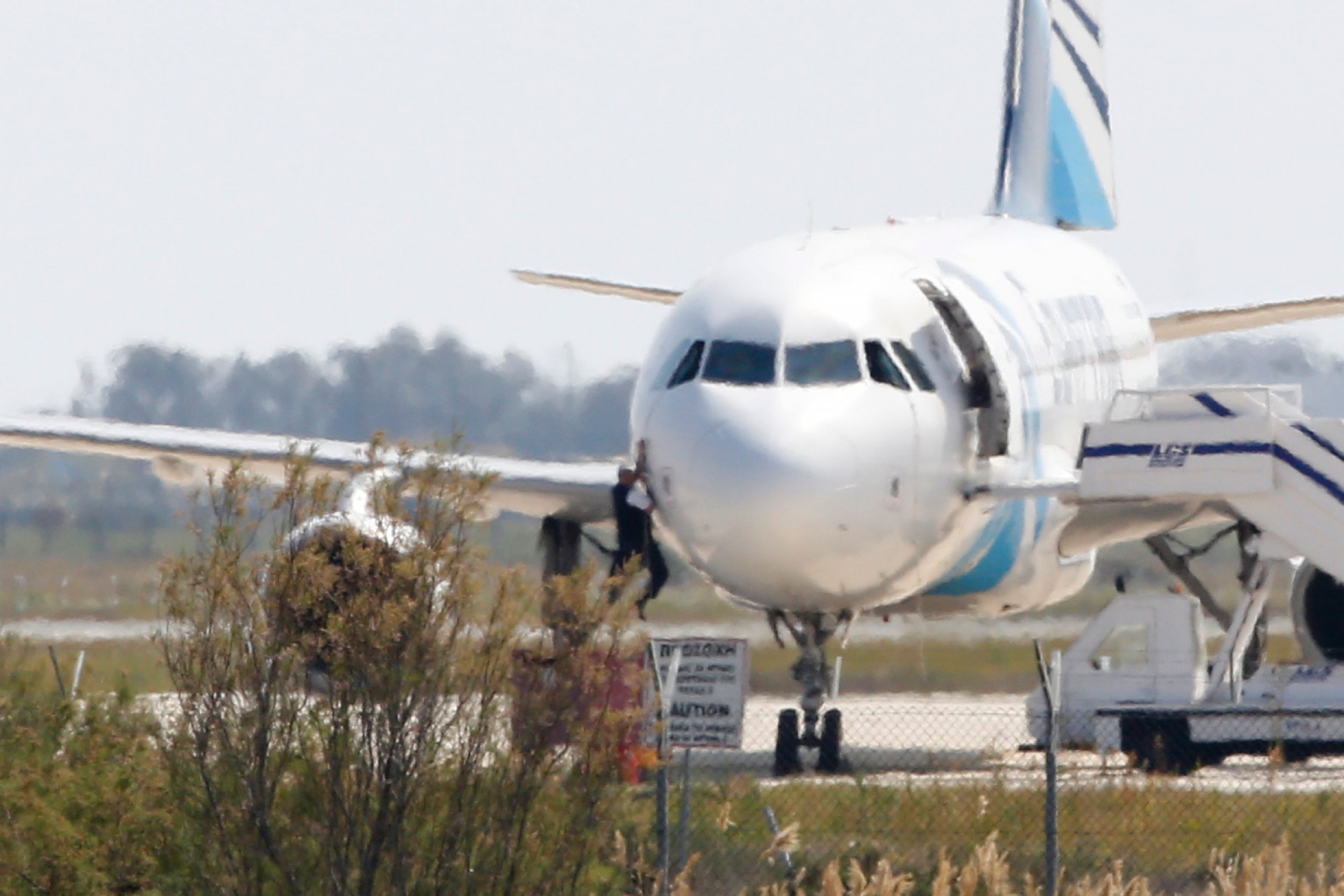 On the morning of Tuesday, March 29, Hamad el Kaddah woke up and ate a quick breakfast before leaving his hotel for the Borg El Arab Airport in Alexandria, Egypt. It was an unexceptional morning for the EgyptAir pilot, who has made this journey hundreds of times in his five years with the company.
The day would end with Kaddah being the final person on the plane—other than a hijacker—before the world's media pictured him dramatically jumping out of the Airbus 320's cockpit window onto the tarmac at Larnaca Airport in Cyprus. The man who studied to become a pilot at flight school for Monarch Airlines in Addison, Texas, had not been taught how to negotiate with hijackers. He had previously read about how to handle a hostage situation but, today, he would learn the hard way.
The 32-year-old's task for the morning ahead was to act as the co-pilot to Captain Amr al-Gammal for the 45-minute flight between Alexandria and Egypt's capital, Cairo. Minutes after take-off, the seatbelt signs switched off and a bespectacled, unassuming Egyptian man, Seif al-Din Mustafa, 59, emerged from the bathroom before approaching a flight attendant. He told her to remain calm but warned that he was wearing a suicide bomb belt. He demanded that the plane be diverted. Two of the crew rushed to the cockpit to relay the threat to Gammal and Kaddah.
"They came to the cockpit saying this is what happened. They were a bit shaken of course," says Kaddah, speaking exclusively to Newsweek in a phone interview while on his way to meet investigators in Cairo, where he is spending two days off work. He says the message from the crew to the cockpit was: "Captain, the plane is hijacked. Go now to Cyprus, Turkey or Athens. If you land in any of the Egyptian land airports, it will be only one press on the button, everything will go, everyone will die. It's your decision."
The pilots, confused about the unfolding situation, began to follow the relevant procedures, ensuring that the door to the cockpit was closed. The belief that the suicide bomb belt was real, which would last for hours, filled the plane's passengers and crew with panic. At least one of the flight attendants, Niera Atef, began crying. "Most of us started doing our jobs but it's a shock," says Kaddah. "Is it a joke? Is it real? What should we do?"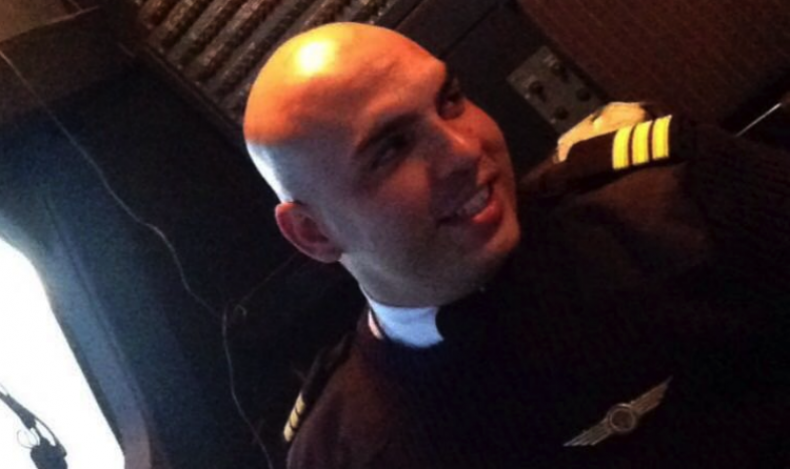 Atef may have been terrified but she "did everything according to the procedures," Osama Abdel Basset, head of the General Egyptian Flight Attendant Union tells Newsweek. "She kept the hijacker at the weakest point of the aircraft that is the back door near to the bathroom." If flight attendants kept Mustafa at this point throughout the hijack situation, as Basset says, then it is unlikely that he ever threatened the cockpit.
Mustafa's demand to travel to one of three different locations suggests that he might not have wished to see his ex-wife in Cyprus, as widely reported, but rather to land on European soil. Cypriot authorities said that after Mustafa had requested to see his wife he began to make "incoherent demands." After Kaddah and Gammal informed international and domestic air controllers of the hijack situation, they took the decision to head to Cyprus because of fuel concerns, says the co-pilot, who joined EgyptAir in 2010.
"We tried to see what we have [left] for fuel and what we are going to do. But with the fuel we were not able to go anywhere else. We had no other choice, we would end up in the water if they refused to land us."
The co-pilot, who speaks English, says that the hijacker did demand a translator and to see his ex-wife after landing in Cyprus but he also had political demands that the pilot says he is not authorized to reveal as he does not have permission from EgyptAir or Egyptian authorities.
"He had a letter, he wanted to give it to the authorities over there. He wanted a translator and a lady and this lady is his ex-wife or something," he says. "And he wanted to negotiate with the European Union, something about politics that I can't really mention."
Upon arriving at Larnaca, Kaddah and the passengers still had no knowledge that the suicide bomb belt was in fact a fake. It remains unknown if Mustafa's fake suicide belt was readymade as he passed through security or if he put it together from scratch afterwards in Alexandria airport or in the aircraft bathroom.
Kaddah texted his mother and his wife "don't worry, I am in Cyprus" with no more information so not to worry them. He then prayed to God, terrified that he and the plane's 72 passengers and crew would be killed by the suicide device, which was only revealed to be fake hours later after authorities had arrested Mustafa.
"The point is not if you are going to die or not," he says. "The point is that you have a lot of people that are going to die with you, so this is what you care about. The passengers were the main concern for us."
Both pilots began to negotiate with the hijacker through communications with the cabin crew, asking him to release the passengers in stages. "We tried first to get the ladies out and he said okay, then he said that ladies and kids were allowed out." An Egyptian woman then refused to get off of the plane without her husband, Kaddah says. "So then he said alright get all of the Egyptians out, keep all of the foreigners in. Bit by bit we rescued everyone."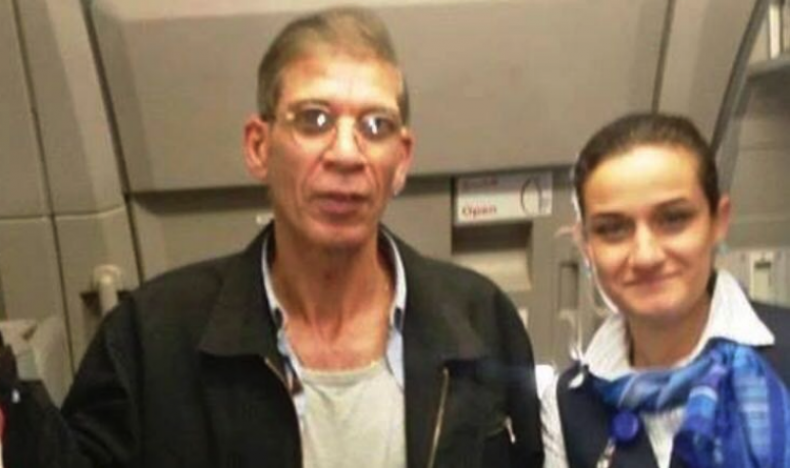 Mustafa released all of the women and children on board, before allowing every Egyptian national to leave the aircraft. All left via the aircraft stairs. This left five foreign nationals—three Brits, one Italian and one Dutch—and four crew members—the two pilots and two cabin crew—on the plane, according to Basset. He then allowed the Dutch national and the Italian national to leave, before he permitted the departure of the remaining passengers and cabin crew bar one pilot: Kaddah.
While one British passenger posed for pictures with Mustafa despite the seemingly real bomb threat, Egyptian authorities requested that the crew obtain a photograph with him to further their negotiations. Atef volunteered in a bid to show authorities the hijacker's appearance and the device he had strapped to his body. Kaddah says he managed to take photographs of Mustafa and send them to Egyptian and Cypriot authorities using messaging service Whatsapp. It is unclear if the cockpit door was opened or not, nor how Kaddah captured these images. In such situations, protocol dictates that the pilots remain in the cockpit—separate from the cabin crew.
The hijacking came just months after a Russian Metrojet aircraft was downed by explosives over Egypt's Sinai Peninsula in October 2015 after taking off from Sharm el-Sheikh International Airport, killing all 224 people on board. The co-pilot was initially furious that Egypt's aviation security would allow another bomber onto an aircraft after the disaster.
"I was angry about it at first and frustrated, and I thought they should be blamed—what are they doing, they are just giving us a headache," he says. "Then I found that it is a fake one. Since it is a fake one, you can't blame them because he pretended. It looks like a real bomb but it is not."
He says that the heightened searches after the Sinai crash and the improved Egyptian aviation security have become an "annoying" daily occurrence for pilots. "Even the high ranks get searched, even friends get searched, even captains get searched. Things are getting tougher and security is working properly. It's more searches than in history."
After the passengers were released, Mustafa demanded that one pilot remain on the plane to refuel and fly the jet to an unidentified third country. He then issued a countdown before threatening to detonate the supposed suicide belt, Kaddah says. He offered to sacrifice himself as the pilot that would remain behind.
"I said I will stay. He wanted to refuel the plane to fly to another country," he says. "He just wanted someone to be in the plane, in the cockpit, ready to go. He said 15 minutes left, then he said 13 minutes left, then he said, 'Ten minutes left, if you want to leave then leave, but someone stay and fly with me or I am going to explode everything.'" It was at this stage that the remaining passengers and crew members were permitted to leave. What moved Kaddah to this act of heroism is unknown but what is certain is that his colleagues owe him a debt of gratitude.
At this point, Kaddah knew that the plane had to refuel or that they had to at least give the impression that they were meeting Mustafa's demands. "I was begging the Cyprus authorities to send us a refueling car, they refused," he says, over concerns that if the belt exploded around fuel it would cause more damage. "I told them alright, send a fake car, just assume that we are refueling, just to pretend that we are taking steps, to calm him down and we get time. They said, 'We will see, we will answer you, it takes time.' What time are we talking about? It's five minutes. Any car. Just send anything just to pretend that the authorities are going to refuel now. It was very, very late."
As the rest of the crew filed off the aircraft, Kaddah was left to try and prevent this man, who the authorities later described as mentally ill, from detonating what he still believed to be real explosives before making his dramatic escape. "I just wanted to pretend that someone was still in the plane with him," he says of his decision to stay with the hijacker. "I pretended to him that I was there [on the plane]. I waved to him like, 'Alright, take your time, take it easy.' He said, 'in five minutes, I will explode everything.' So I went in the cockpit, closed the door. The crew left from the stairs, I went to the cockpit and climbed down from the window." The Airbus 320 model allows the cockpit window to be opened from the co-pilot's side, according to Basset.
As Kaddah dropped from the Airbus's carriage to the runway, Mustafa was left on his own and soon surrendered to Cypriot authorities after a five-hour hostage situation, when authorities then discovered that there was no explosive device all along. Kaddah and the crew then debriefed with investigators at the airport, where they were offered something to eat and drink. Still, there was no time for celebration at the conclusion of their ordeal and they flew back to Cairo the same day to a wave of domestic attention. "It's a headache now! You have phone calls from everyone, friends, school mates. It's stressful," he says of his newfound fame.
How does this hijacking rank among the other scary moments of Kaddah's career as a pilot? The answer is conclusive. "The most of course. It is the biggest one," he says, laughing. "I had some scary moments but not as big as this."