As the U.S. deals with the aftermath of another mass shooting, this time at a July Fourth parade in Illinois, some conservatives have sought to place at least some of the blame on marijuana use.
Robert Crimo III, 22, has been charged with seven counts of murder in connection with Monday's shooting in Highland Park, Illinois.
According to police, Crimo legally bought five weapons—including the high-powered rifle that was allegedly used to fire off more than 70 roads from a rooftop in Monday's shooting—despite authorities being called to his home twice in 2019 for threats of violence and suicide.
Monday's shooting is the latest report of a suspect who allegedly obtained weapons legally and then reportedly carried out a mass shooting, despite warning signs.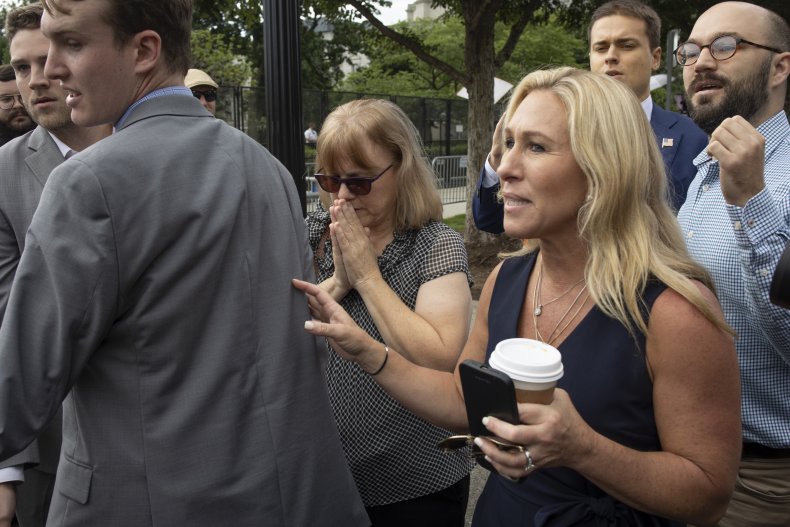 But as in the wake of other recent mass shootings, Republicans have sought to deflect attention away from the issue of gun control.
During a recent livestream, Representative Marjorie Taylor Greene of Georgia suggested Crimo's alleged marijuana use was a factor in the shooting.
He was "a frequent cannabis smoker," she said, citing online posts that she said were found by Alex Berenson, a writer and anti-vaccine advocate who was dubbed "the pandemic's wrongest man."
Marijuana "affects everyone differently," she said. "Some people thrive on it. Some people do well on it. Some people say they can focus on it, but for some people, it actually causes psychosis, which absolutely could be the case... if you watch any of this guy's music videos, he clearly was suffering from psychosis. He's absolutely crazy. And law enforcement knew it."
"But he still was able to buy guns legally with Illinois' strictest, strictest gun control laws," Greene said. "Doesn't add up. Everyone should be upset about this and we should be asking questions."
Greene's comments come after Fox News host Tucker Carlson tried to blame anything but guns for America's latest gun massacre on Tuesday night.
Young men like Crimo are "high on government-endorsed weed" and "inhabit a solitary fantasy world of social media, porn and video games," Carlson claimed.
"They are numbed by the endless psychotropic drugs that are handed out in every school in the country by crackpots posing as counselors," he went on.
"And of course, they are angry, they know that their lives will not be better than their parents', they will be worse. That is all but guaranteed, they know that. They are not that stupid," Carlson said. "And yet the authorities in their lives, mostly women, never stop lecturing them about their so-called privilege. 'You're male, you are privileged.' Imagine that, try and imagine an unhealthier, unhappier life than that. So a lot of young men in America are going nuts."
On her show, Fox host Laura Ingraham also claimed that cannabis use was linked to violent behavior.
"On the mass shooting in Illinois, indications are that Robert Crimo was a regular pot user," she said. "What can regular pot use trigger in young men in particular? Psychosis and other violent personality changes, not everyone, but a significant percentage."
Last month, Ingraham also suggested marijuana was to blame for gun violence after a teenage gunman killed 19 children and two teachers at an elementary school in Uvalde, Texas. "Why aren't people in general not talking more about the pot psychosis–violent behavior connection?" she asked on her show.
The idea that marijuana use causes violent behavior has been thoroughly debunked, with some critics on social media pointing out that mass shootings do not regularly occur in countries where marijuana is legal.
Numerous researchers have investigated the relationship between marijuana use and crime and "for all intents and purposes, they haven't found one," according to a report from The Washington Post.
In 2013, a review by the Rand Corporation for the Obama White House concluded that "marijuana use does not induce violent crime."
And research has also found that legalizing marijuana had a minimal effect on crime rates.