Conservatives Weaponize Cancel Culture to Tame Anti-Trump Celebrities
Cancel culture. It's here, it's happening and it seems like every day, there are calls to cancel more famous faces on social media—but not always from the voices you would expect.
In recent weeks in the wake of the George Floyd protests and the resurgence of the Black Lives Matter movement, the spotlight has shone on the likes of late-night hosts Jimmy Kimmel and Jimmy Fallon for past use of blackface for comedy sketches. And among the multitude of voices calling for these celebrities to face consequences for their past actions are a number of conservative figures and media outlets.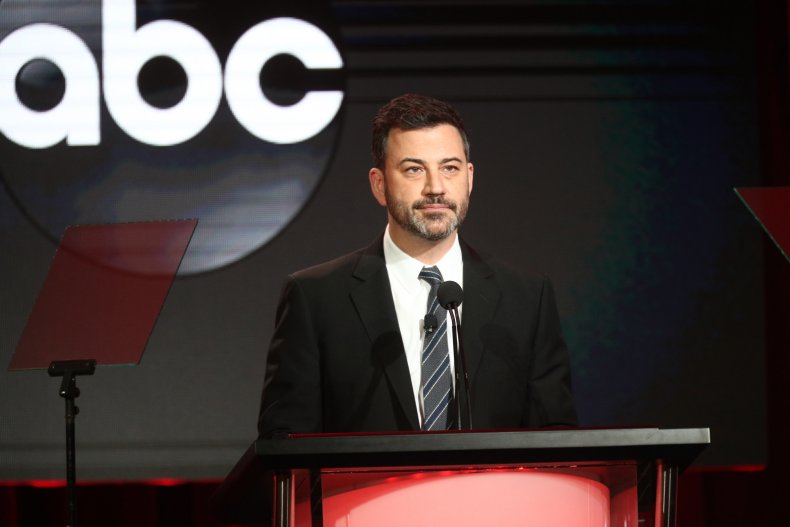 A few notable anti-Trump celebrities have been attacked in the right-wing media and social media recently as part of the recent Black Lives Matter controversy.
This tweet from Turning Point U.S.A. founder and Trump supporter Charlie Kirk points out that notable celebs caught in blackface scandals are are all "leftists."
This week, Fox News published an exclusive alleging that Kimmel, who is famously anti-Trump, used the N-word, imitating rapper Snoop Dogg song in 1996 for a comedy Christmas album.
However, Fox News has not condemned the vocal anti-Black Lives Matter rhetoric of one of its anchors, Tucker Carlson, whose views against the protests have seen several major advertisers pull their sponsorship of Tucker Carlson Tonight in recent weeks.
Kimmel has since apologized for performing in blackface in which he addressed his critics' attempts to undermine his "criticisms of social and other injustices."
"I have long been reluctant to address this, as I knew doing so would be celebrated as a victory by those who equate apologies with weakness and cheer for leaders who use prejudice to divide us," he said per CNN.
He added: "Looking back, many of these sketches are embarrassing, and it is frustrating that these thoughtless moments have become a weapon used by some to diminish my criticisms of social and other injustices."
The sentiment behind this move to tar liberal voices using their own socially conscious language against them can be summed up in this tweet from Donald Trump Jr., who shared the Fox article about Kimmel, but urged that he is "against publishing comedians for jokes".
He tweeted: "To be clear, I'm 100 percent against punishing comedians for jokes, even bad jokes from unfunny hack comedians like Jimmy Kimmel...but according to the left's own woke rules that @jimmykimmel wants to force others to live by, it's hard to see how @ABCNetwork allows him to keep his show."
Another celebrity under scrutiny this week is writer and actress Tina Fey who requested that a number of 30 Rock episodes that feature blackface and "race-changing make-up" be removed.
The Mean Girls writer, who is also in hot water with the Asian community, wrote a letter to platforms, apologizing for the "pain they have caused."
"Going forward, no comedy-loving kid needs to stumble on these tropes and be stung by their ugliness," she said per Variety. Fey has frequently spoken out against the president and condemned college-educated white women who voted for Trump in 2016.
While the majority of the discourse around the controversy comes from people predominantly concerned with calling out racism and dismantling systemic racism in the media, some of the criticism comes from notable right-wing figures who are weaponizing the current discourse to point out what they say is the hypocrisy of some anti-Trump celebrities.
Others have dismissed the criticisms by conservative figures as disingenuous. Journalist Cathy Young tweeted, "The left's "cancel culture" is vile. The right's 'hey, let's turn cancel culture around to clobber the left' game is ten times as nauseating because it's so flagrantly cynical."
A number of liberal celebrities have faced the ire of conservatives in the past. Famous anti-Trump comedian Kathy Griffin is a prime example of how conservative Twitter rallies around a cause.
In May, Griffin tweeted that Trump should be injected with air, prompting expected outrage from the president's supporters.
In 2019 there was outcry over controversial tweets from Charmed actress, Alyssa Milano in which she compared Make America Great Again hats to KKK hoods.
Responses to the tweet are from overwhelmingly conservative accounts.
Another vocal anti-Trump celebrity, Better Midler, has publicly feuded with Trump on social media in recent years.
After the actress was forced to apologize and delete a tweet in which she misquoted the President, Trump himself tweeted calling her a "sick scammer."
"Washed up psycho @BetteMidler was forced to apologize for a statement she attributed to me that turned out to be totally fabricated by her in order to make 'your great president' look really bad. She got caught, just like the Fake News Media gets caught. A sick scammer!"