Recovered Coronavirus Patients Who Have Traces of COVID-19 in Their Bodies Could Infect Others, Doctor Warns
Traces of COVID-19—the new coronavirus that has been diagnosed in tens of thousands of people—have been detected in recovered patients, leading a Chinese expert to raise concerns they could still be contagious even after their symptoms have passed.
Zhao Jianping, the head of a team tackling COVID-19 in Hubei province—the epicenter of the outbreak—said some patients who recovered from the infection had tests looking for organisms, such as a virus or bacteria, in the body.
The nucleic acid tests revealed COVID-19 was still lurking in their systems, he said in an interview with the Southern People Weekly magazine seen by the South China Morning Post. Zhao, a respiratory and critical care specialist at Tongji Hospital in Wuhan, Hubei, did not appear to state how many people his claim related to. Zhao said throat and nose swabs of a couple in Canada who had recovered from COVID-19 also showed they were carrying traces of the virus.
"This is dangerous. Where do you put these patients? You can't send them home because they might infect others, but you can't put them in hospital as resources are stretched," SCMP quotes him as saying.
However, professor Mark Harris of the School of Molecular and Cellular Biology at the University of Leeds, U.K. cautioned to Newsweek that he is not aware of any scientific publications showing evidence for virus in recovered patients.
"It is certainly possible but unlikely to be high levels or persist for a long period— otherwise they would continue to show symptoms. We need some solid scientific evidence before making any conclusions about this," he said.
Thursday marked the lowest daily rise of cases of COVID-19 since the outbreak started among workers at a wholesale seafood market late last year. But Zhao described attempts to stem the spread of the virus as a "see-saw battle." He warned: "We should not be relaxed. The figure may go up again."
Zhao said he had just 27 patients with the mysterious new virus on December 30 last year, symptoms of which include a fever, dry cough and shortness of breath. Since then, almost 76,000 cases have been confirmed, all but around 1,200 in mainland China. The virus has killed at least 2,121 people, only 11 of whom were outside of mainland China.
"The number of patients has jumped from 27 to 70,000. It is highly contagious," he is quoted as saying.
As shown in the map by Statista below, the virus has spread to almost 30 countries and territories. There are 16 cases in the U.S. and 634 among people who were on board a cruise ship quarantined off the coast of Japan for two weeks after a passenger was diagnosed with COVID-19.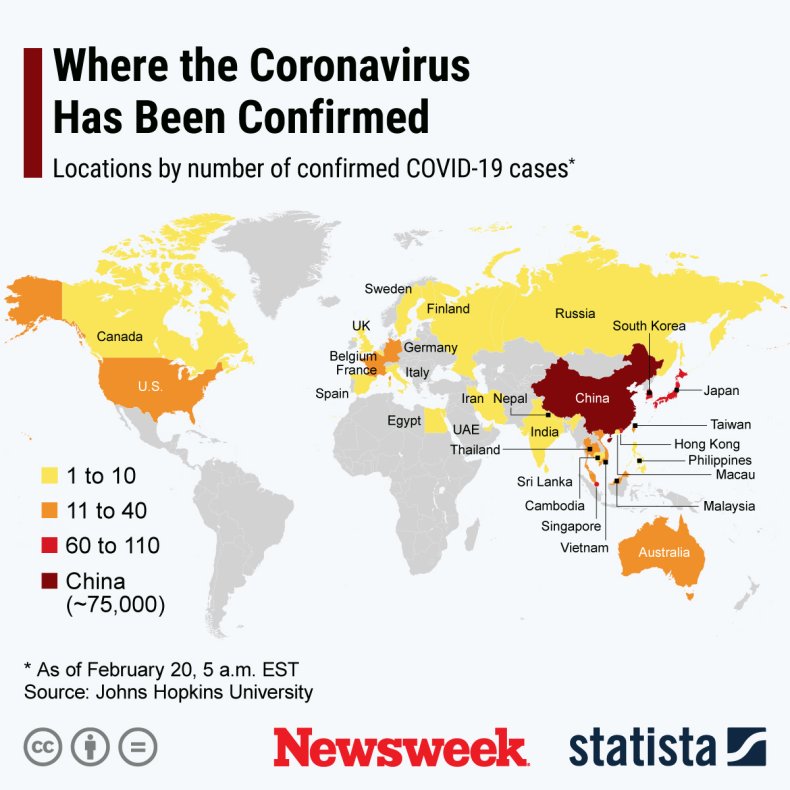 There is currently no vaccine against the new member of the coronavirus family—which includes the deadly SARS, MERS and less serious common cold—and no specific drugs to prevent or treat it. Experts in China, Japan, and Thailand hope HIV and flu drugs could ease symptoms in patients, but scientists told Newsweek they weren't convinced this approach would be effective.
For now, those who fall ill must manage their symptoms, which in some cases involves hospitalization. The World Health Organization (WHO), which last month declared the outbreak a public health emergency of international concern, continued to encourage people to maintain basic hygiene measures to prevent the spread of COVID-19 and other infections on Friday.
"Never underestimate the power of the humble bar of soap!" the UN agency tweeted. "Washing your hands regularly—either with alcohol-based rub or ordinary soap and water—is one of the most effective ways to protect yourself and others from COVID19 and many other diseases."
It urged the public to wash their hands after coughing or sneezing; when caring for the sick; after using the restroom; before, during and after preparing food as well as before eating; after touching animals and their waste; as well as when hands are visibly dirty.
The WHO also states coughs and sneezes should be directed into a issue, which should be throw immediately in the trash, or the crook of the elbow. To stop pathogens entering the body it also advises against touching the eyes, nose, and mouth. Avoiding contact with sick animals or those in markets, spoiled animal products, as well as their waste products or fluids is also advised, as well as not eating raw or undercooked animal products.
This article has been updated with comments from Professor Mark Harris.