Couple Shun Wedding and Send Out Brilliant 'Not Engaged' Announcements Instead
If you're in your 30s, the chances are your social media feed is clogged with engagement announcements, wedding snaps, gender reveal parties, new house tours and puppies.
But one couple bucked the trend and decided to confirm to their friends and family that they're not tying the knot any time soon, by sending out "not engaged" cards.
Brooks Ribeiro and his girlfriend of three-and-a-half years, Lauren Hutchinson, posed for some hilarious photos on their Instagram accounts, @brooksdabear and @laurenhutchh, mimicking traditional engagement poses.
Ribeiro, 27, and creative producer Hutchinson, 26, from California, took a variety of snaps with him down on one knee, her pointing to her bare left finger, while he even held out an empty ring box.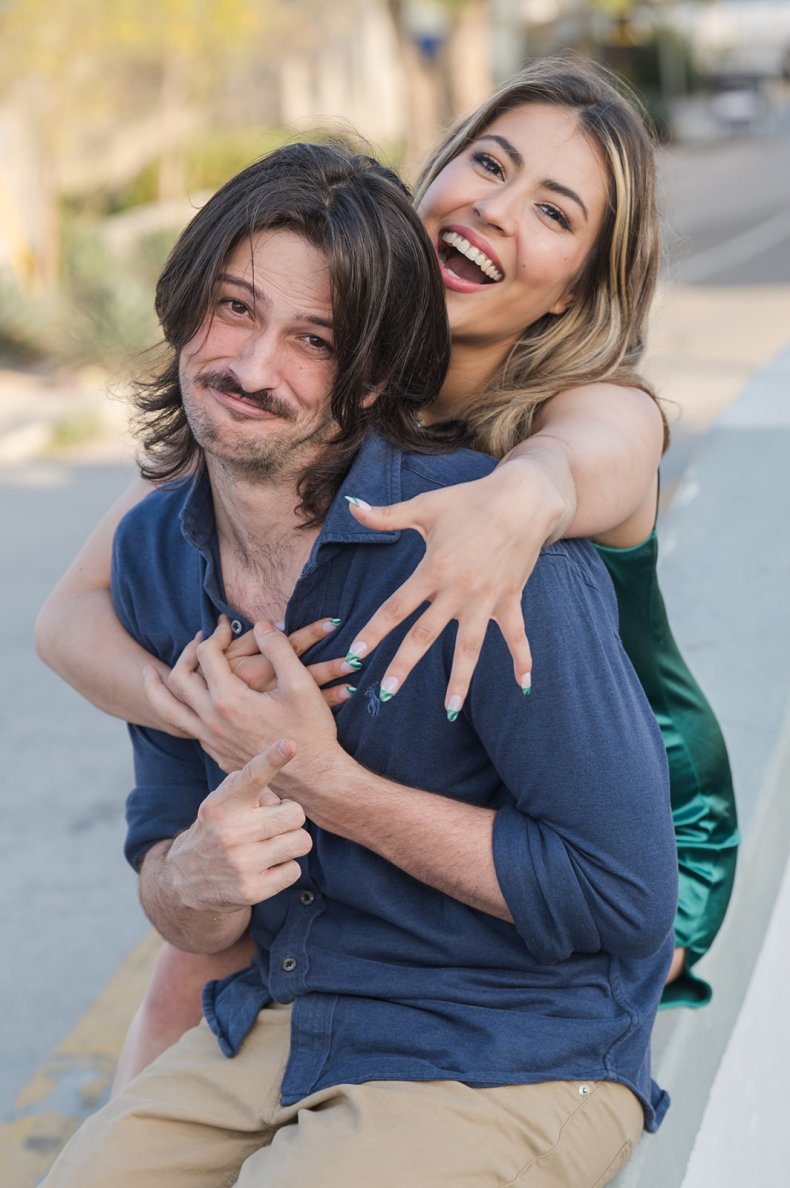 They also held up various signs, one which read: "She said not yet," and another with their dog, saying: "My hoomans are not getting married."
Speaking to Newsweek, Ribeiro said: "The idea started when one my brothers got engaged, and popped back into my head when the other one did. Plus, being at the age where all of my friends are getting married, having kids, etc. We brought it to life simply because we had the opportunity to do it for a minimal cost (lots of people seem to think it was expensive for some reason, but it wasn't at all), and we thought it was a funny idea."
The account manager confirmed they're not engaged, and it won't happen "for another year or two."
A snap of their non-engagement card was shared to Reddit, by RSParker, aka Ryan Parker, who claimed the couple were his friends.
He captioned the image, which has received 82,000 votes since being uploaded on Thursday: "My best friend's "Not Engagement" announcements I just got in the mail."
The card, using the snaps from the photoshoot, reads: "We finally said 'not now.' We are ecstatic to announce that we are not engaged! We repeat, we are not engaged! No date needs to be saved. Please, go about your life as you normally would, until further notice."
The not-bride and groom shared the faux engagement shoot to their social media accounts with the same caption, although they substituted each other's names.
Ribeiro wrote: "LIFE UPDATE: We've been trying to keep it quiet until our close friends and family were informed. But we're just too excited and can't keep it to ourselves anymore. After 3 and a half years of strong and healthy companionship, Lauren and I are so happy to announce that we are NOT ENGAGED.
"I can't wait to spend the rest of my life with you, just not today. Maybe next year, or the year after. But I'm glad we both agree that we can wait for that day to come. We're very happy with where we're at, and don't want to jump into anything quite yet. I've never felt a love so strong and complete, and I'm so happy to continue to live life the same way we always have. I love you so much Lauren. You're going to make the most beautiful bride, eventually."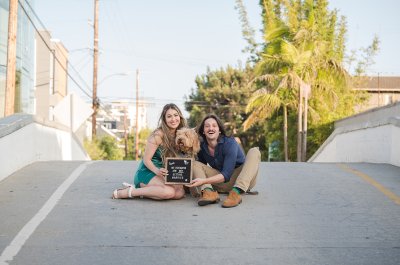 The snaps were taken by friend Paige Whitmore, from Craft Photo Co., who told Newsweek: "When Brooks shared the photoshoot idea with me and asked me to photograph, I thought it was funny and said 'heck yeah!' I, myself was engaged still when we did the shoot (my husband and I actually got married a few weeks ago), so I knew all too well the pressures you get from family members and friends to get married when you've been in a long term relationship and thought this was a funny way to share you're 'not there yet.'"
She said the props were Ribeiro and Hutchinson's idea, which Whitmore brought along.
Whitmore confirmed she's never been asked to do a "non-engagement" shoot before, adding: "Brooks & Lauren wanted to use some of the stereotypical 'engagement' types of poses so I had fun selecting poses and positioning them as if we were on a normal engagement session—just with more laughs. There were a lot of people telling the couple 'congratulations' in passing thinking it was an actual engagement session, which just added to the hilarity!"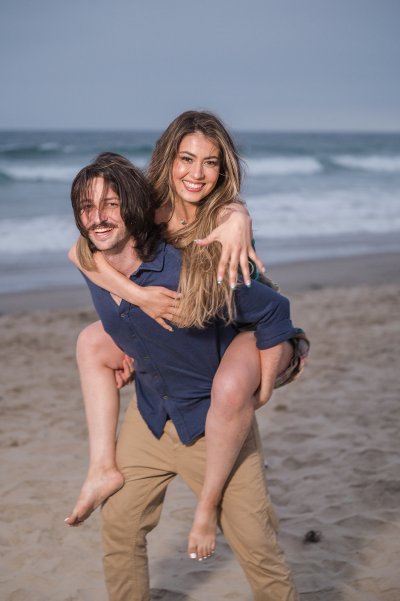 Ribeiro's account indicates he's a comedian, and Parker, posting online, claimed the idea started off as a joke, which they decided to bring to life.
In the Reddit comments, he said: "It was a joke that turned into a real thing cause we all thought it was funny. My wife and I did the photoshoot for them. That is all.
"Has no one else dealt with the constant question of "when are y'all getting married" as a couple in their 20s. It happens a lot. Made my day laughing at it."
Redditors were divided over the photoshoot, with Dartser writing: "Likely a result of wedding season just wrapping up and all the times they were asked 'when are you guys going to be getting married?'"
Twohedwlf thought: "Either they got sick of being nagged about when they're getting married, or they just did it for fun."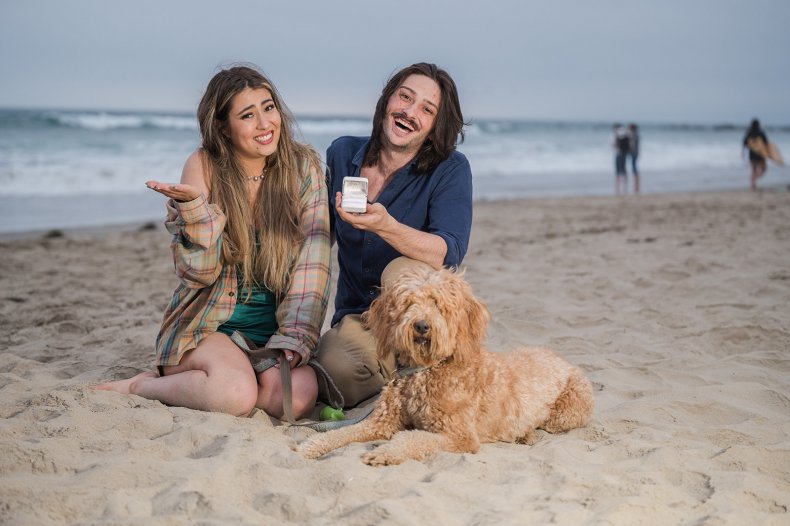 "Probably to stop people from asking them when they're going to have kids," HuzzahPowerBang reckoned.
Amitnagpal1985 joked: "Wishing them many many more years of indecision! Cheers!"
While Macci_a_vellian added: "Someone's been getting a lot of the 'So when are you tying the knot/making it official/making an honest woman of her?' questions."
While many weddings were put on hold due to COVID, the Centers for Disease Control and Prevention (CDC) noted that more and more people are deciding not to get married at all.
"Studies have shown that adults in the United States are increasingly postponing marriage, and that a record number of current youth and young adults are projected to forego marriage altogether," they said.
The lowest uptake, covering the years between 1900-2018, was seen between 2017 and 2018 when the rate dropped 6 percent, from to 6.9 per 1,000 population to 6.5.
Update 10/11/21, 11:24 a.m. ET: This article was updated with comment and photo from Whitmore and Ribeiro.