Cow Poop Spread Over Highway After Dump Truck Collision
A vehicle collision on a Florida highway resulted in a massive manure spill and several lane closures on Tuesday morning.
According to a report from WKMG, the Florida Highway Patrol, or FHP, reported that there was a collision between two trucks at the 198-mile marker on Interstate 95 in Brevard County, Florida. In addition to the usual delays car crashes can cause, this situation was complicated by the fact that one of the dump trucks involved was transporting cow manure.
Public affairs officer Lieutenant Kim Montes with FHP confirmed with Newsweek that a crash between a dump truck and semi-truck had resulted in a manure spill on Tuesday morning.
"At approx. 9:50 am a dump truck that had been stopped in the emergency lane of northbound I-95, pulled back into traffic," Montes said. "A semi-truck traveling northbound was unable to avoid the dump truck and the crash occurred.
"The front of the semi-truck struck the rear of the dump truck, hauling manure. Debris from both vehicles and manure were scattered across the travel lanes."
"Brevard County: Traffic alert Northbound I-95 @ MM 198. Crash involving a semi-truck and a dump truck," the FHP also tweeted shortly after the accident. "Dump truck spilled cow manure on the roadway."
Among the team of first responders called to the scene, the Brevard County Fire Rescue (BCFR) was called on to assist in the cleanup. On Facebook, the department joked with followers that while no one was injured or had to be transported to a hospital, "this stinks."
"BCFR units are on scene of a collision involving two tractor trailers; 1 empty and 1 carrying manure on I95MM 198 NB," the BCFR post confirmed. "There were no injuries in this incident, but cleanup may be an issue."
This marks the latest in a slew of odd incidents on the roads. Earlier this month, a woman was seen in a viral TikTok video attempting to remove an alligator from a busy Louisiana road by kicking it in the face. The unidentified woman continued attack the alligator, who grew so agitated that it bared its teeth.
In June, a man armed with a baseball bat smashed the window of a truck on Father's Day weekend. In a fit of road rage after he was accused of causing vehicular damage in a car crash, the man was caught on video smashing the truck's windows on a New York expressway.
Houston has also seen its fair share of wild animals attempting to cross busy roads in the past few months. Just a few days after a driver had hit a 300-pound, 10-foot alligator on Grand Parkway and dragged it at 70 miles per hour for a mile, a tiger got loose and was seen near Highway 6 and Memorial Drive. At the end of April, a cow on I-10 East was moseying along faster than the stalled traffic, and on that same day another alligator made its way upon the Fred Hartman Bridge between the cities of La Porte and Baytown, Texas.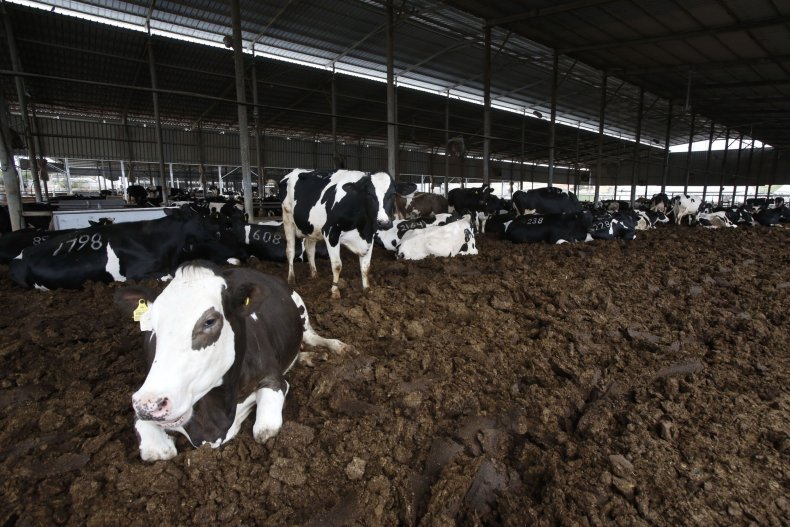 Fortunately, in this instance the Florida roads was cleared within a few hours, and lanes were once again opened to traffic, according to a tweet from the Brevard County Emergency Management Office.
"The roadway was completely reopened at 11:26 a.m.," Montes also told Newsweek. "Neither driver was injured."
Newsweek reached out to BCFR for additional comment on the situation, but did not immediately hear back in time for publication.
This is not the only manure news that has made headlines of late. In June, an eco-friendly businessman claimed to have found a solution to the environmental impacts associated with cryptocurrency mining using "cow poop." In April, a feud between two neighbors arguing over land divisions came to a head when one of the two built a "poop wall" between their properties, using about 250 feet of cow manure to construct the makeshift fence.
Update 7/23 at 9:30 a.m.: This story was updated to include statements FHP made to Newsweek.