Which Notable Republicans Aren't Going to CPAC? Who's Missing From the Annual Conservative Conference
The annual Conservative Political Action Conference (CPAC) officially kicks off Wednesday afternoon, a four-day event chock full of prominent figures within the Republican Party—and Trump supporters.
Each year, the symposium draws attendees from across the country to hear conservatives mix policy ideas with calls to action while railing against Democrats for their "socialist" agenda. No corners of the party are left out, from White House cabinet secretaries and Republican lawmakers to Fox News contributors and internet sensations Diamond and Silk.
Also speaking will be President Donald Trump, two of his family members—Ivanka and Donald Trump, Jr.—and some of his most loyal fans, like Pawn Stars reality TV star Rick Harrison, New England Patriots tight end Benjamin Watson and Turning Points USA leader Charlie Kirk.
Despite election season and efforts by top surrogates to re-elect Trump in full swing, there are a few notable absences from CPAC's speakers list this year. They include Republican Senators Mitch McConnell, the majority leader, and Lindsey Graham, a Trump confidant. The conference is taking place just 20 miles south of Capitol Hill in National Harbor, Maryland.
CPAC organizers have made it clear they'll make socialism a cornerstone of their discussions, similar to last year's convention. The agenda lists a dozen events that will focus on the subject, offering Republicans prime opportunity to energize their conservative base.
The event's full speakers list can be found here and the detailed agenda here.
Here are some of the most noteworthy people excluded from this year's conference.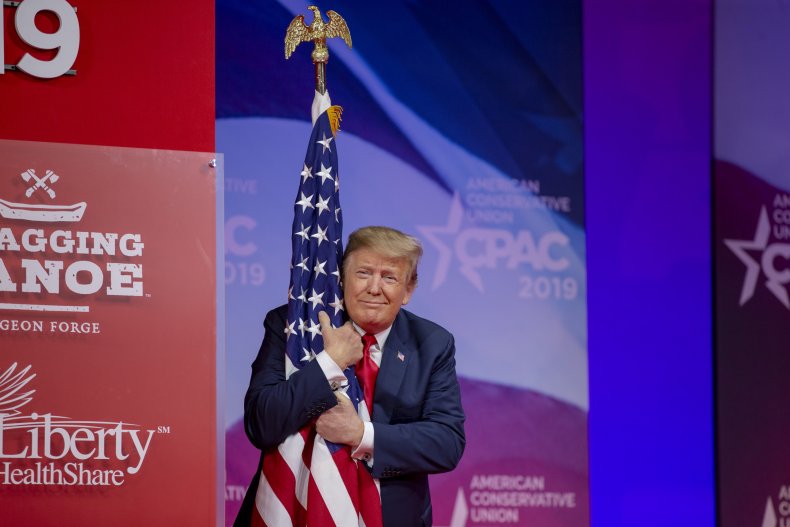 Lindsey Graham: A close Trump ally and GOP senator, Graham is not slated to have a role in this year's conference events. The Senate Judiciary Committee chairman did speak at last year's conference, where he poked fun at his once sour relationship with the president.
"So, President Trump and I did not start off well," the South Carolina lawmaker said last year. "I remember being there the night he got elected, and he said, 'Hey, Lindsey, I don't have your phone number.' And I said, 'There's a reason for that.'"
Several other Republican senators will be speaking: Ted Cruz of Texas, Joni Ernst of Iowa, Marsha Blackburn of Tennessee and Dan Sullivan of Alaska.
Mitch McConnell: The Senate majority leader will also not make an appearance, a trend that's occurred over the past several years. But his absence doesn't mean that he and the president don't have a good relationship. McConnell fought fiercely—and emerged successful—at keeping his party mostly in line during the president's impeachment trial earlier this year. He kept the trial short and staved off Democrats' efforts to subpoena witnesses.
The Kentucky Republican's last debut at CPAC was in 2014, when he made headlines for proudly brandishing a gun over his head as he walked onto the stage to the tunes of "Livin' on a Prayer" by Bon Jovi. McConnell presented the rifle to former Senator Tom Coburn (R-Okla.), who retired, as a lifetime achievement award from the National Rifle Association.
Neither Graham nor McConnell's offices responded to Newsweek's inquiry about their CPAC absences.
Mitt Romney: It's no surprise the Republican senator won't be attending, considering he was the lone Republican to side with Democrats and vote to impeach the president for abuse of power.
But the Utah lawmaker was notably disinvited from CPAC after he, along with Senator Susan Collins of Maine, voted to subpoena witnesses during the impeachment trial. Following his vote to convict Trump, his Senate GOP colleagues rallied to support him, despite Romney's vote and calls from some Republicans, including one of the president's sons, to be expelled from the party.