'Cruel': Woman's Crude Sex Joke at Husband's Expense Sparks Anger
A woman who drunkenly revealed her husband's erectile dysfunction during an evening out together with friends has been widely condemned online.
According to a 2018 study published in the Journal of Sexual Medicine, erectile dysfunction affects around a third of all men globally.
Erectile dysfunction as an ongoing issue can "cause stress, affect your self-confidence and contribute to relationship problems," according to the Mayo Clinic.
Given the private and personal nature of such problems, it's rare for men to go public with issues of this kind. It's rarer still for a partner or loved one to speak openly about them.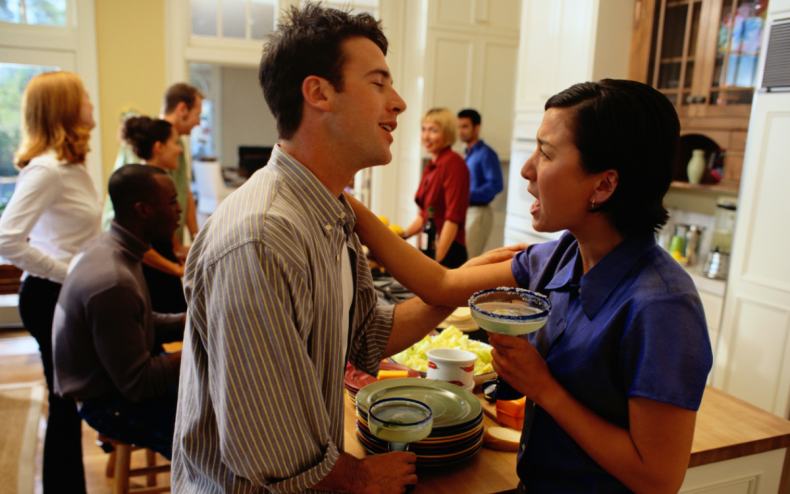 But, according to a viral post shared to Reddit by Beginning-Value-8045, one married 26-year-old woman named "Jess" has apparently done away with privacy during a recent night of drinks with her and her husband's friends.
Not only did she reveal the problems they have been facing in the crudest terms possible, she did so with her husband present, resulting in a confrontation that left Jess hurt and the internet furious.
According to the post, which has been upvoted over 13,000 times, around six months ago, Jess's husband, who is 32, began to experience erectile dysfunction.
"This has largely been spurred by anxiety," he explained in the post. "It's a medical condition that I am currently seeing a doctor for."
It has undoubtedly put a strain on their relationship. "Jess has gone between blaming me and then blaming herself," her husband explained.
More recently, she has found a new way to cope with the stress of it all. "Lately, she has found humor in it, and I guess I can laugh at myself a little," he said. Humor remains entirely subjective though, so when she decided to crack wise on the topic while out with six other friends, her husband was far from happy.
According to the post, during one discussion, Jess told everyone while pointing at her husband: "Yeah, and I'm not getting any because this guy can't even get it up!"
Though her partner's first reaction was one of "shock that she'd say something that horrible and private about me" he was quick to fire back with the quip: "Yeah, and with a wife like this can you even blame me?" His joke had the desired effect, with everyone laughing and assuming they were "kidding" about the entire thing.
Fast-forward to the next day though and Jess told him she was "very upset" at his remarks. Dismissing her own joke as a "spur of the moment thing" she was scathing of her husband's remarks, which she viewed as a "calculated" response to her gag.
Yet for most following along on social media, there was only one victim in this story—and it wasn't Jess. One woman writing as Whimsical934 said her husband had previously suffered similar issues and she would "never ever make a joke like that. Not in private and not in public," adding: "I'm sorry your personal business was put out in front of everyone."
Fuzzypipe39 said his wife had been "way out of line" and got "what she deserved" after making the joke, noting that she would understand "complaining to one or two close friends, someone whose partner may have had it, therapists and doctors" but not a group of friends.
Fantastic_Nebula_835 commented: "As a woman I think your wife behaved in a way that was cruel and inappropriate...She had to know that publicly exposing you could only add to the anxiety you are experiencing and, for some men, may worsen their condition."
Elsewhere, No_Hospital7649 wrote: "It's so gross and awful of her to say it. If I had a partner that cruel, I probably wouldn't be sexually attracted to them either."
KillerKlixx, meanwhile, saw something telling in both her joke and her husband's response. "I think the issue is that she spoke a truth, so she believes he responded with a truth," they said. "It probably tapped into her insecurities that she is the cause, so she needs to sort her head out around the real 'why' of it all."